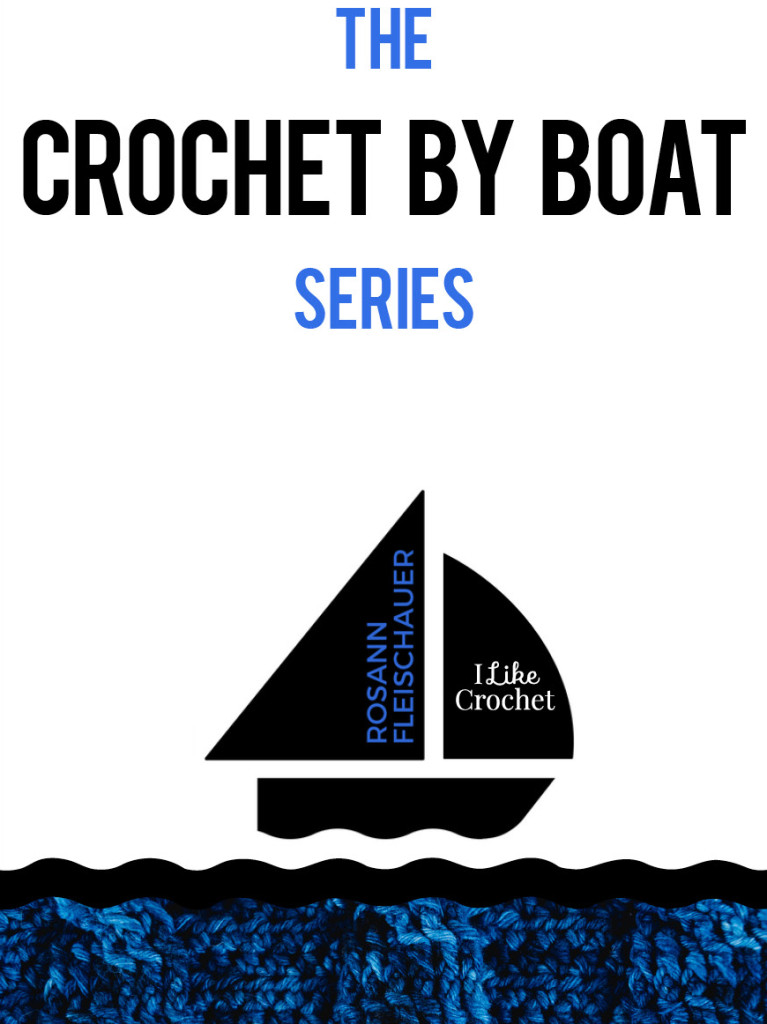 Uncover a new and colorful world with crochet designer Rosann Fleischauer as she tours the ports of Long Island to explore the local yarn shops that are crochet-friendly. On this adventure, discover the charming fiber haven that is The Knitted Purl. Kepp up with the adventures on the I Like Crochet blog – Just look for the crocheting by boat series!
Oyster Bay, New York is as idyllic as it sounds. From the pristine waterfront landscape as you enter the harbor to the adorable downtown-shopping district you know you have arrived in a special place as you tie up at Oyster Bay Marine Center or another local marina. Put on your walking shoes and head towards The Knitted Purl.
As you walk from the waterfront towards downtown, stop along the way to admire the artwork which is the motorcycles on display at 20th Century Cycles, belonging to beloved local Billy Joel. Across the street train enthusiasts will enjoy a quick spin through the train museum and everyone in your crew will enjoy something at my favorite local spot, Bonanza where even a health-nut like me cannot resist a hot dog and ice cream on a hot Summer evening. For a casual sit down spot with breakfast served all day as well as fried sea scallops to rival any in New England, Taby's is a local favorite. When all else fails, there's a Carvel right on the corner before you get to the Knitted Purl. You'll need some time here for yourself so send the crew back to the marina via Theodore Roosevelt Park, en route they can pick up a locally brewed six-pack or two at the Oyster Bay Brewing Company.
There is a lot to behold, take it in one venue at a time from the moment you walk into The Knitted Purl.
Knitting is in the name but crochet is in their DNA at The Knitted Purl. You can see it and feel it from the moment you walk in. Large numbers of sample crochet projects on display around the store create a montage of creativity around every corner. Crocheted bags, tops and accessories indicate that crochet hooks are definitely present in this store. I was in the perfect spot to find everything I could need for my journey including a new project bag. But before digging in, I had to find out what all the laughter was about coming from the Stitches Lab in the back of the store. That's where I met Patti McSkane, the shop owner and leader of The Purl Girls.
Patti and her husband, David, opened The Knitted Purl five years ago and has since built quite the following among fiber artists from near and far. Conveniently accessible via car, boat, and train the shop has an impressive selection of special guests and trunk shows throughout the year. Recent events have included appearances by Lars Rains, Debra Thomacello, Stephen West, and StevenBe. To get the inside scoop, call the store to be added to their regularly emailed newsletter or sign up when you drop in.
While you're reserving your slip and making your dinner reservations it's the perfect time to place a quick call to see if Vicki Moore, resident crochet goddess at the Knitted Purl, has time for a private lesson to sharpen your skills or learn a new technique. Should knitting be on your mind, private knitting lessons are also available from Liz, Patti or Stella Stamatiadi, (Stella is the resident sample knitter and instructor). "We strive to create an inspirational, collaborative and fun environment wherein people can learn from us and each other." according to Patti, seconded by Liz "People come here to learn a skill and leave as buddies."
Holy knit, available in limited quantities is hand dyed locally. Holy Knit Galactic Carrot Cake is a fingering weight yarn 80% fine merino wool, 10% cashmere and 10% nylon and best of all, he "gets" us crochet folks — he puts the recommended hook sizes right on the labels.
Many will agree that yarn is more than just the way we keep ourselves busy — it's the conduit for our creativity and requires a special eye when selecting just the right yarn for a given project. The staff at The Knitted Purl stands at the ready to assist you with the selection process. Drifting through the store I saw the selection of luxury fibers of The Fibre Company as well as Holy Knit yarn. Newcomer and hometown local, Brandon Fierman, is a high school senior who recently began dyeing yarn as Holy Knit, available at The Knitted Purl.
For those who, like me. may shy away from color work for fear of making a bad color choice, fear not, just like your favorite aunt who makes jam and sets it up in jars for you every year, The Knitted Purl has done the hard part for you and yes, even set it up in an easy to store mason jar or acrylic box. The shop offers a selection of shawl, cowl and hat patterns kitted up for even the most color-adverse among us. Rich jewel tones, muted hues, wherever your color dreams take you so too now can your hook. Choose from a wide array of fibers and colors whether with a kitted up selection or personal assistance, you can begin your journey into the world of colorful crochet with confidence here at The Knitted Purl.
The Knitted Purl offers something a web page never could, personalized service to help customers make the best choices for them. "Our number one goal is to provide our customers with the inspiration and guidance they need to be the best fiber artists they can. And we are always inspired and happy when we see their projects and hear about their accomplishments in this creative world we all love." explained Patti.
The personalized service and customer focus is echoed through out the store which David has fostered through his contributions as well, from helping to build and arrange displays to winding yarn for customers, helping customers with their creative process, and answering the age old question "Do you think my husband will like this?" David is an integral part of the collaboration and personalized service that makes this a special shop. For the record, David was right, my husband loved what David helped me pick out.
 There is that moment as you finish the final slipstitch and weave in the final ends of a project when you realize "I need a button." The Knitted Purl has a wide selection of buttons ranging from a simple pearl button to an abalone statement button like I picked up on a recent trip or if nothing suits your fancy, ask at the register to see Patti's vintage stash. I don't want to ruin the surprise, you'll have to stop by in person to have a look at it but trust me, you'll be happy you did.
While you are happily engaged in the yarn and notions at the Knitted Purl, don't forget to look through the plethora of patterns available. Take a seat on the sofa and peruse the extensive selection of shop patterns by one of the Purl Girls and other local designers, books, and patterns downloadable via Ravelry. Fill up your new project bag from Lantern Moon, Walker, Atenti or DellaQ and don't forget the hooks you'll need from companies including Addi and Knitters Pride. If you're inspired to give knitting a try, start off right with a pair of Signature Needles available by special order, Chai Goos, Dreamz, Addi or Knitter's Pride. I confess, I had to pick up a sleek looking set of Knitters Pride Karbonz to add to my notions collection. They will come in handy at the next Socks on the Beach event hosted by Patti and Liz at Theodore Roosevelt Park on Sunday afternoons in the summer.
If you fell in love with Oyster Bay and The Knitted Purl, don't forget to sign up for a frequent buyer card before you drop lines and head off to your next port of call, remember, they'll ship so you don't have to take it all with you on your boat. Before wrapping up my latest acquisition I asked Patti how she keeps the creative energy flowing day to day "Easy, our customers. A diverse group of women working together at a table having never walked in the same circles, making a connection with each other as they work on a project. It's a gift to be here for them every day."
The Knitted Purl
80 South Street
Oyster Bay, NY 11771
516-558-7800
facebook.com/knittedpurl
knittedpurl.com
Getting There:
Oyster Bay Marine Center
5 Bay Avenue
Oyster Bay, NY 11771
516-624-2400
obmc.com
service@obmc.com
Long Island Rail Road Service daily on the Oyster Bay Branch from Penn Station.
http://lirr42.mta.info/stationInfo.php?id=53
Local Sites:
Oyster Bay Railroad Museum
102 Audrey Avenue
Oyster Bay, New York 11771 ·
516-558-7036
http://www.obrm.org
Sagamore Hill
20 Sagamore Hill Road
Oyster Bay, NY 11771
516-922-4788
https://www.nps.gov/sahi/index.htm
2.4 miles from The Knitted Purl, a walk, bike ride or a short Uber ride away
Planting Fields Arboretum State Historic Park
1395 Planting Fields Road
Oyster Bay, NY 11771
1.6 miles from The Knitted Purl, a walk, bike ride or a short Uber ride away
Special thanks to Liz for all the photographs she took for this article.