"I'm going on a trip and I'm flying – can I bring my work in progress?"
–Sadie L.
Hi Sadie,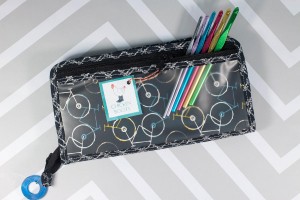 Going on a trip always means packing well to make sure you have everything you need without overpacking, and this is especially true for crocheters. If you're flying, deciding what to pack is even more important as you only have one or two carry-ons to work withy. I personally always have a work-in-progress on hand when travelling to help with my flying fears, but until recently one of the things that continued to give me anxiety was what I would be allowed to take on the plane. The rules seemed to constantly change and sometimes I'd hear stories of friends who were forced to check or throw their knitting needles or crochet hooks away while others were allowed to bring everything on board. To help you out and allay your fears, I spent some time researching what is and isn't allowed in the hopes that it will help you out as well.
1. First, whatever project you choose to bring, it must abide by the size guidelines for carry-on baggage, so that queen-size granny square afghan probably isn't a good idea. Our WIP bags count as one of the allowed carry-on allotment, so keep that in mind, especially if you carry a purse and/or a backpack when travelling. I tend to carry a small project in a compact WIP bag that I tuck into my backpack and only pull out once I sit down.
2. Secondly, go through your bag and check your cutting implements. We are allowed to carry small scissors (blades with less than 4" length).  I've found that if I don't have any scissors in the bag when it goes through the security, then it's less likely that my bag will be questioned, but I usually have a pair of nail clippers in there for when I do need to cut. We used to be able to carry circular cutters like the one pictured, but these are no longer allowed.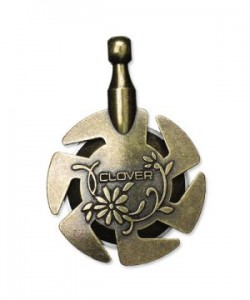 3. Finally, you shouldn't have to worry about your crochet hooks or your knitting needles. Of course, if they're on the bigger end (US Q hooks or US 35 needles), you might get noticed or questioned, but you shouldn't be stopped by security. I've recently carried straight needles, my entire crochet hook collection and a few very long circular needles onboard with no questions. To be on the safe side, make sure that you have a bit of scrap yarn on your WIP bag so that you can put a lifeline in should the TSA agent tell you that you need to remove the needles. If you're lucky, you'll have time to run back to your luggage and put your needles in your checked baggage so you won't have to toss them.
Above all, remember that the TSA has the final word. If the person checking your bag says they need to go, they need to go. You can politely question and even point out the rules on the website, but the men and women at airport security are there for a reason and they are just trying to keep everyone safe.
Hope this helps and that you have happy travels this summer!