"I have a lot of UFOs and i can't seem to get motivated to finish them. Help?"
–Kelsey L.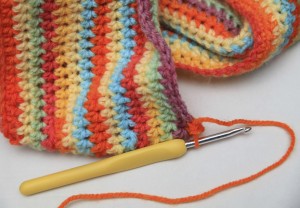 Oh, the saga of the crocheter – a story well told and never-ending! We get started with one project and then for some reason or another we end up setting it aside. Let's talk about WHY the project is being set aside and maybe we can help each other find that motivation to finish that UFO (unfinished object)! To begin with, let's identify the main reasons why a project gets set aside. Life, length, wrong yarn, wrong fit, our own skill level, or it's just plain boring.
Of course, sometimes life just gets in the way. In this case, we need to focus on what needs our attention most and set our work aside. Should you need to do this – my main suggestion here is to clearly mark on your pattern where you left off. Also, put the project in a sealed bag along with the pattern, all the yarn and the hook you are using. Yes, this means you will need to get another hook in that size should you need it for another quick project – but doing this means that you will have no excuse to not start the project back up when the time is right. Having everything together means you won't lose the pattern or accidentally use the yarn in another project and then have to scramble to find the matching dye lot later.
Before you begin any project, be sure to read through the entire pattern before you begin. Identify any areas that look confusing to you. Once you have done this, be sure to learn how to do these areas before you begin. There is nothing worse than excitedly getting through a large chunk of a new pattern to hit a wall with a section that you don't know how to tackle. There are endless resources to get help with a crochet pattern – from your LYS (local yarn store), to online forums like Ravelry and YouTube channels like AllFreeCrochet. Look up the special area beforehand, and maybe even use your gauge swatch as a place to practice.
Speaking of gauge swatches – if you are working on something wearable and you're finding that it doesn't fit as you go along…did you take the time to work that gauge swatch? Gauge swatches are invaluable for so many reasons. From being a great place to practice stitches and stitch techniques, they also make sure that your finished project will fit correctly. The gauge swatch gives you a chance to adjust your tension and/or needle size before you begin big project. The gauge swatch will also give you a chance to see what the particular yarn you've chosen will look like when worked up.
Finally, should you discover that the pattern is just boring for you, or the yarn is just not right for the project at hand – you might need to go ahead and make that executive decision to send that project to the "Frog Pond." Yes, you read that correctly. Toss that project aside for when you have a moment and can happily "rip it rip it rip it" and pull those stitches out and rewind the yarn into a happy ball. You'll actually find a lot of therapeutic relief in releasing that yarn from the confines of a project that isn't working out. After all, when you are done rewinding it, that yarn will move onto to happier pastures in a new project and you will all be happier in the end.

Happy Hooking!
Chris
Do you have a crochet question for Chris? Write us (submissions@ilikecrochet.com) and include "Chris's Corner" in the subject line.