The Craft Yarn Council has long established itself as a key player in the crochet and knitting world by organizing and advancing yarn companies like Red Heart Yarn, Lion Brand, Annie's, and more. Representing the limitless potential of working with fiber, the CYC hosts events for I Love Yarn Day to inspire regulars and attract
The Craft Yarn Council has long established itself as a key player in the crochet and knitting world by organizing and advancing yarn companies like Red Heart Yarn, Lion Brand, Annie's, and more. Representing the limitless potential of working with fiber, the CYC hosts events for I Love Yarn Day to inspire regulars and attract newcomers. According to their website, 38 million people crochet or knit, and that figure includes women of all ages. As a matter of fact, hip celebrities like Julia Roberts, Cameron Diaz, Sarah Jessica Parker, and others all appreciate the power of an afternoon spent with hooks or needles, yarn, and a good pattern. The CYC answers that demand by producing project ideas that continue to delight crocheters everywhere.
In an October 2014 survey, the Craft Yarn Council discovered that scarves are still the most popular and trendy pattern for those who crochet or knit.
"Scarves at 86% and hats at 79% were the favorite projects across all age groups," the report on the website says.
At I Like Crochet, we have seen that the popularity of scarves has stayed strong throughout 2016, so the innovation has continued. The Craft Yarn Council and its thriving community of passionate yarn experts have created a template for a magnificently colossal scarf that—literally—dwarfs regular scarves. This collaboration has resulted in I Like Crochet's version of the Super Scarf, which is 10 inches wide, 84 to 120 inches long, and 100 percent full of trendy appeal. Just for comparison, your average scarf is about six to eight inches wide and 70 to 80 inches long—meaning the Super Scarf is over one and a half times larger! The bulky, bundled look of this style takes scarves from being a simple accessory to being the star of an outfit. This new fashion trend is cozy, eye-catching, and comfortable all at the same time. To make this scarf your own, follow the pattern on I Like Crochet's blog.
Besides being flawlessly bold and commanding, the Super Scarf is like a whole closet of scarves in itself—there are so many different ways to wear it. Embrace a loose feel with the Dramatic Drape or Down to Business styles for crisp fall days that just need a light coverage, or layer up by styling your Super Scarf like the Cozy Hooded Wrap or Modern Twist for stronger protection during the winter.
Although it is hard to stop experimenting with all the cute ways to wear the Super Scarf, here are a few of our favorite styling options:
Dramatic Drape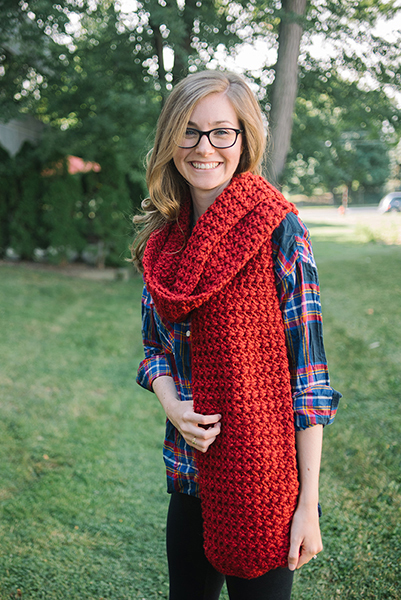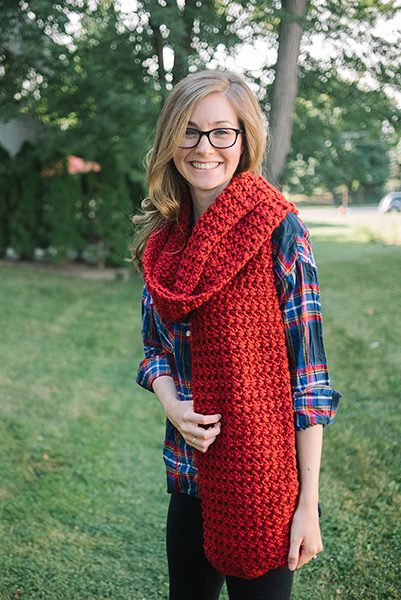 Wearing a scarf with one end tossed effortlessly over the shoulder creates unparalleled elegance in an outfit. Simple and classic, the Dramatic Drape is a style that you can adopt even when you are late and running out the door. Due to the oversized dimensions, wearing the Super Scarf this way gives it the feeling of a scooped cowl neckline, which adds even more flair to an already show-stopping piece. It looks perfect with this flannel shirt for a more casual fall day, or you could combine it with your nice winter overcoat for a cold trip to the office.
Infinite Chic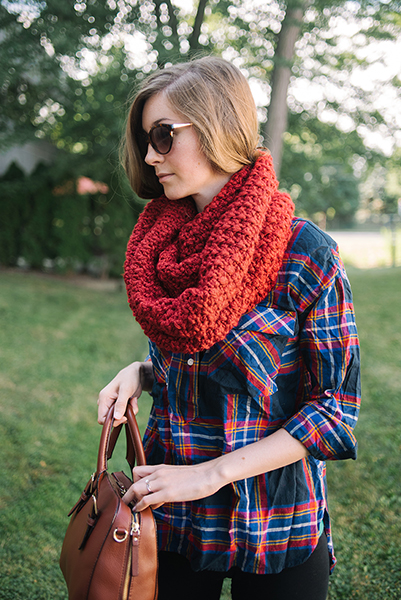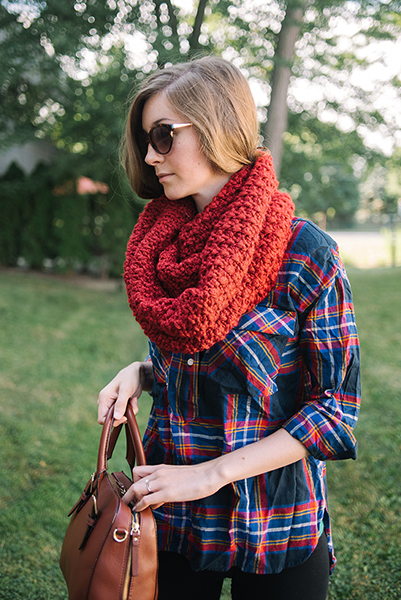 Crochet infinity scarves are incredibly popular right now, and it's easy to see why. The bunched, interlocking parts of the scarf parallel the tight crochet stitches in a way that you just can't seem to find in a store. This style shows how incredibly versatile the Super Scarf is since you don't have to choose between a traditional scarf and the never-ending connections of an infinity scarf. With a few simple loops and the right positioning, the length of the Super Scarf transforms into a short and bulky infinity design.
Modern Twist
This style of the Super Scarf is cutting edge. It's hard to go wrong with tried-and-true methods of wearing a scarf, but there are days when the crisp weather invigorates you to be adventurous. Since the Super Scarf is so long, there is plenty of room for twisting and draping to create unique shapes. The final style has so much dimension to it, yet it still hits right around the waist to maintain a full effect.
Here are the step-by-step instructions for unlocking the secret of this style:
Hang the scarf unevenly around your neck, with one side close to the ground and the other hanging several inches past your shoulder.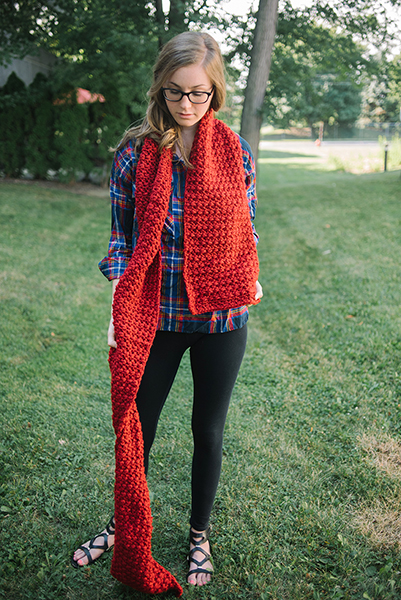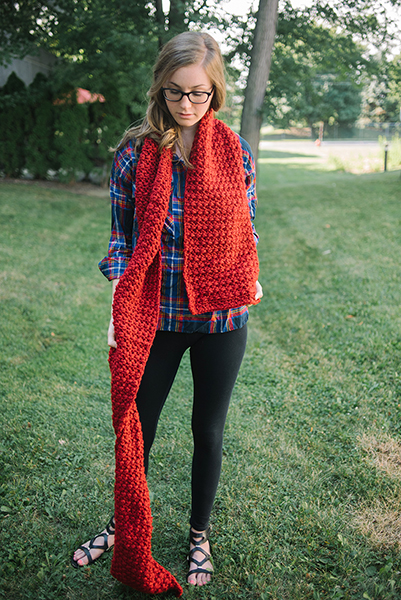 Take the long end and bring it over the opposite shoulder, so that it forms a loop around your neck.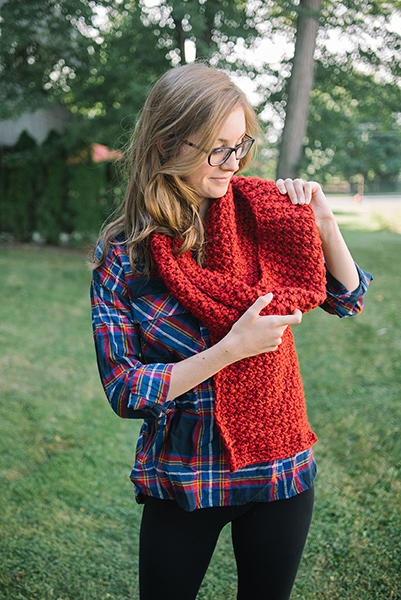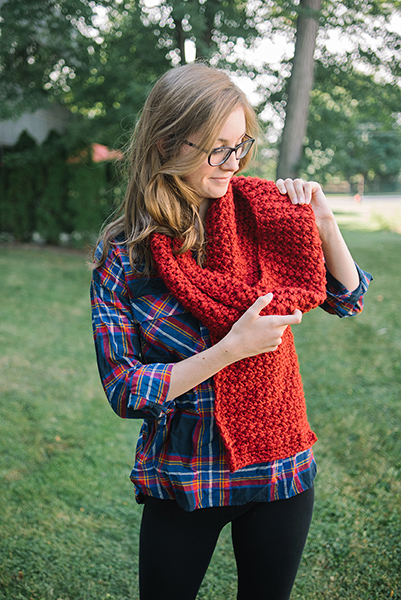 Bring it all the way around your back, like you're wrapping up in a shawl.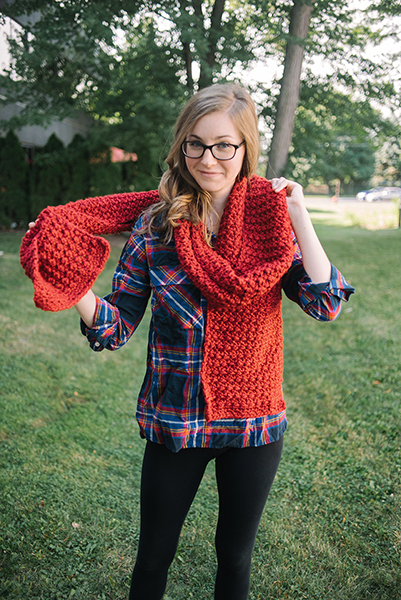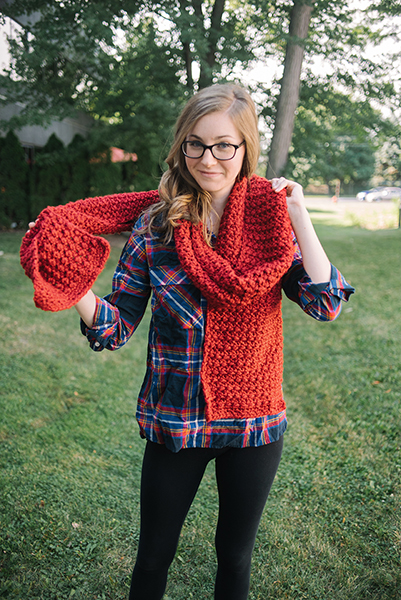 Tuck this into the loop around your neck so that the two ends line up with each other and form a cute tail coming out the bottom.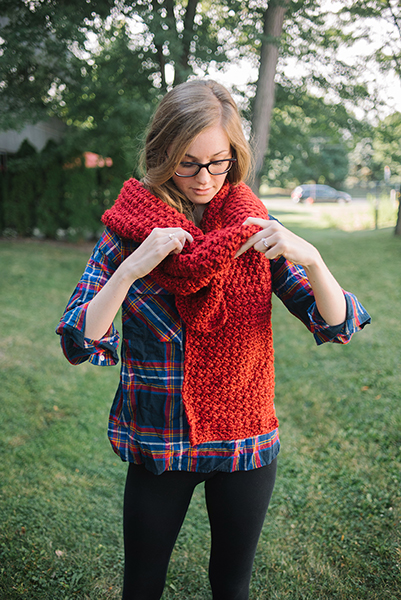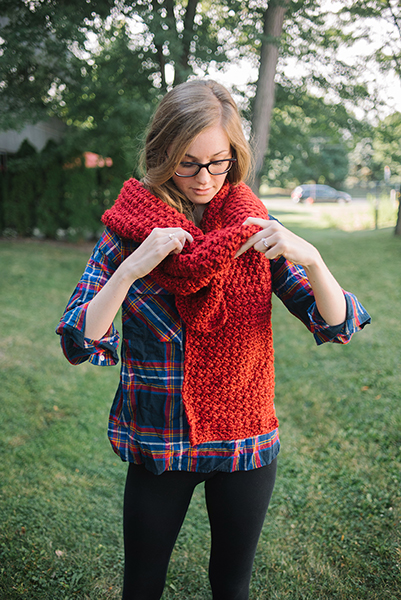 Viola! There is now an interesting twist in the front that looks edgy and intricate, but doesn't require pinning, knots, or any other painful styling techniques.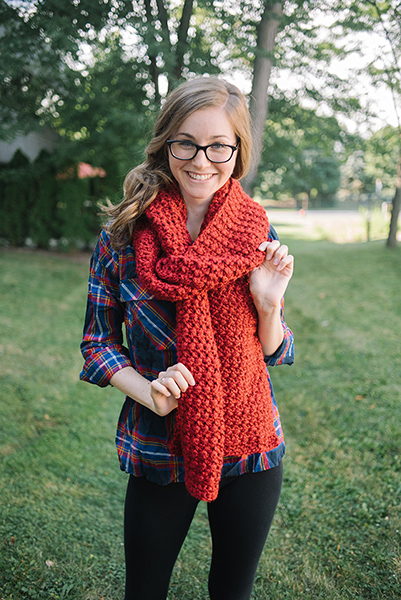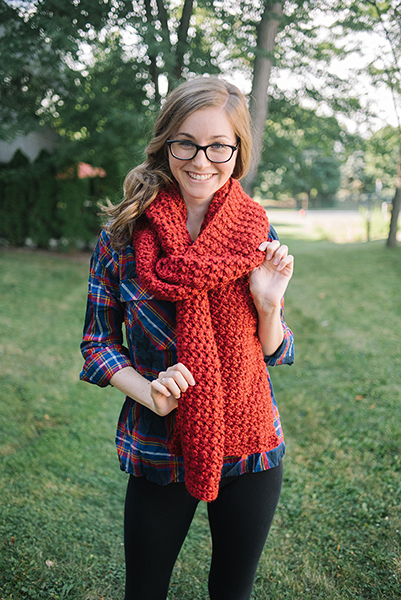 Cozy Hooded Wrap
Some days, the cold wind makes it seem impossible to maintain a sense of style. With the icy feeling of snow in the air, it is completely possible to bundle up to keep ears and head warm without sacrificing on fashion. You can wrap the Super Scarf around your neck several times and then pull one of the folds over your hair to provide an invaluable buffer against the elements. It definitely has that "cocoon" feeling that makes it easy to burrow down into, as though your entire upper body is getting a big yarn hug.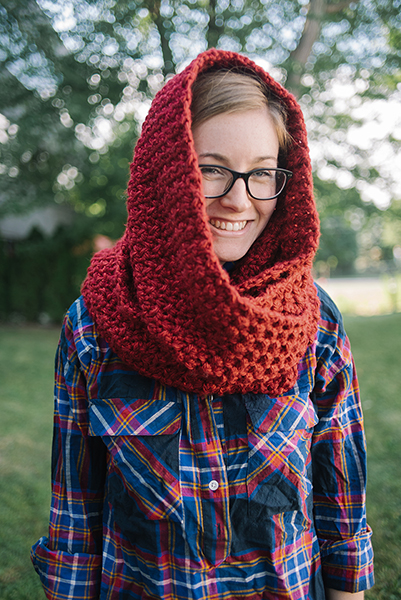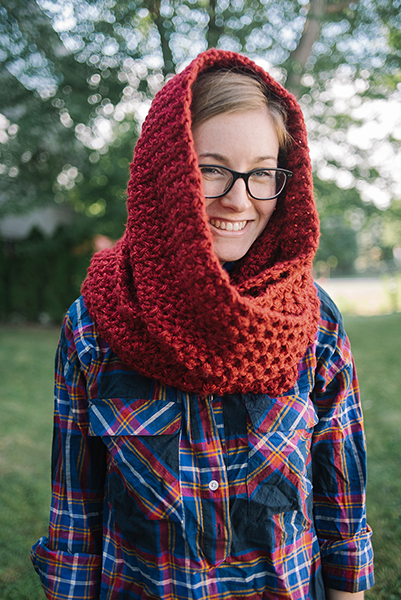 Loop Love
Although looping and arranging a scarf might seem intimidating, this is another easy way to vary the look of the Super Scarf. It's also a very secure way to wear the piece, perfect for those fast-paced days when it is an added hassle to keep pulling and tugging on your outerwear. Your neck will stay nice and toasty when you embrace the Loop Love.
Four quick steps, and this style is all yours:
Fold the scarf equally in half.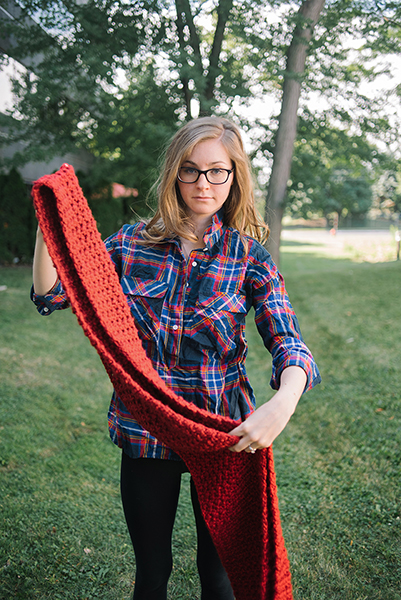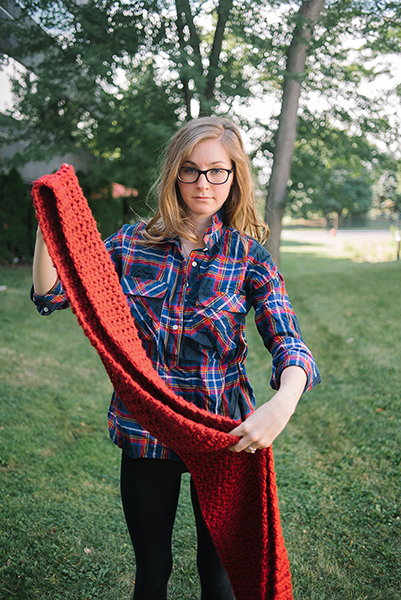 Wrap the folded scarf around your neck. On one side, you will have the two loose ends, and on the other, you will have a loop at the point where you folded the scarf.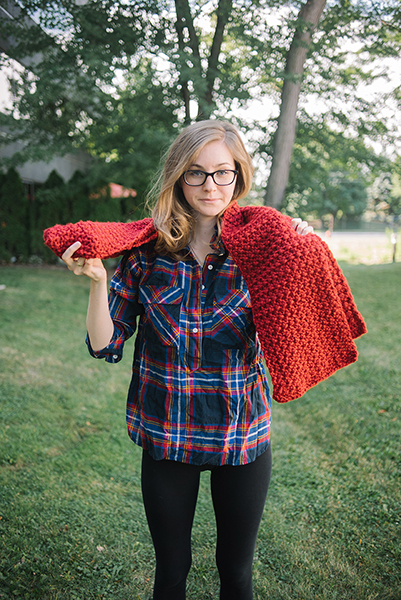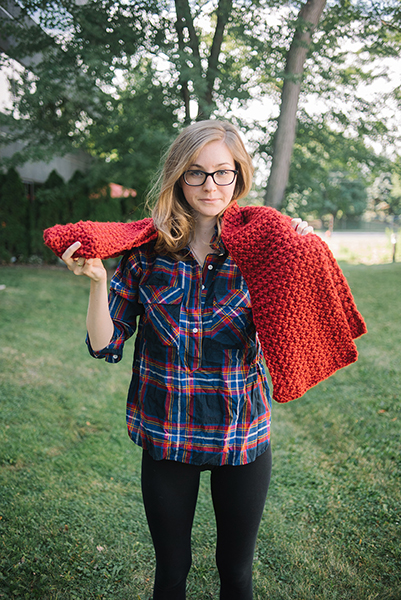 Pull the side with two ends through the looped side.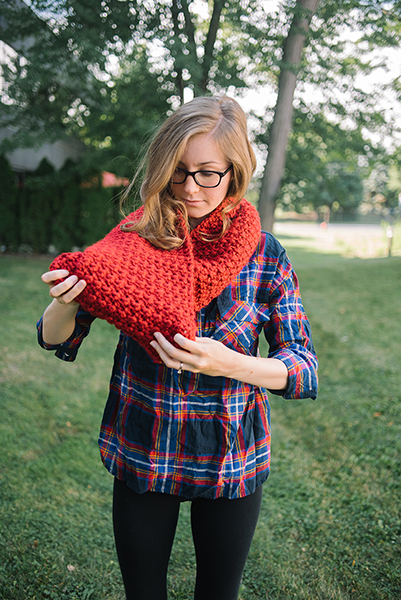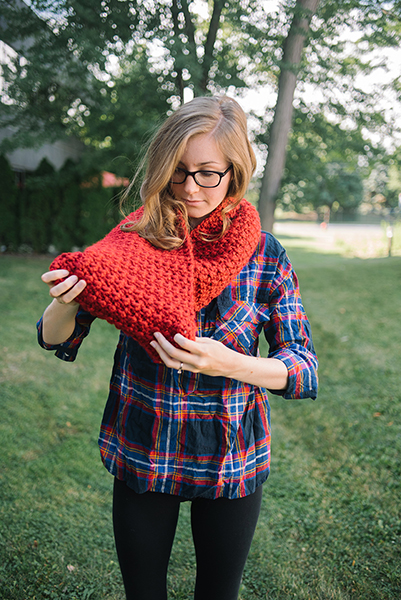 Tighten and adjust to get this classic look!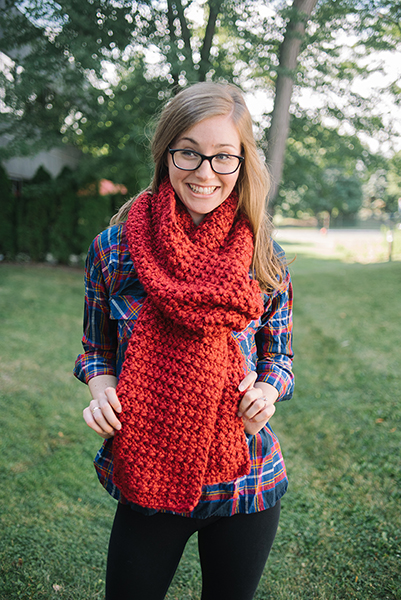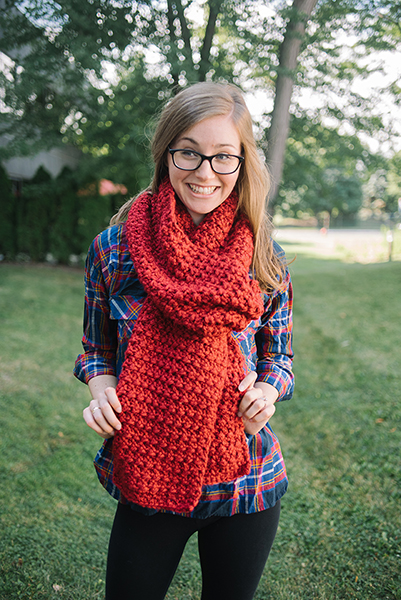 Down to Business
Another classic way to wear the Super Scarf, the Down to Business style keeps its look clean and fresh. It's simple to loop the piece around your neck and then let each end hang down on either side, creating a great dynamic between the rest of your outfit and the scarf. With just a hint of the shirt peeking through between the two sides and the complimenting colors on the sleeves, an outfit like this one can coordinate all its pieces flawlessly, tied together by this striking piece. Another style option would be to combine this with a chic overcoat since the ends would drape nicely on either side of a button or zipper center. Of course, when wearing the Super Scarf, it's impossible not to have a side of fun with your main course of business.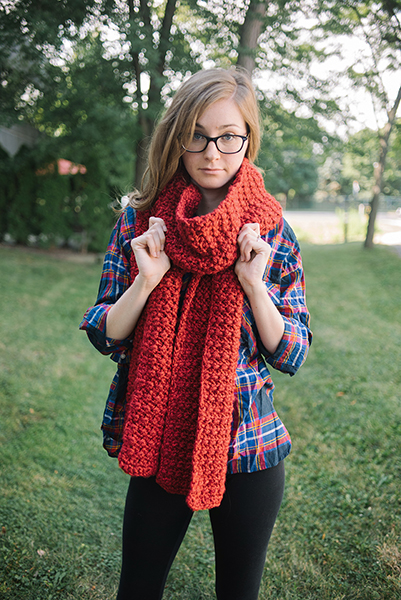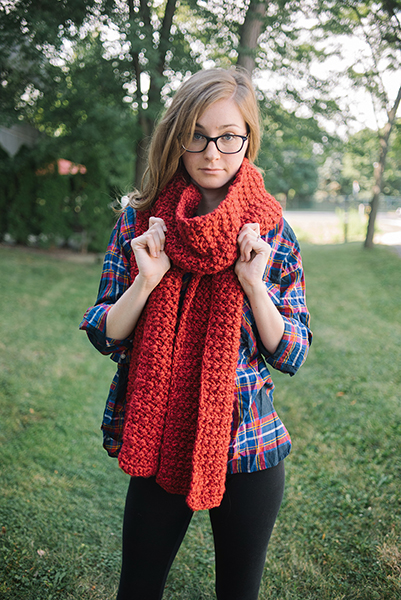 Obviously, this crochet scarf is a must-make. It's a great way to keep that wardrobe up to date without breaking the bank, but it would also be a fabulous gift idea for a fashion-forward friend—or to prove that grandma still knows what's cool. Whoever gets this scarf will never run out of style ideas, thanks to yet another great design from the Craft Yarn Council and I Like Crochet.