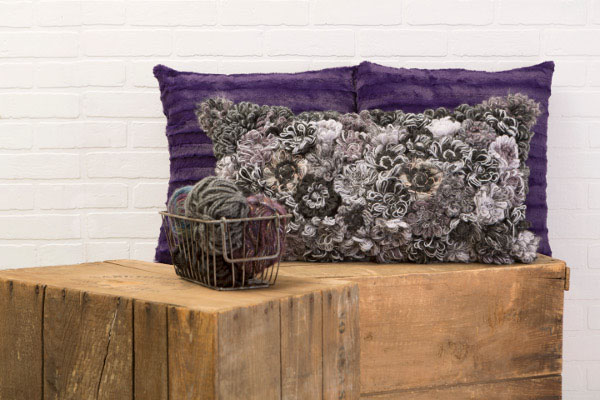 Designer by: Michele Muska for Boye Needle
Customize your own pillow by making your own bloom adornments. Use different colors to complement any room.
Skill Level: Easy
Size: Size varies depending on pillow preference
Gauge: Gauge is not needed for this pattern
Materials
Yarn: 4 to 6 different skeins of yarn
Notions: Boye/ Crochet Dude Bloom Loom, darning needle, scissors, needle and thread or fabric glue
Pattern Notes
Read all manufacturer's instructions for creating blooms before starting.
For 12×12" pillow, make approx. 35 to 37 blooms.
For 25×16" pillow, make approx. 56 blooms.
Pattern
Make appropriate numbers of blooms by mixing the yarns together.
You can make first layer of petals with one or two yarns depending on the thickness.
Finish the small layer with an additional yarn from your selection to give it contrast. Mix it up to give it an eclectic look. For a more streamline look you can go with all one color. Using one color yarn but with different textures will create yet another look for you.
Glue blooms to pillow or sew on with needle and thread.