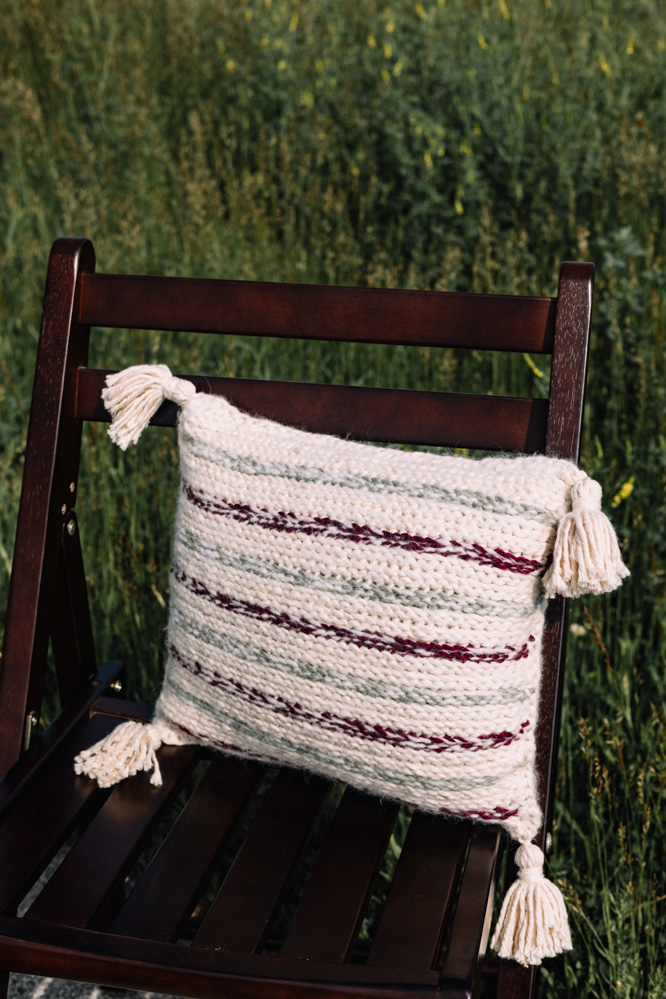 Can you believe this pillow is actually crocheted? This design mimics the look of popular woven pillows. To elevate the texture and look of this pillow, two completely different types of yarn are held together at the same time.
Time: Week Project
Skill Level: Easy
Size: Designed to fit a 12" X 18" pillow
Gauge: 13 sts and 18 rows = 4" [10 cm]
Materials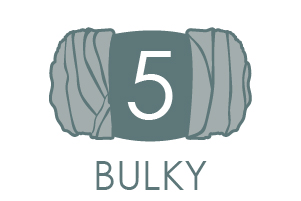 Yarn: WeCrochet Billow (100% Pima Cotton; 120 yards/100 grams): Natural Billow (MC, 2 balls), Celadon (C1, 1 balls), Fairy tale (C2, 1 balls)
WeCrochet Wonderfluff (70% Baby Alpaca, 7% Merino Wool, 23% Nylon; 142 yards/50 grams): Bare Wonderfluff (2 balls)
Hook/Needles: US size K (7.0 mm) crochet hook
Notions: Tapestry needle, 12"X18" pillow form
Pattern Notes
The panels are worked flat, in rows and then slip stitched together.
The Billow and Wonderfluff yarn is held together throughout the entire pattern. Even when changing colors in the Billow, the Wonderfluff always stays the same.
The entire pattern is worked in slip stitches. It is important to keep your tension loose, so that you are able to comfortably work into the stitches.
For carrying the colors, it is easiest to carry the MC since that color is being used every couple of rows. But since the CCs are not used as often, it is easiest to cut the yarn after using it. To avoid weaving in a significant number of ends, when stitching around the pillow, tuck the ends into the inside of the pillow.
Pattern
Panels (Make 2)
Holding one strand of Wonderfluff and MC, ch 43.
Row 1: Sl st in the 2nd ch from hook and in every ch to end of row (remember to keep your tension loose!). (42 sts). Ch 1, turn.
Rows 2-4: Sl st into the front loop of every st. Ch 1, turn.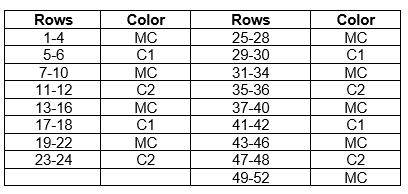 Row 5-6: With C1, Rep Row 2. Do not fasten off.
Row 7-10: With MC, Rep Row 2.
Row 11-12: With C2, Rep Row 2.
Row 13-16: With MC, Rep Row 2.
Row 17-18: With C1, Rep Row 2.
Row 19-22: With MC, Rep Row 2.
Row 23-24: With C2, Rep Row 2.
Row 25-28: With MC, Rep Row 2.
Row 29-52: Rep Rows 19-28.
Fasten off the first panel. Keep the yarn attached for the second panel and continue to the border.
Border
Lay one panel on top of the other. Evenly sc the two panels together, working 3 sc in each corner. Before working the sc on the last side, insert the pillow form.
Fasten off, and weave in any loose ends.
Finishing
Using the MC, make 4 tassels and attach them to each corner of the pillow.