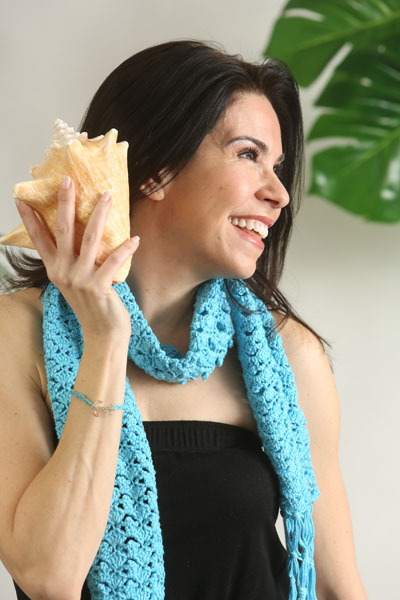 With a full moon casting its delicate flickering light over the waves and beach, this summer scarf would be ideal for an unforgettable evening. It's made with a light cotton yarn that's sure to be appropriate for any vacation or just for running errands in the summertime.
Skill Level: Easy
Size: 5 ½" and 60" (not including tassels)
Gauge: 3 rows = 4"
Materials
Yarn: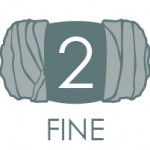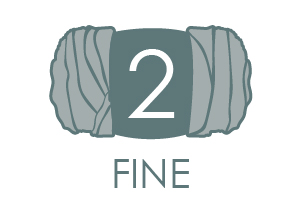 Premier Yarns Cotton Fair (52% Cotton, 48% Acrylic): 317 yards [290 meters]/100 grams): #27-04 Turquoise (2 balls)
Hook/Needles: US size G/6 (4.25 mm)
Notions: Tapestry needle
Special Stitches (if needed)
Picot V-stitch = Dc, ch 3, insert hook down through top of dc just made (2 loops on hook), sl st to close, dc in same st.
Pattern Notes
For Fringes: Cut 4 24" for each end loop across bottom and top of scarf. There will be a total of 40 strands, using 4 strands for each loop.
Pattern
Ch 28.
Row 1: 2 dc in 3rd ch from hook, *ch 1, skip next 4 ch, work 5 dc (shell) into next ch;  rep from * across, working only 3 dc at end of last ch. Turn. (4 shells and 6 dc at end of this row)
Rows 2:  Ch 1, sc in 1st st, *ch 2, skip 2 dc, work Picot V st in next ch-1 sp, ch 2, skip next 2 dc, sc in next dc; rep from * across, ending last repeat in top of turning ch. Turn. (5 Picot V sts)
Row 3: Ch 3 (counts as 1st dc), work 2 dc into first sc, *skip ch-2 sp, Picot V st  and ch-2 sp, work 5 dc in next sc; rep from * across, ending with 3 dc at end of row. Turn.
Rows 4-110: Repeat Rows 2-3.
Fasten off.
Weave in all ends.
Finishing
Knotting Fringes: With 4 strands of yarn, fold in half, insert through any open loop at bottom and top. Knot all sets of 4.
Second row of knots: Using all strands of end fringe and 4 strands of next fringe. Knot. Repeat for each knot, using all stands of last fringe.
Third row of knots: Repeat as for 2nd row, ending with 3 fringes. Trim.