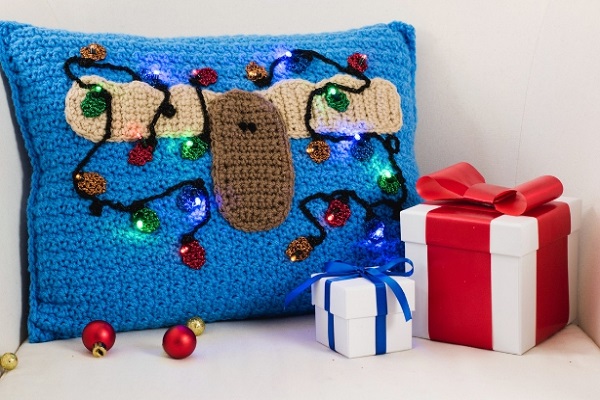 Dear Crocheter,
Crocheted pillows are one of the best ways to display your skills for everyone to see. As useful as they are attractive, pillows are a must for your home.
One of our favorite occasions to use pillows in your décor is for the holidays—crocheted pillows bring the magic of the season to your home. The Merry Chrismoose Pillow lights up the holidays—literally—with battery-operated lights featured in the antlers of a very merry moose. (There's even a battery-pack pocket on the back of the pillow!)
Crochet this super-simple pillow, work the moose and string of lights separately, and sew them onto the pillow. The magic happens when you insert a string of LED lights into the crocheted bulbs, turn on the power, and welcome the merry! Make the lights blink on and off for a really fun experience.
The Merry Chrismoose Pillow is wonderful for a cozy corner or on a decorative shelf to create a welcoming holiday spirit for all guests to enjoy.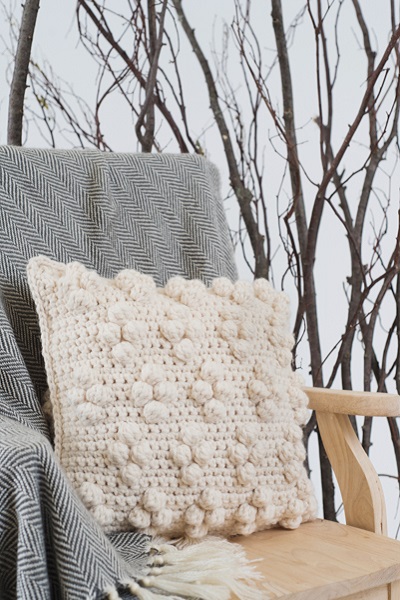 The Snowberry Pillow is a vision in texture. Bold clusters of bobbles bring texture and life to this living room staple. Its oversize pillow form and super bulky yarn make a big statement in your home. Even though this design is inspired by snowberries, it's at home in your living room all year round. We love it in cream, but it would also be beautiful in a bright red. Designer Tamara Kelly created a timeless classic with this one!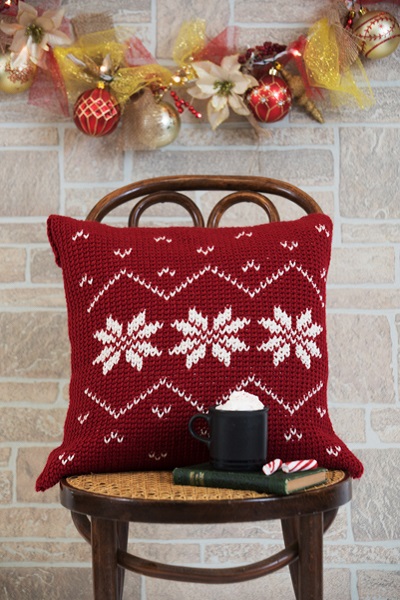 As the snow gently swirls around every corner outside, head indoors and cozy up on the couch with a warm cup of hot chocolate and the Snow Queen Fair Isle Pillow. With its Nordic nod to snowy weather, Olivia Kent's project evokes that classic fair isle sweater, which is perfect in winter. This red and white project is an on-trend, subtle way to bring the holiday spirit into your home.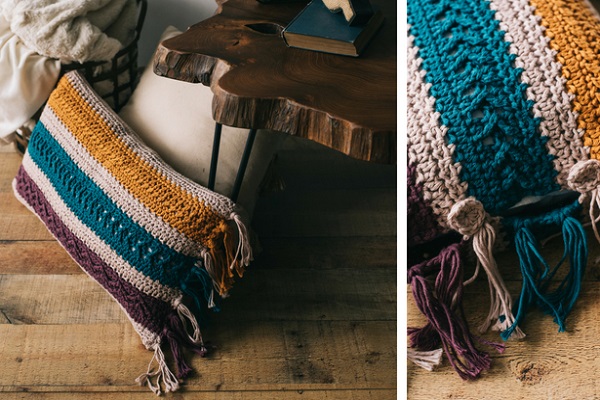 The Tribal Texture Pillow was inspired by traditional rug patterns. Using woven-like stitches, it features geometric patterns in three textured panels. To complete the look, the shorter sides are decorated with tassels and crocheted button closures.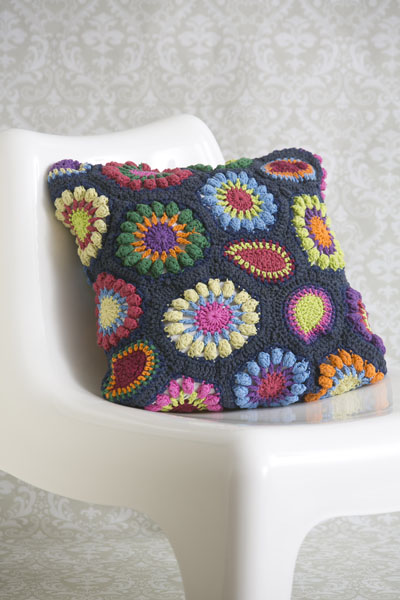 Spice up that drab sofa in no time with the brightly-colored Retro Flower Cushion. It uses only two motifs, each made in two sizes. The main leaf motif uses the five basic crochet stitches, so it's ideal for a group or teaching a crochet novice.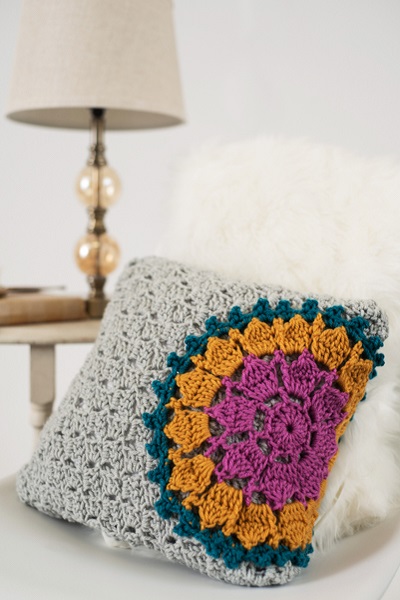 Kristi Simpson's Mandala Burst Pillow is simply spectacular. A stunning addition to any décor, this pillow adds a modern, handmade touch. Make two or three of these in your favorite colors to accent your sofa or chairs.
To ensure a successful crocheting experience, all of I Like Crochet's patterns include the following:
Complete stitch instructions
List of necessary materials
Special stitch instructions
Pattern notes when necessary
Finishing instructions
Detailed photography
Modern or traditional, we have pillows that will make a statement in your décor. Add easy, fun style to your home with more than 30 ideas for crochet pillows!
But this is just a fraction of what you'll get with an I Like Crochet Gold Club Charter Membership—your membership includes subscriptions to the I Like Crochet Magazine Club and to the I Like Crochet Collections Club; full and immediate access to the digital library of 4+ years of magazine issues with 600+ crochet patterns and articles; step-by-step instructions for patterns; and video tutorials and full-color photographs for details about projects and stitches. Plus, two FREE copies of our crochet DVD "Crochet Secrets Revealed: 12 Tutorials by Michael Sellick" for you right now—one to keep, and one to give as a gift to a fellow crocheter.
Your I Like Crochet Gold Club Charter Membership gives you access to our crochet patterns and content, 24-hours-a-day on whatever device you prefer—desktop, laptop, or tablet…even on your phone! And the content is fully searchable, so you can find exactly what you want—when you want it—at your fingertips in an instant.
Here are just a few of the tantalizing patterns sitting in our library right now—and all contained in a single issue—to which you'll get instant access when you join the I Like Crochet Gold Club as a Charter Member:
Merry & Bright Garland
One Skein Joy Slippers
Cady Cowl
Dachshund Through the Snow Amigurumi
Belle Brioche Beanie
Powder Polar Bear Pocket Scarf
Penguin Waddle Rattle
Lucy Scarf
Merry Chrismoose Lighted Pillow
Felix Faux Fur-Lined Cowl
Poinsettia Tote
Blizzard Bear Hat
Cup of Kindness Mug Cozy & Coaster
And the library of photos and video tutorials is gorgeous, inspiring, and practical—showing you exactly how your finished patterns should look and exactly how to execute, even the difficult ones!
When you join our #1 community for crochet-lovers, you'll receive all of the handy benefits that crocheters everywhere have been buzzing about:
You'll learn new stitch techniques with a variety of patterns that range from beginner to advanced.
You'll find expert tips and tricks that will help you achieve professional results.
You'll start getting requests for your stunning crocheted items from your family and friends. (Pssst! Christmas is coming… it's time to get started on your handmade gifts!)
You'll have access to renowned designer patterns and tutorials from all over the world.
You'll never worry about mistakes in patterns or ripping out your progress because our tech-edited patterns are curated from trusted designers in the crochet community.
You'll be connected to an online community of crocheters who are just as passionate as you!
Don't miss out on this exclusive charter membership offer to get all of the above and more!
When you activate your I Like Crochet Gold Club Charter Membership today, you'll get access to everything we have about crocheting—all access and all the time:
A full year of upcoming issues of I Like Crochet magazine—BOTH the web edition and the tablet edition, including 150+ exclusive designer crochet patterns and articles with step-by-step instructions, video tutorials and full-color photography for details of projects and stitches
Instant access to EVERY issue we've ever published—a vast library of more than 4 years of issues with 600+ patterns and articles
A full-year's subscription to the I Like Crochet Collections Club that includes gorgeous designer patterns
Regular e-newsletters, full of the latest crochet tips & tricks
Free patterns, expert tips, and Crochet Along community events
NEW! 2 FREE copies of our just-released "Crochet Secrets Revealed: 12 Tutorials by Michael Sellick" DVD—featuring patterns and tips from an expert designer. Keep one for yourself and give one as a gift to a lucky friend!
And here is what you don't get when you become a Charter Member of the I Like Crochet Gold Club—advertisements! That's right, we're advertising-free, so that we can devote more time, space, and effort to helping you be an awesome crocheter!
All of this is available to you—right now—when you claim your I Like Crochet Gold Club Charter Membership. Special HALF PRICE offer that includes two FREE copies of our latest DVD "Crochet Secrets Revealed: 12 Tutorials by Michael Sellick"…our gift to you this holiday season!
No other online magazine has this much information about crochet all in one place for your easy access!
Crocheters everywhere have been enjoying I Like Crochet magazine for years, and now it's better than ever with more benefits, patterns, and content than you could ever dream of—with an I Like Crochet Gold Club Charter Membership.
When we first put this new club together for crocheters like you, your needs and desires were top-of mind. We're the ultimate resource and network for crocheters everywhere, offering original designer patterns and content from authoritative and respected voices in the crochet world.
I think you'll agree that this really is an unusual offer—HALF PRICE, plus 2 FREE crochet DVDs when you become an I Like Crochet Gold Club Charter Member today! It's an incredible deal that you don't want to ignore!
Why not be among the select group of crocheters to join us today and benefit from all the valuable information about crocheting that you can't get anywhere else?
Become an I Like Crochet Gold Club Charter Member today—while this special offer lasts!