From: The August 2017 issue of I Like Crochet
Skill level: Easy; Intermediate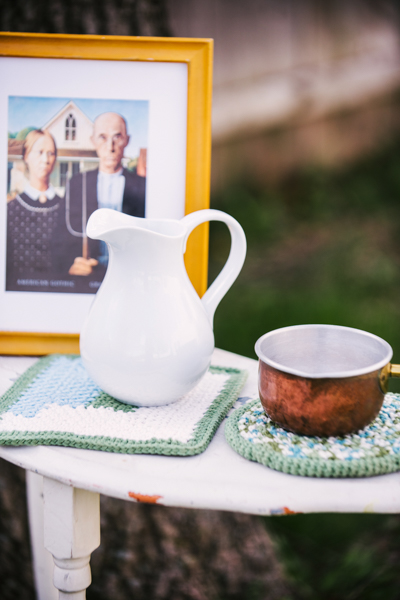 Patchwork quilts and braided rugs, white ironstone pitchers and copper kettles. These household items are what come to mind when you think of farmhouse style in the 1800s. And the Americana Kitchen Set pays tribute to that aesthetic—and the creative and industrious women of the 19th century.
It's ingenious, really, how the trivet and dishcloth patterns tell the story of farm women's textile artistry. The trivet resembles a braided rug while the dishcloth is constructed like a log cabin quilt block. Women made—and still make—quilts and rugs out of scraps of fabric, and they are both useful and beautiful.
The Americana Kitchen Set also fits perfectly into a 21st century farmhouse kitchen. Both pieces are functional, but they would work just as well as part of a vintage kitchenware display. Make them in the classic colors shown here, or switch them up to coordinate with your own décor.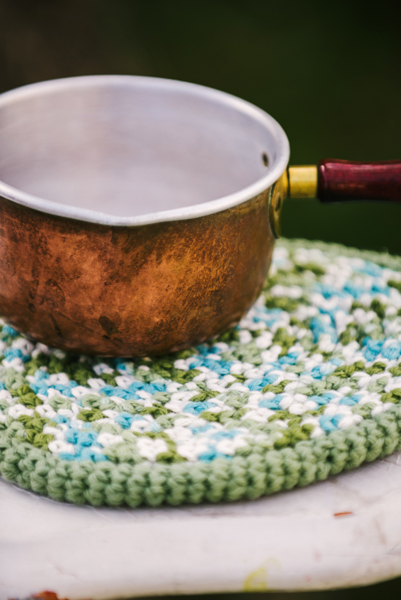 The "rug" is easy to make. It's constructed of a crocheted tube which is then sewn together to form the trivet. The crocheted tube is worked in a continuous spiral. The intermediate-level dishcloth is worked in the same format as a Log Cabin quilt block. After each section is completed, rotate your work 90 degrees as if you were turning a piece of paper from portrait to landscape. Don't worry if you've never done this before—we give you a downloadable schematic that shows you where to place each segment. A simple crochet edging "binds" the block.
Darleen Hopkins designed the Americana Kitchen Set for I Like Crochet. Darleen brings a unique approach to crochet that makes her patterns perennial favorites.
The Americana Kitchen Set pattern includes:
Complete stitch instructions for two projects
List of necessary materials
Special stitch instructions
Pattern notes
Log Cabin design schematic
Finishing instructions
This delightful set would make a thoughtful gift for your favorite quilter, braided rug maker, or anyone who appreciates vintage style. The trivet, especially, would be the perfect project for a young, beginning crocheter to make while they learn about the women of the past who worked tirelessly—and inventively—to make a house a home.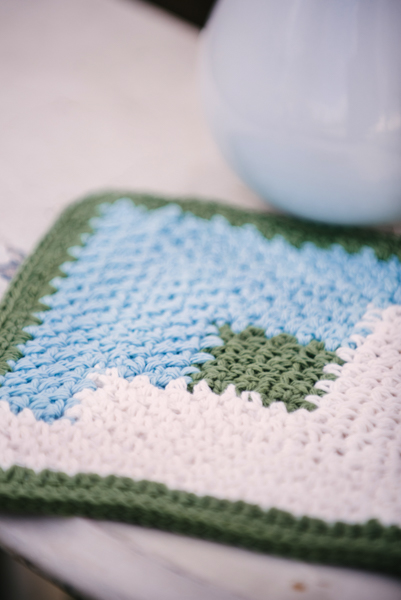 Get an entire library of everything about crochet—with your I Like Crochet Gold Club Charter Membership!
But this crochet pattern is just a fraction of what you'll get with an I Like Crochet Gold Club Charter Membership—your membership includes subscriptions to I Like Crochet magazine and to the I Like Crochet Collections Club; full and immediate access to the digital library of 4+ years of magazine issues with 600+ crochet patterns and articles; step-by-step instructions for patterns; and video tutorials and full-color photographs for details about projects and stitches.
Your I Like Crochet Gold Club Charter Membership gives you unlimited access to all of our crochet patterns and content, 24-hours-a-day on whatever device you prefer—desktop, laptop, or tablet.  And the content is fully searchable, so you can find exactly what you want—when you want it—at your fingertips in an instant.
Here are just a few of the tantalizing patterns sitting in our library right now—and all contained in a single issue—to which you'll get instant access when you join the I Like Crochet Gold Club as a Charter Member:
Pineapple Tunisian Pillow
Garden Glow Sweater
Bear-y in Love Panda Amigurumi
New Easy Granny Blanket
Hydrangea Scarf
Morning Walk Earwarmer
Blue Sage Hooded Shawl
Frosted Bluebell Cloche Hat & Overall Dress Set
Love Me Knot Wristlet
Roses are Red Vest
Spearmint Hand & Face Towels
Mineral Springs Cosmetic Bag
Eucalyptus Eye Mask
PLUS, instructions on mastering the 6-stitch right cable and adapting patterns for plus sizes. And I didn't even list all of the patterns in this particular issue!
And more—over 600 crochet patterns and articles in all!
And the library of photos and video tutorials is gorgeous, inspiring, and practical—showing you exactly how your finished patterns should look and exactly how to execute stitches and patterns, even the difficult ones!
An I Like Crochet Gold Club Charter Membership will deliver exciting rewards for you—and it's HALF OFF, right now, when you join as a Charter Member!
When you join today, you'll be connected to anything and everything about crochet—and you'll enjoy all these benefits:
You'll learn all about every type of pattern and stitch in the crochet world, because we cover it all—from easy to intermediate and difficult, you'll master every pattern.
You'll be the best crocheter you can be with regular, ongoing tips and tricks about materials and techniques that will help your work shine!
You'll build your reputation as a terrific crocheter in your circle of friends and family when you honor them with the gift of your craftwork.
You'll learn from known expert crochet designers, because I Like Crochet has access to the best of the best—access you'd be hard pressed to get on your own.
And you'll be instantly connected to the entire crochet community for idea-sharing, learning, and the bonding that comes when passionate crocheters meet (even if it's only "meeting" online!).
How can you not consider becoming an I Like Crochet Gold Club Charter Member?
What you'll get with an I Like Crochet Gold Club Charter Membership.
When you activate your I Like Crochet Gold Club Charter Membership today, you'll get access to everything we have about crocheting—all access and all the time:
A full year of upcoming issues of I Like Crochetmagazine—BOTH the web edition and the tablet edition, including 150+ exclusive designer crochet patterns and articles with step-by-step instructions, video tutorials and full-color photography for details of projects and stitches
Instant access to our vast library of more than 4 years of issues with 600+ patterns and articles
A full-year's subscription to the I Like CrochetCollections Club that includes 70+ designer patterns
E-newsletters, full of the latest crochet tips & tricks
Free patterns, Crochet Along community events, and much more!
And here is what you don't get when you become a Charter Member of the I Like Crochet Gold Club—advertisements! That's right, we're advertising-free, so that we can devote more time, space, and effort to helping you be an awesome crocheter!
All of this is available to you —right now—when you claim your I Like Crochet Gold Club Charter Membership.
Why not join right now? Thousands of others already have.
Crocheters everywhere have been enjoying I Like Crochet magazine for years, and now it's better than ever with more benefits, patterns, and content than you could ever dream of—with an I Like Crochet Gold Club Charter Membership.
When we first put this new club together for crocheters like you, your needs and desires were top-of mind. We're the ultimate resource and network for crocheters everywhere, offering original designer patterns and content from authoritative and respected voices in the crochet world.
I think you'll agree that this really is an unusual offer—Half-Off to become an I Like Crochet Gold Club Charter Member today! It's an incredible deal that you don't want to ignore!
Why not be among the select group of crocheters to join us today and benefit from all the valuable information about crocheting that you can't get anywhere else?
Become an I Like Crochet Gold Club Charter Member today—while this special offer lasts!