From: The April 2014 Issue of I Like Crochet
Skill level: Easy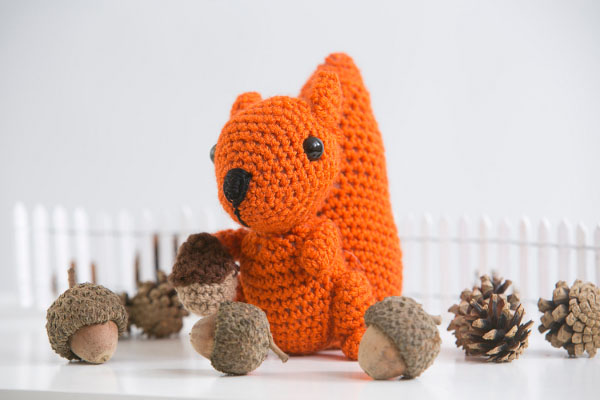 Squirrel! Yes, Acorn, the amigurumi squirrel will grab your attention—and win your heart. This cute little critter has an impressive tail, big eyes, a black nose—and she's even holding her favorite crocheted nut!
Acorn the Squirrel joins our collection of crochet amigurumi patterns that will delight you and your crochet friends— both young and old. If you're not familiar with crocheted stuffed animals, they are inspired by the Japanese art of crocheting small, adorable, toys. The term amigurumi is a mash-up of the words for "crocheted or knitted" and "stuffed doll."
Amigurumi go anywhere a stuffed animal would go. On top of your computer or desk, perched on a bedside table or shelf, in a school locker—and of course kids love to play with them! Make them big or small and insert pipe cleaners to make some of the parts flexible if you like. Many amigurumi patterns are animals, but you're likely to find amigurumi tea cups, mermaids, cartoon characters, succulents,—and so on.
But, back to Acorn the Squirrel. This 3" x 5" cutie by crochet designer Tanya Eberhardt is easy to make—yes, amigurumi can be easy! The pattern is worked in the round from the top down, and you can use a magic ring to begin. You make each body part (and the acorn) separately, stitch them together, and stuff with your choice of filling before finishing.
The Acorn the (Crochet Amigurumi) Squirrel pattern from I Like Crochet includes:
Complete stitch instructions
List of materials, notions, and hook size
Pattern notes
Finishing instructions
You can make Acorn the Squirrel for yourself, a child, a friend—anyone who loves cute little stuffed animals. Whether your favorite squirrel is Rocky, Skrit, Sandy, or the one in your backyard, you will love the Acorn the (Crochet Amigurumi) Squirrel pattern.
The Acorn the (Crochet Amigurumi) Squirrel pattern is included in the April 2014 issue of I Like Crochet. And did you know you can access from anywhere you go when you become a Gold Club Member? That's right! At home or out and about, you can easily view this amigurumi pattern on your laptop or tablet – it's your choice!
Of course, amigurumi patterns are just the beginning! Your I Like Crochet Gold Club membership also includes stitch tips and tutorials all in addition to the 600+ patterns for baby blankets and clothing, accessories, shawls, scarves, and so much more. And the best part is, you can take all of it with you wherever you like to crochet – at home, on the bleachers, on a plane or train … anywhere it all!
If you're a subscriber check out the Acorn the (Crochet Amigurumi) Squirrel in the April 2014 issue of I Like Crochet.  If you're not, subscribe now to get all of the goodies mentioned above.