From: The June 2017 Issue of I Like Crochet
Skill level: Easy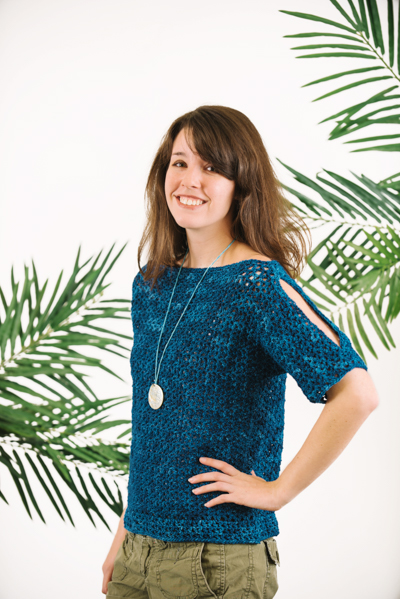 Summertime has us longing for the beach and an ocean breeze. But even if you're nowhere near the coast, you'll be transported to the seashore when you wear the Deep Waters Tee. This crochet top pattern from I Like Crochet features split sleeves and a lacy mesh stitch that will have you feeling—and looking—cool.
Not only is this top pattern breezy—it's easy! The back and front are worked alike, shaping the sleeves on both sides. Stitch them together using the downloadable schematic as a guide, add the hem and edging, and you're done! This is a wonderful pattern to choose when you're ready to make a new crochet top for the summer.
Sure, the Deep Waters Tee pattern, worked in a gorgeous variegated blue worsted yarn, would look great with cargo shorts when you're walking along the shore or having lunch at a seaside restaurant. But paired with black slacks it would make a great look for work, too. Or, choose a long skirt and sandals or flats for a casual night out.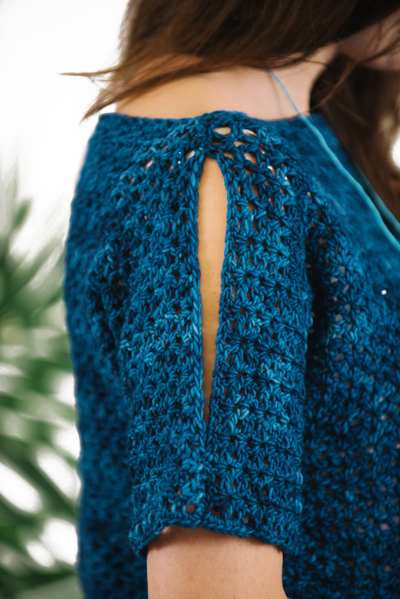 Designer Amanda Saladin specializes in fun crochet garments and accessories for all ages. With her fashion design background, she brings a lot of style to the patterns she creates for I Like Crochet. And we love making them available to you!
The Deep Waters Tee crochet pattern includes:
Complete stitch instructions
List of materials, notions, and hook size
Special stitches and pattern notes
Deep Waters Tee Schematic
Finishing instructions
This comfortable and casual tee goes from the ocean to the mountains, to work or an afternoon adventure. When you want to feel relaxed, but look pulled together, the Deep Waters Tee pattern will look great on you!
The Deep Waters Tee pattern is included in the June 2017 issue of I Like Crochet. And, when you become a Gold Club Member, you can access this and all the other I Like Crochet patterns from anywhere. That's right! At home or out and about, you can easily view this crochet top pattern on your laptop or tablet – it's your choice!
Of course, patterns are just the beginning of the goodies an I Like Crochet Gold Club membership provides. You also get stitch tips and tutorials, on top of the 600+ patterns for crochet tops, accessories, shawls, scarves, and so much more. And the best part is, you can take all of it with you wherever you like to crochet – at home, in the park, on a plane or train … anywhere you choose to crochet!
If you're a subscriber, check out the Deep Waters Tee pattern in the June 2017 issue of I Like Crochet. If not, subscribe now to get all of the benefits mentioned above.
Enjoy!