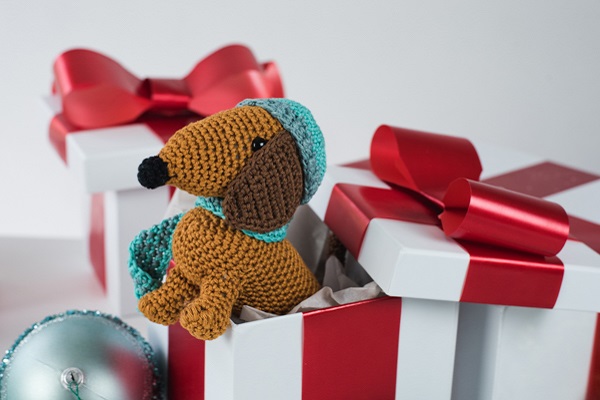 Dear Crocheter,
Amigurumi, the Japanese art of creating small, stuffed toys, is adorably cute. Combining the Japanese words for "crocheted" and "stuffed doll," "amigurumi" basically means "crocheted friend." How fun!
Crocheters create all kinds of amigurumi, from animals to food to their favorite superheroes or sci-fi characters. The sky's the limit for this cute craft.
Some of our favorite amigurumi are little animals, which are not only great for kid's toys, but also charming enough to decorate an adult's space, too. Celebrate the season with the Dachshund through the Snow amigurumi! This little pup is equally at home in a kid's room or on your holiday mantle, bringing cheer wherever he sits.
With its little bobble nose and two-toned body, Dachshund through the Snow will brighten up your Christmas display every day! Make him the ambassador of the holidays by moving him around from place to place and letting your children have fun finding him.
If you can single crochet and work the magic loop, then you can make your own little Dachshund and his festive little hat and scarf.
But don't stop with the Doxie—make more amigurumi characters to bring joy to you and your family!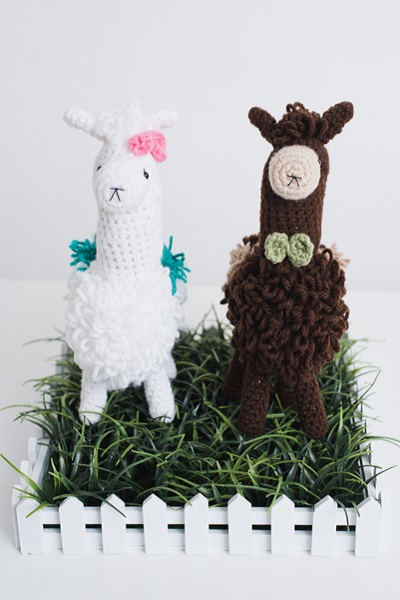 Save the drama for your llamas and crochet your very own pair of Loopy Llamas to cheer you up. With loopy bodies and cute accessories, these trendy llamas are a happy couple.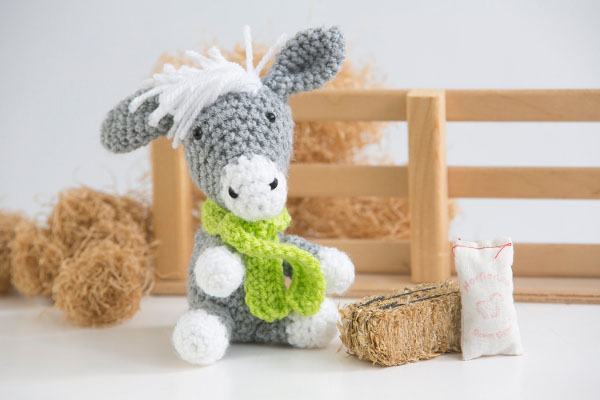 Meet Don the (Amigurumi) Donkey! Whether you make this amazing guy for decoration or for a little one to play with, you're bound to fall in love. His sweetness is contagious, bringing a smile to everyone who sees him. They'll love his little face as much as you do. And don't get us started on his tiny scarf that is perfect for the holidays. Make a whole stable of these tiny donkeys!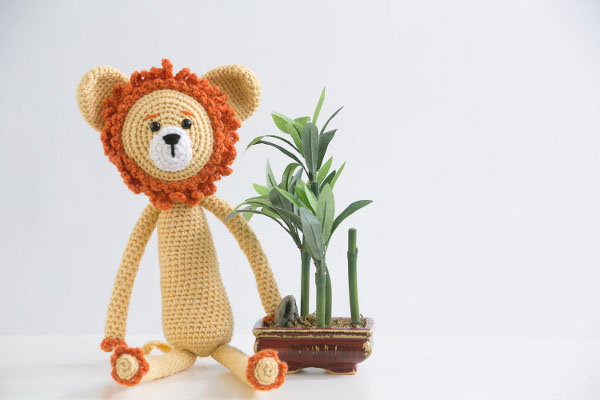 You can make a petite king of the jungle with Leo, King of the Amigurumi Jungle. Bring little Leo as a gift to your next baby shower for a unique twist on a traditional gift.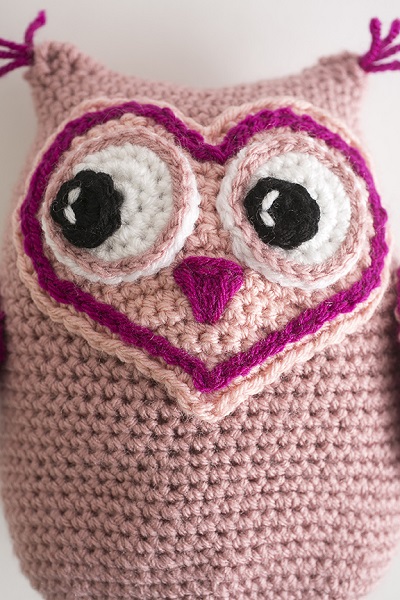 Made in shades of pink and purple, Owl Always Love You is an amigurumi that's the best way to share some crafty love. So much better than a drug store teddy bear, right?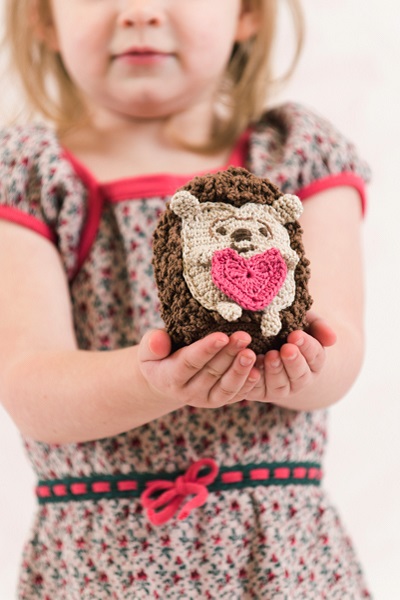 Hedgehug is giving you his heart! Using a fun stitch with several chains, you can achieve his prickly look without any prickles at all—just soft cuteness.
But this is just a fraction of what you'll get with an I Like Crochet Gold Club Charter Membership—your membership includes subscriptions to the I Like Crochet Magazine Club and to the I Like Crochet Collections Club; full and immediate access to the digital library of 5+ years of magazine issues with 700+ crochet patterns and articles; step-by-step instructions for patterns; and video tutorials and full-color photographs for details about projects and stitches. All for just 23¢ a week with your Charter Membership!
Your I Like Crochet Gold Club Charter Membership gives you access to our crochet patterns and content, 24-hours-a-day on whatever device you prefer—desktop, laptop, or tablet…even on your phone! And the content is fully searchable, so you can find exactly what you want—when you want it—at your fingertips in an instant.
Here are just a few of the tantalizing patterns sitting in our library right now—and all contained in a single issue—to which you'll get instant access when you join the I Like Crochet Gold Club as a Charter Member:
Magnolia Scalloped Cardigan
Bright and Early Hexagon Pillow
Buttercup Butterfly Booties
Spring Playdate Dress
Ocean Air Top
Blythe Filet Shawl
Daffodil the Duck Pull Toy
Poppy Scalloped Top
Butterfly Garden Skirt
Sleep Bright Blanket
Petunia the Pillow Buddy Bunny
Duck, Duck, Goose! Baby Blanket
And the library of photos and video tutorials is gorgeous, inspiring, and practical—showing you exactly how your finished patterns should look and exactly how to execute, even the difficult ones!
When you join our #1 community for crochet-lovers, you'll receive all of the handy benefits that crocheters everywhere have been buzzing about:
You'll learn new stitch techniques with a variety of patterns that range from beginner to advanced.
You'll find expert tips and tricks that will help you achieve professional results.
You'll start getting requests for your stunning crocheted items from your family and friends.
You'll have access to renowned designer patterns and tutorials from all over the world.
You'll never worry about mistakes in patterns or ripping out your progress because our tech-edited patterns are curated from trusted designers in the crochet community.
You'll be connected to an online community of crocheters who are just as passionate as you!
Don't miss out on this exclusive charter membership offer to get all of the above and more!
When you activate your I Like Crochet Gold Club Charter Membership today, you'll get access to everything we have about crocheting—all access and all the time:
A full year of upcoming issues of I Like Crochet magazine—BOTH the web edition and the tablet edition, including 150+ exclusive designer crochet patterns and articles with step-by-step instructions, video tutorials and full-color photography for details of projects and stitches
Instant access to EVERY issue we've ever published—a vast library of more than 5 years of issues with 700+ patterns and articles
A full-year's subscription to the I Like Crochet Collections Club that includes gorgeous designer patterns
Regular e-newsletters, full of the latest crochet tips & tricks
Free patterns, expert tips, and Crochet Along community events
And here is what you don't get when you become a Charter Member of the I Like Crochet Gold Club—advertisements! That's right, we're advertising-free, so that we can devote more time, space, and effort to helping you be an awesome crocheter!
All of this is available to you—right now—when you claim your special 23¢ a week Charter Membership to I Like Crochet Gold Club. Act right now!
No other online magazine has this much information about crochet all in one place for your easy access!
Crocheters everywhere have been enjoying I Like Crochet magazine for years, and now it's better than ever with more benefits, patterns, and content than you could ever dream of—with an I Like Crochet Gold Club Charter Membership.
When we first put this new club together for crocheters like you, your needs and desires were top-of mind. We're the ultimate resource and network for crocheters everywhere, offering original designer patterns and content from authoritative and respected voices in the crochet world.
I think you'll agree that this really is an unusual offer—only 23¢/week, when you become an I Like Crochet Gold Club Charter Member today! It's an incredible deal that you don't want to ignore!
Why not be among the select group of crocheters to join us today and benefit from all the valuable information about crocheting that you can't get anywhere else?
Become an I Like Crochet Gold Club Charter Member today—while this special offer lasts!
Happy crocheting!

Caitlin Eaton
Editor, I Like Crochet Magazine