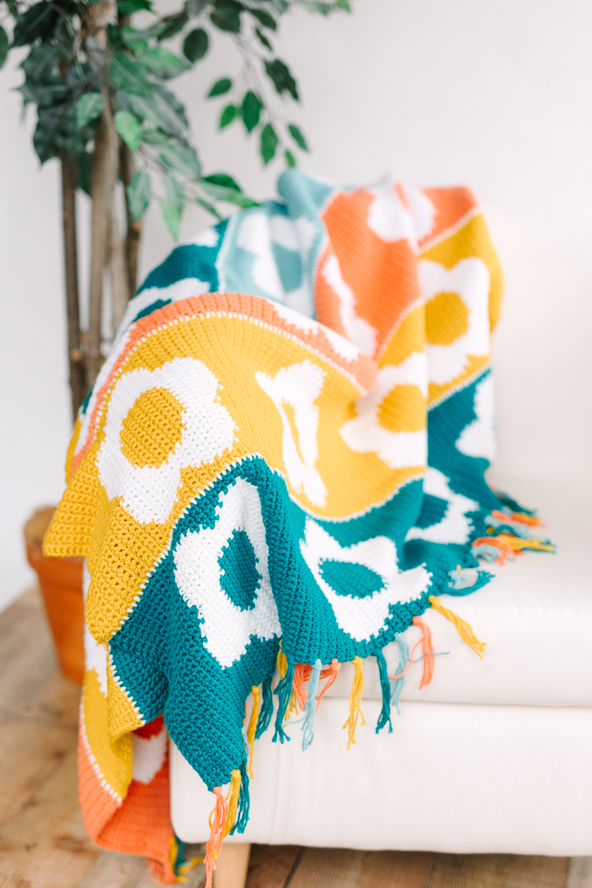 Use simple stitches and colorwork to create this colorful flowery blanket. Individual panels are crocheted together and a decorative fringe is added for the perfect finish.
Time: Month Project
Skill Level: Intermediate
Size: 50" x 60"
Gauge: 4" = 16 sts x 18 rows in sc after blocking.
Materials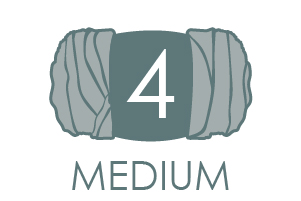 Yarn: We Crochet, Comfy Worsted (75% Pima Cotton, 25% Acrylic, 109 yards [100 meters] / 50 grams) White (MC, 7 balls) Marina (CC1, 5 balls) Honey (CC2, 5 balls) Conch (CC3, 5 balls) Seafoam (CC4, 3 balls) 
Hook: US size 7 (4.5 mm)
Pattern Notes
Ch 1 does not count as a stitch.
The charts are worked flat. Read RS rows (odd numbers) from right to left, and WS rows (even numbers) from left to right.
To change colors, work to the last 2 loops on the hook of the previous color, yarn over with the new color and draw through to complete the stitch.
When working 2 colors in the same row, do not carry the color not in use, instead, start a new bobbin at each color change.
Pattern
Blanket Panels
Make 7 using the following contrast colors: CC1 2 panels, CC2 2 panels, CC3 2 panels, and CC4 1 panel.
With contrast yarn, ch 31.
Row 1: Sc in 2nd ch and all remaining chs, ch 1, turn. (30)
Rows 2-15: Sc across, ch 1, turn.
Rows 16-46: Following the color changes on the chart, sc across, ch 1, turn.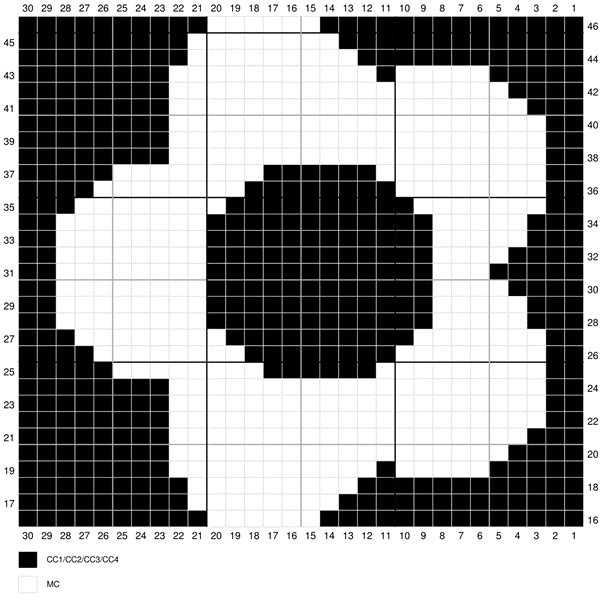 Row 47-61: Sc across, ch 1, turn.
Repeat Rows 16-61 three more times ending with 199 total rows.
Fasten off.
Seaming
Holding a CC1 and CC2 panel together with WS facing out, use MC to sc together the panels, placing one sc into the end of each row. Continue adding panels in this way in the following order: CC3, CC4, CC1, CC2, CC3
Fringe
The blanket is finished by adding fringe to the shorter edges of the blanket. Starting in the corner, fringe should be added to every other row. Alternate between the 4 contrasting colors for each piece of fringe.
To make fringe:
Cut 3 strands of yarn roughly 8 inches in length.
Insert your hook into the stitch and fold all three strands in half over your hook.
Pull up a large loop.
Pull all of the loose strands through the loop and pull tight.
Finally, block and weave in ends.
---
Gold Members, Download Here
Not a gold member yet? Join Now