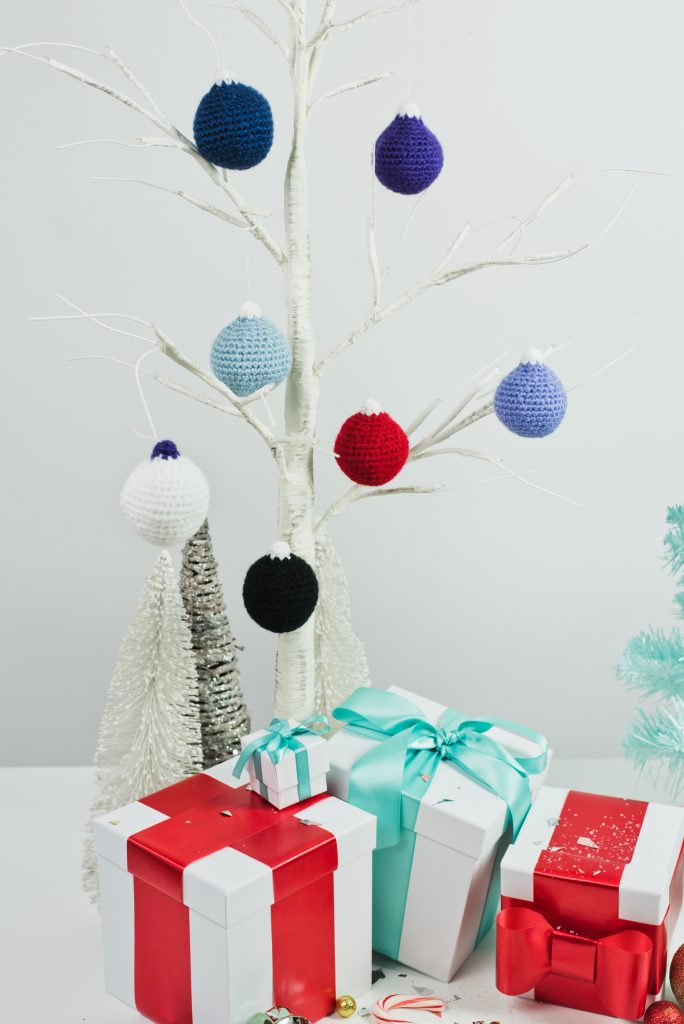 These easy crochet ornaments are worked in the round, starting with a magic ring and worked in a spiral. The top of the ornament is crocheted in a contrasting color and then completed with a thread loop for easy hanging.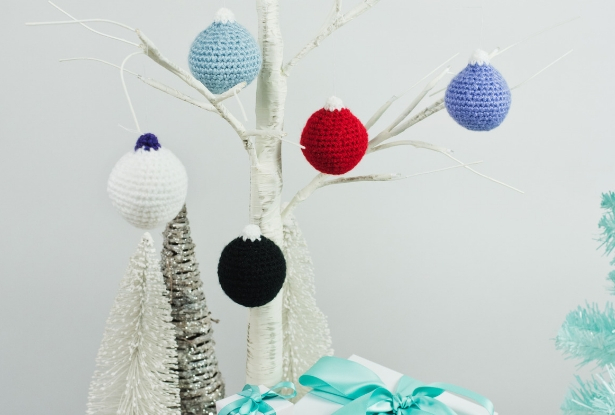 Skill Level: Easy
Size: One size, 2" [5.5cm] diameter
Gauge: 9 sts and 9 rows = 2" [5cm] in sc
Materials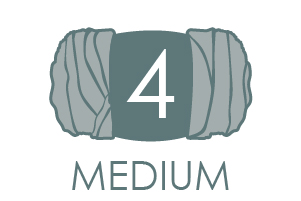 Yarn: Caron Simply Soft (100% Acrylic, 170g/288m): Purple Violet / 9781 (MC1), Lavender Blue / 9756 (MC2), LT Country Blue / 9710 / 9711 (MC3), Dark Country Blue (MC4), White / 9701 (MC5), Black / 9727 (MC6), Autumn Red / 9730 (MC7). 15g of each colour.
Hook: US size G/6 (4.0mm) hook
Notions: Removable markers, fibrefill stuffing, tapestry needle, white sewing thread for hanging the bauble.
Pattern
Make seven baubles in each of the colours (MC1 to 7) and use MC5 to finish all baubles, except for the bauble that has MC5 as its main colour. Use MC1 to finish the bauble with the main body in MC5.
Bauble Pattern
Rnd 1: Using one of the main colours, make a magic loop, ch 1 (doesn't count as a stitch), 8 sc into the ring. Pull the short tail to close the magic loop after the first rnd. (8 sts)
Rnd 2: *2 sc into next sc* 8 times. (16 sts)
Rnd 3: 16 sc.
Sew in the end from the magic loop.
Rnd 4: *Sc, 2 sc in next sc* 8 times. (24 sts)
Rnd 5: 24 sc.
Rnd 6: *Sc 2, 2 sc in next sc) 8 times. (32 sts)
Rnd 7: 32 sc.
Rnd 8: *Sc 3, 2 sc in next sc* 8 times. (40 sts)
Rnd 9: 40 sc.
Rnd 10: *Sc 3 sc2tog* 8 times. (32 sts)
Rnd 11: 32 sc.
Rnd 12: *Sc 2, sc2tog* 8 times. (24 sts)
Rnd 13: 24 sc.
Rnd 14: *Sc, sc2tog* 8 times. (16 sts)
Stuff the bauble.
Rnd 15: 16 sc.
Rnd 16: *Sc2tog* 8 times. (8 sts)
Cut yarn, leaving a short thread to sew in and secure. Sew in the end. Add in some more stuffing at this point.
Rnd 17: Change to MC5*, 8 sc.
Rnd 18: 8 sc.
Cut the yarn leaving a long tail (about 3"), add a little more stuffing then thread the yarn through the back of all 8 sts and pull the thread gently to close the top like a drawstring bag. Sew in the end.
*See note at the start of the pattern.
Finishing
Cut seven 4in lengths of white sewing thread and attach them to the top of each bauble, knotting them at the top.
Then hang your baubles on the tree!