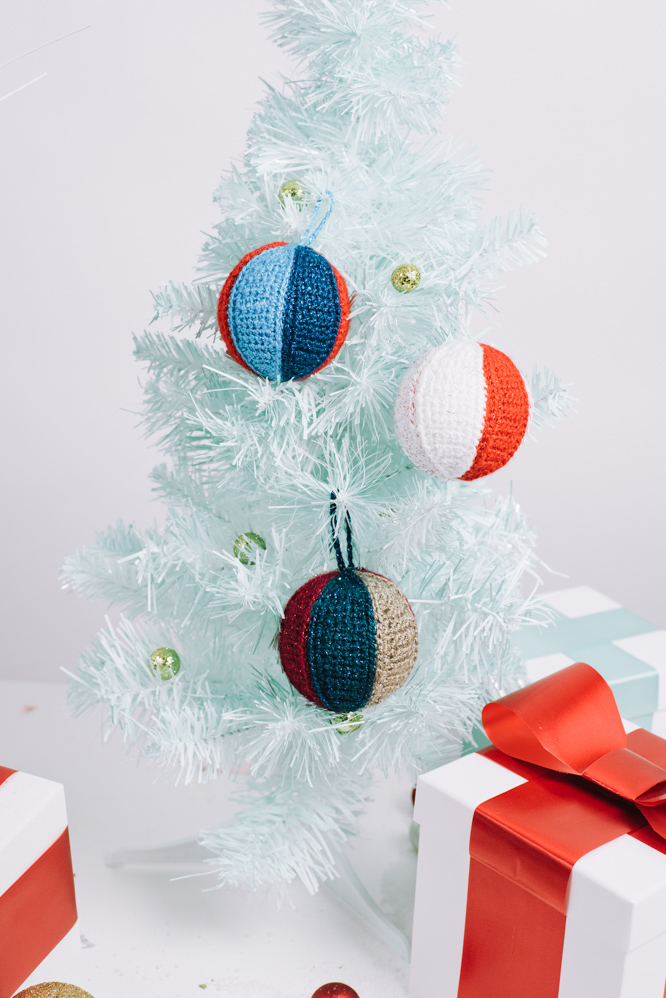 Remember the ornaments of yesteryear created with giant foam balls and strips of fabric? Relive this Christmas tradition of your childhood with this adorable crocheted version that's perfect for scrap yarn.
Skill Level: Easy
Size: Covers a 2.5" diameter ball
Gauge: 23 sts and 28 rows = 4" [10 cm] in single crochet, without blocking.
Use pattern as gauge – each section should measure approximately 1" x 3.75".
Materials
Yarn: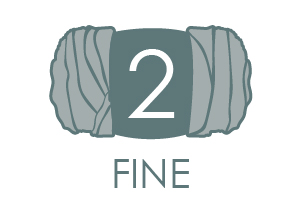 Lion Brand Bonbons Metallic (96% Acrylic, 4% Other; 38 yards [35 meters]/10 grams per mini skein, 8 mini skeins per set): 3 metallic mini skeins – #650 Party (Sparkling Taupe, Teal, and Red), #660 Celebrate (Red, Light Blue, and Dark Blue), #670 Jingle Bells* (Scarlet with red sparkle, White with red sparkle, White with silver sparkle. *The non-metallic skeins in this set are a different weight and will not work for this pattern.)
Hook: US size D/3 (3.25 mm).
Notions: Tapestry needle, 2.5" smooth foam ball.
Pattern
Section (make 2 in each of the 3 colors – 6 total)
Ch 2.
Row 1 (RS): Sc in 2nd ch from hook. (1 sc)
Row 2 (WS): Ch 1, turn, 3 sc in first st. (3 sc)
Row 3: Ch 1, turn, sc in each st across.
Row 4: Ch 1, turn, sc in first st, 3 sc in next st, sc in last st. (5 sc)
Rows 5-19: Ch 1, turn, sc in each st across.
Rows 20-23: Ch 1, turn, sk first st, sc in each remaining st. (1 sc)
Edging
Rnd 1 (RS): Ch 1, turn, sc in first st, ch 1, sc in side of each row to end, ch 1, sc in bottom of row 1, ch 1, sc in side of each row to end, ch 1, join with sl st to first st. (48 sc, 4 ch-1 sps)
Rnd 2 (WS): Ch 1, turn, sl st loosely in each st and in each ch-sp around.
Fasten off, leaving a 10-12" tail. (52 sl sts)
Seaming
Hold first 2 sections with right sides together. Using one of the long tails and working through only the slip stitches from Rnd 2 of Edging, sew the pieces together. This should leave the tops of the sts from Rnd 1 of Edging visible on the right side.
Continue for remaining sections but do not sew the last section to the first one yet.
Hanging loop
Join any of the 3 colors with sl st at one end of any section.
Ch 20 or to desired length of loop, sl st in same st as joining. Fasten off.
Weave in all ends except for the one remaining long tail.
Finishing
The remaining long tail should be at one end (top or bottom). Use the tail to sew that end closed.
With RS facing, sew the final edges together about 2/3 of the way. Go as far as you can while still being able to fit the foam ball into the hole.
Turn work right side out, insert the foam ball, and carefully sew the remaining portion of the seam. It's ok to switch to a running stitch at this point if that's easier, just try to keep the seam hidden under the slip stitch edging.
Sew the other end shut the same way you did the first end. Weave in the tail.