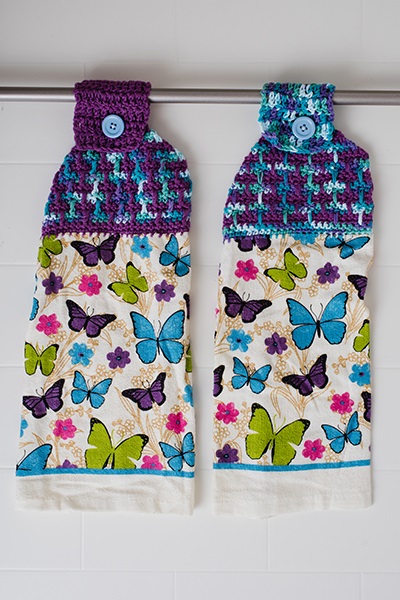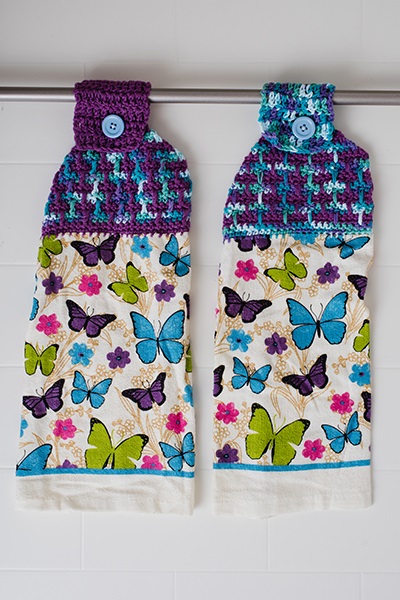 Springtime is around the corner—we promise! Crocuses will be popping, birds will be nesting, and our thoughts will turn to refreshing our homes—with crochet, of course. Quick crochet patterns like dishcloths and towels can help you with spring cleaning and organizing: whipping up a few of these beauties can whittle down your yarn stash in no time and they're so useful. Even if you crochet dishcloth patterns simply for display, the pretty stitches and juicy yarn colors will infuse your home with springtime energy and warmth.
Here at I Like Crochet, we're as impatient for spring as you are, and we've got five wonderful crochet patterns to help you freshen your home, starting with one that does double duty, the Mosaic Crochet Towel Toppers and Dishcloth Set.
This reversible crochet pattern is two for the price of fun!
Sure, it looks intricate, but this two-piece pattern is actually quite easy to make.  The dishcloth's reversible design is created by working the long-dropped double crochets around the post of the stitch instead of working into the stitch. Make a second towel topper and dishcloth by working into the front posts instead of through both loops, and before you know it, you'll have the perfect kitchen set!
The yarn quantities provided will make two towel toppers for a 15" x 25" kitchen towel and two dishcloths, one in Pattern A and the other in Pattern B. Set B is worked the same pattern as Set A, except that you substitute front post double crochets for the long double crochets. This creates a reversible design: one side has a textured look and the other side has stripes. Attach the towel to the topper using a tapestry needle and our instructions for the blanket stitch, and you're done.
Take your yarn color inspiration from the kitchen towel you choose, or match a towel to existing cotton yarns from your stash. Either way, this set will brighten up your kitchen and it's oh-so useful. If you can bear to part with it, give the Mosaic Crochet Towel Toppers and Dishcloth Set as a housewarming or wedding shower gift. The pattern is so quick and easy to make, you'll want to hook more than one set.
As fun and pretty as this pattern is, we have a lot more dishcloth patterns for you to make as you wait for spring to arrive.
We've got crochet designs that are as fresh as spring!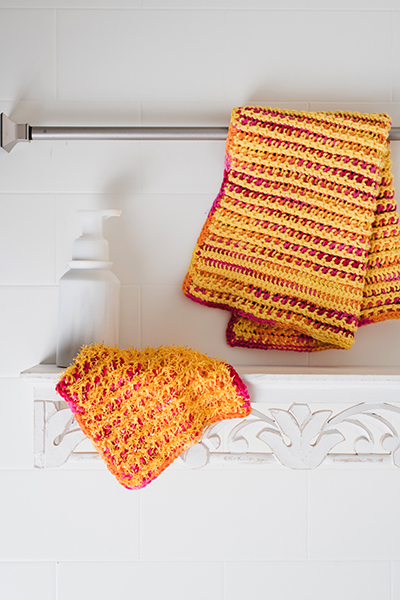 How cheerful is The Strawberry Mango Towel? This sunny project will sweep you away to an exotic locale (in your daydreams, anyway) as you work it with a double-ended hook. It's similar to Tunisian Crochet, except with the double-ended hook you will turn each time your hook is fully loaded with stitches. Finish the edging with a standard hook, and you're ready to hang up this room-brightening towel. But which side will you display: the one that reveals more strawberry color or the mango side? It's up to you!
Can't get enough of that scrumptious fruit combo? Then make the Strawberry Mango Dishcloth, too! Another easy pattern worked with a double-ended hook, this dishcloth does double duty. One side reveals a scrubby yarn, while the other side features soft cotton for when a gentle wipe is all that is needed. The horizontal stitches are created when you work the loops off the hook in previous row; they resemble a series of chains connecting the vertical bars. You'll love the final effect that looks pretty and makes cleaning a breeze.

Spring brings new beginnings, so start one of these crochet projects!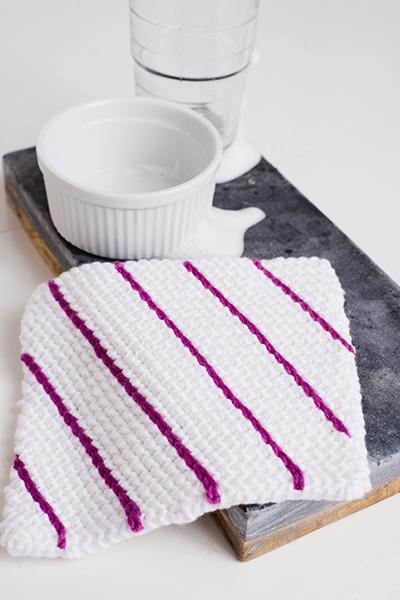 You don't have to cry over spilled milk or a sink full of the dishes. Not when your cloth is as fun to make and use as the Diagonal Pop Dishcloth. That pop of color puts some zing into your cleanup routine. But just because this dishcloth is cute doesn't mean it isn't tough—oh no. Working the pattern in the round makes a practical double thickness that holds up well to many dishwashing sessions. Plus, the added texture helps to scrub away grime and dirt. Top-stitched onto the base, the diagonal stripes put the fun in functional!
To ensure a successful crocheting experience, all of I Like Crochet's patterns include the following:
Complete stitch instructions
List of necessary materials
Special stitch instructions
Pattern notes when necessary
Finishing instructions
Detailed photography
You can't hurry spring, but you can make the last days of winter pass quickly by crocheting these fun and functional projects. Take a seat by the window and enjoy the lengthening days as you work on these sunny spring cleaning crochet patterns.
You'll find this collection in the I Like Crochet Collections Club. And, did you know you can have access to it anywhere you go? Just become a Gold Club Member, and you'll be able to view this charming collection on your desktop, laptop or tablet – whichever device you prefer!
Of course, when you become a Gold Club member, you'll also get instant access to stitch tips and tutorials, and—oh yes—hundreds of patterns for everything from amigurumi and afghans to scarves and shawls! And don't forget the best part—you can take all of it with you wherever you want to crochet – on the sofa, at the park, on a plane or train … it's up to you!
But this is just a fraction of what you'll get with an I Like Crochet Gold Club Charter Membership—your membership includes subscriptions to the I Like Crochet Magazine Club and to the I Like Crochet Collections Club; full and immediate access to the digital library of 5+ years of magazine issues with 700+ crochet patterns and articles; step-by-step instructions for patterns; and video tutorials and full-color photographs for details about projects and stitches. All included with your Charter Membership!
Your I Like Crochet Gold Club Charter Membership gives you access to our crochet patterns and content, 24-hours-a-day on whatever device you prefer—desktop, or laptop! And the content is fully searchable, so you can find exactly what you want—when you want it—at your fingertips in an instant.
Here are just a few of the tantalizing patterns sitting in our library right now — you'll get instant access when you join the I Like Crochet Gold Club as a Charter Member:
Cuddly Crochet Baby Blankets
Super-Cute Amigurumi
Blue Sage Hooded Shawl
Easygoing Crochet Tank
Circular Chenille Afghan
Marigold Blanket
Baby Owl Bib
Moonlit Shells Shawl
Monster Baby Booties
Adult Pocket Scarf
Cropped Victoria Top
Vine and Twigs Scarf
Verde Velvet Pillow
Kaja C2C Rug
Flying Geese Jacket
Two Sisters Lake Sweater
And the library of photos and video tutorials is gorgeous, inspiring, and practical—showing you exactly how your finished patterns should look and exactly how to execute, even the difficult ones!
When you join our #1 community for crochet-lovers, you'll receive all of the handy benefits that crocheters everywhere have been buzzing about:
You'll learn new stitch techniques with a variety of patterns that range from beginner to advanced.
You'll find expert tips and tricks that will help you achieve professional results.
You'll start getting requests for your stunning crocheted items from your family and friends.
You'll have access to renowned designer patterns and tutorials from all over the world.
You'll never worry about mistakes in patterns or ripping out your progress because our tech-edited patterns are curated from trusted designers in the crochet community.
You'll be connected to an online community of crocheters who are just as passionate as you!
Don't miss out on this exclusive charter membership offer to get all of the above and more!
When you activate your I Like Crochet Gold Club Charter Membership today, you'll get access to everything we have about crocheting—all access and all the time:
A full year of upcoming issues of I Like Crochet magazine—Including nearly 100 exclusive designer crochet patterns and articles with step-by-step instructions, video tutorials and full-color photography for details of projects and stitches
Instant access to EVERY issue we've ever published—a vast library of more than 5 years of issues with 700+ patterns and articles
A full-year's subscription to the I Like Crochet Collections Club that includes gorgeous designer patterns
Regular e-newsletters, full of the latest crochet tips & tricks
Free patterns, expert tips, and Crochet Along community events
FREE Bonus! FREE access to two on-demand streaming crochet videos Crochet Secrets Revealed: 12 Tutorials by Michael Sellick and Back to Basics: 11 Essential Techniques and Stitches for Every Crocheter. FREE, instant, full, and unlimited access for you right now!
And here is what you don't get when you become a Charter Member of the I Like Crochet Gold Club—advertisements! That's right, we're advertising-free, so that we can devote more time, space, and effort to helping you be an awesome crocheter!
All of this is available to you—right now—when you claim your Charter Membership to I Like Crochet Gold Club. This special introductory offer includes FREE unlimited access to two on-demand streaming crochet videos Crochet Secrets Revealed: 12 Tutorials by Michael Sellick and Back to Basics: 11 Essential Techniques and Stitches for Every Crocheter…our gift to you for signing up now!
No other online magazine has this much information about crochet all in one place for your easy access!
Crocheters everywhere have been enjoying I Like Crochet magazine for years, and now it's better than ever with more benefits, patterns, and content than you could ever dream of—with an I Like Crochet Gold Club Charter Membership.
When we first put this new club together for crocheters like you, your needs and desires were top-of mind. We're the ultimate resource and network for crocheters everywhere, offering original designer patterns and content from authoritative and respected voices in the crochet world.
I think you'll agree that this really is an unusual offer, plus FREE access to our premium on-demand streaming crochet videos when you become an I Like Crochet Gold Club Charter Member today! It's an incredible deal that you don't want to ignore!
Why not be among the select group of crocheters to join us today and benefit from all the valuable information about crocheting that you can't get anywhere else?
Become an I Like Crochet Gold Club Charter Member today—while this special offer lasts!
Happy crocheting!

Caitlin Eaton
Editor, I Like Crochet Magazine