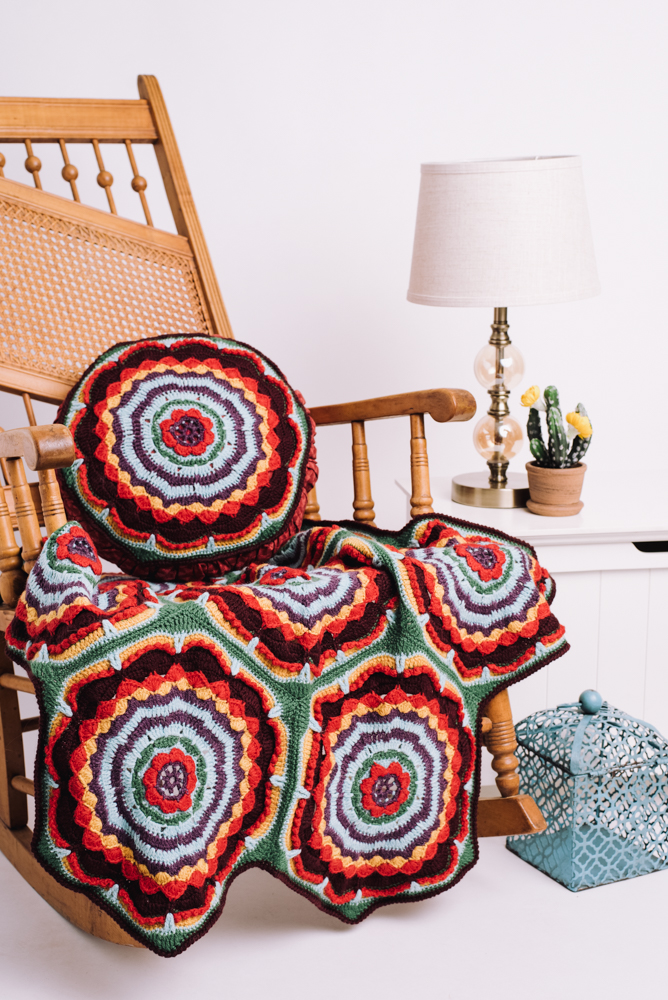 Learn 9 new ways to crochet blankets! Our dynamic collection of crochet blanket patterns is ready when you are as part of your I Like Crochet Gold membership.
What do a favorite child, a graduation, and a new home have in common? They're all the perfect excuses to try out a new crochet blanket pattern! Who doesn't enjoy tucking in a little one with a handmade blanket, expressing your love for a teen going off to college with an afghan to wrap themselves in when they're missing home, or presenting a throw that harmonizes with the new décor to a friend who just moved to a new house?
Making a crochet blanket isn't hard to do, and once you learn the basic stitches, you can quickly progress from basic—but beautiful—patterns to more intricate designs. Traditional crochet blanket patterns with granny squares or shell stitches are as popular as ever, but you know how creative crocheters are—they like to mix it up! Crochet pattern designers are always creating new variations that surprise and delight us.
With these ideas in mind, we wanted to introduce you to our dynamic collection of patterns for Crochet Blankets. You'll find a mix of designs here, from beginner level to advanced, traditional to abstract, and for babies, kids, and adults. We've even thrown in a matching pillow pattern! You'll find patterns for baby blankets, throws, and afghans. This dynamic collection includes a dreamy cloud and rainbow throw using the free-form crochet technique and the design voted 'Top Pattern' on I Like Crochet.
And we can't leave out the 700 + patterns you get in the I Like Crochet library, where you'll find everything from home decor to stunning scarves to beautiful tops for every season and so much more.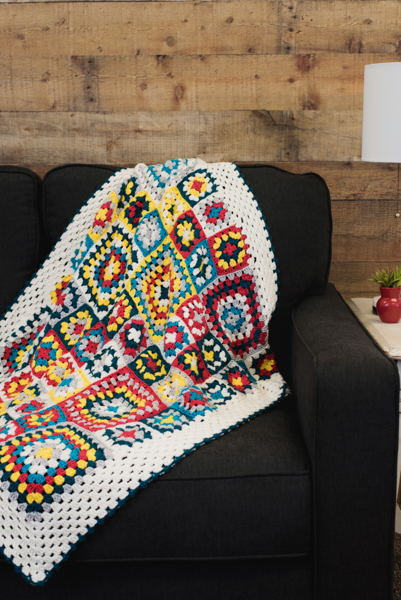 Hip to Be Square
Granny square afghans are a classic design, but this one adds a twist! The New Easy Granny Blanket features contemporary colors and different-sized squares for a patchwork look. Each round is worked in a different color and the border and picot edging pull it all together. This easy-level pattern comes with a downloadable diagram to keep you on track.
Middle East Inspiration
Whether you dream of traveling to Morocco, taking in the scents of the spice market and feasting your eyes on the tile work, or you just love the Boho look, you'll enjoy this pattern the whole time you're working it. Inspired by hexagonal tiles from the Middle East, each motif in the intermediate-level Artisan Tile Throw and Pillow Set pattern, is worked from the center out. They are joined later by stitching them together—we show you how with an easy-to-follow diagram.
Calming Ocean Waves
Send little ones off to dreamland with this longtime favorite: the Ocean Waves Criss Cross Shells Throw. Now worked in shades of bright blue, teal, gray, the shell stitches create a ripple effect reminiscent of water lapping at the shore. So relaxing! The size makes a perfect blanket for a young one or to toss over yourself as you drift off after a day at the seaside. This easy pattern can be completed in two weeks.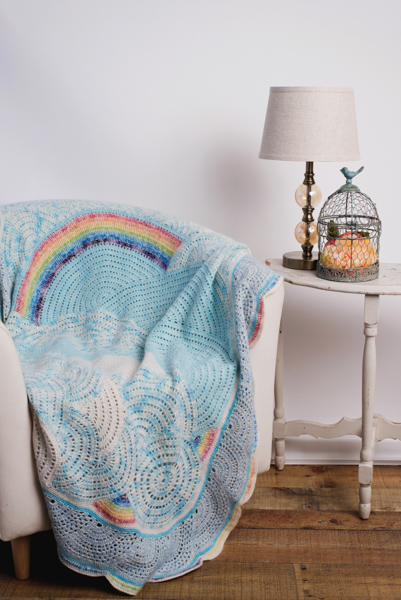 Nothing But Blue Skies
Do you dream of trying freeform crochet? When you have a pattern as magical as the Dare to Dream Afghan, who wouldn't want to give it a go? The design builds on freeform circles and is worked with two strands of yarn to create clouds, blue sky and rainbows. This advanced-level blanket pattern is structured by two parts, the Body and the Edge. Both Body and Edge of the blanket start from the lower left corner and worked entirely from the diagrams we provide.
Shades of Autumn
In our garden, the marigolds are the last to succumb to autumn frost. The moment they do is bittersweet, but at least we have the Marigold Blanket to remind us of their glorious golden shades as winter approaches. This intermediate-level blanket pattern works up in larksfoot stitch stripes with a fluffy texture—not unlike a cozy pile of fallen leaves. You'll love crocheting this blanket as a gift for a loved one—or yourself!
Don't forget, as well, that this and every pattern in I Like Crochet comes complete with:
A list of necessary yarn and tools you'll need
Row-by-row instructions
Special stitch instructions
Pattern notes
Detailed, full-color photography
Whether you are just starting out with crochet or you're an advanced hooker, you'll find a Blanket pattern that's right for you, and we'll be right beside you, with plenty of tutorials and instructions.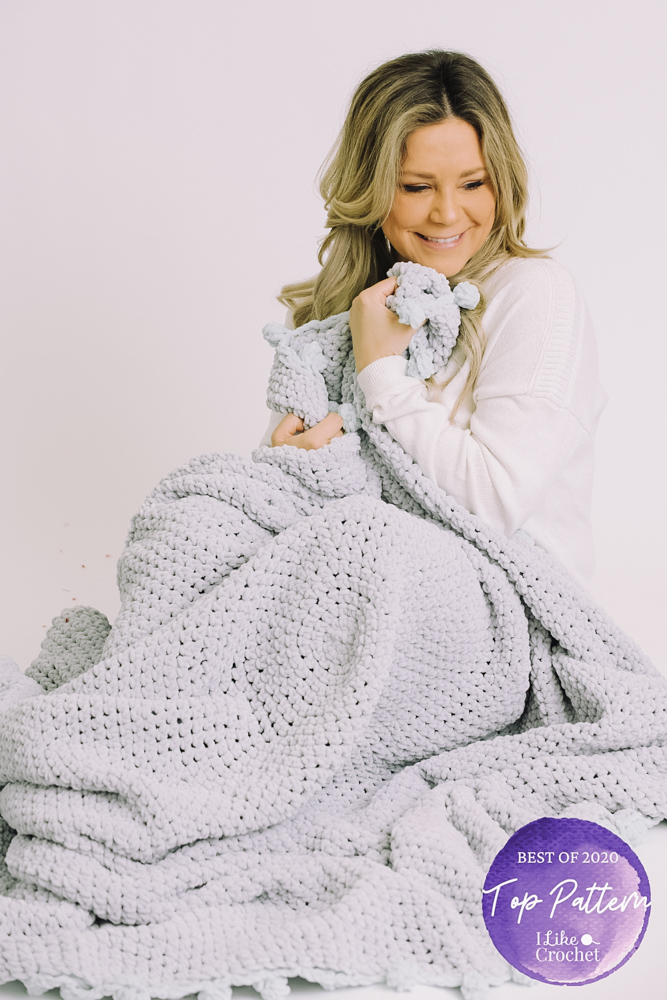 Voted Most Popular
I Like Crochet fans voted the Circular Chenille Afghan to "Top Pattern" of 2020, and we're so pleased to include it in this collection. This easy afghan pattern is worked in chenille yarn from the center outward. The soft (washable!) yarn and large size—86 inches in diameter—will keep you cozy all winter long. The faux popcorn edging adds extra whimsey to this fun, circular design. No wonder it's popular!
That's a Wrap
When you're wrapped up in this stylish crochet blanket, neither you—nor anyone else—would guess this pattern is for beginners. That's because the Linen Stitch Gingham Blanket puts a modern spin on the traditional gingham quilt. It's made from 25 linen stitch rectangles—the perfect on-the-go project. This blanket makes a wonderful gift for the college student or a loved one moving to their first apartment.
Weekend Wonder
Got a free weekend? Whip up a Seeing Double Crochet Blanket! It's true, this beginner blanket pattern can be completed in a couple of days, thanks to bulky yarn and a large crochet hook. The double crochet stitch is used in two ways to make the blanket is cozy and interesting. The color block design can be worked in your choice of colors—coordinate with your décor, the colors of your favorite team, or choose hues that just make you happy!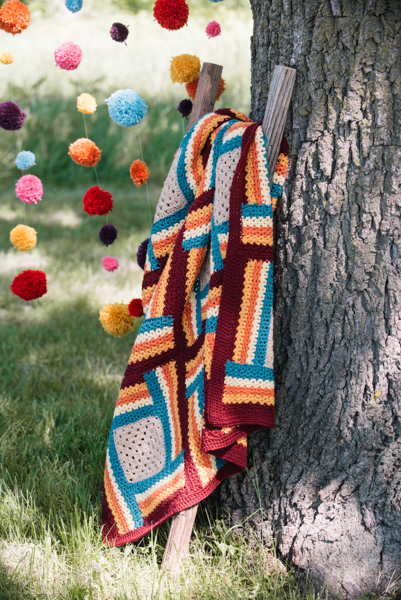 Follow the Comfort Trail
Another autumn beauty, you'll reach for the easy Nutmeg Trail Afghan pattern time and again. The half-double crochet V stitch gives this simple design interest and texture. The yarn colors celebrate autumn. Doesn't the design remind you of following a trail through the woods in autumn? Or maybe it makes you think of curling up in an overstuffed chair with a mug of tea.
These Blanket Patterns are yours, along with a library of more than 700 patterns, expert tips and tutorials, and many more special collections, including The Granny Square Collection, The Tunisian Collection, and The Baby Collection. It's all yours with your membership in the I Like Crochet Gold Club. Join us today and enjoy all this and more!
But this is just a fraction of what you'll get with an I Like Crochet Gold Club Charter Membership—your membership includes subscriptions to the I Like Crochet Magazine Club and to the I Like Crochet Collections Club; full and immediate access to the digital library of 5+ years of magazine issues with 700+ crochet patterns and articles; step-by-step instructions for patterns; and video tutorials and full-color photographs for details about projects and stitches. All included with your Charter Membership!
Your I Like Crochet Gold Club Charter Membership gives you access to our crochet patterns and content, 24-hours-a-day on whatever device you prefer—desktop, or laptop! And the content is fully searchable, so you can find exactly what you want—when you want it—at your fingertips in an instant.
Here are just a few of the tantalizing patterns sitting in our library right now — you'll get instant access when you join the I Like Crochet Gold Club as a Charter Member:
Cuddly Crochet Baby Blankets
Super-Cute Amigurumi
Blue Sage Hooded Shawl
Easygoing Crochet Tank
Circular Chenille Afghan
Marigold Blanket
Baby Owl Bib
Moonlit Shells Shawl
Monster Baby Booties
Adult Pocket Scarf
Cropped Victoria Top
Vine and Twigs Scarf
Verde Velvet Pillow
Kaja C2C Rug
Flying Geese Jacket
Two Sisters Lake Sweater
And the library of photos and video tutorials is gorgeous, inspiring, and practical—showing you exactly how your finished patterns should look and exactly how to execute, even the difficult ones!
When you join our #1 community for crochet-lovers, you'll receive all of the handy benefits that crocheters everywhere have been buzzing about:
You'll learn new stitch techniques with a variety of patterns that range from beginner to advanced.
You'll find expert tips and tricks that will help you achieve professional results.
You'll start getting requests for your stunning crocheted items from your family and friends.
You'll have access to renowned designer patterns and tutorials from all over the world.
You'll never worry about mistakes in patterns or ripping out your progress because our tech-edited patterns are curated from trusted designers in the crochet community.
You'll be connected to an online community of crocheters who are just as passionate as you!
Don't miss out on this exclusive charter membership offer to get all of the above and more!
When you activate your I Like Crochet Gold Club Charter Membership today, you'll get access to everything we have about crocheting—all access and all the time:
A full year of upcoming issues of I Like Crochet magazine—Including nearly 100 exclusive designer crochet patterns and articles with step-by-step instructions, video tutorials and full-color photography for details of projects and stitches
Instant access to EVERY issue we've ever published—a vast library of more than 5 years of issues with 700+ patterns and articles
A full-year's subscription to the I Like Crochet Collections Club that includes gorgeous designer patterns
Regular e-newsletters, full of the latest crochet tips & tricks
Free patterns, expert tips, and Crochet Along community events
FREE Bonus! FREE access to two on-demand streaming crochet videos Crochet Secrets Revealed: 12 Tutorials by Michael Sellick and Back to Basics: 11 Essential Techniques and Stitches for Every Crocheter. FREE, instant, full, and unlimited access for you right now!
And here is what you don't get when you become a Charter Member of the I Like Crochet Gold Club—advertisements! That's right, we're advertising-free, so that we can devote more time, space, and effort to helping you be an awesome crocheter!
All of this is available to you—right now—when you claim your Charter Membership to I Like Crochet Gold Club. This special introductory offer includes FREE unlimited access to two on-demand streaming crochet videos Crochet Secrets Revealed: 12 Tutorials by Michael Sellick and Back to Basics: 11 Essential Techniques and Stitches for Every Crocheter…our gift to you for signing up now!
No other online magazine has this much information about crochet all in one place for your easy access!
Crocheters everywhere have been enjoying I Like Crochet magazine for years, and now it's better than ever with more benefits, patterns, and content than you could ever dream of—with an I Like Crochet Gold Club Charter Membership.
When we first put this new club together for crocheters like you, your needs and desires were top-of mind. We're the ultimate resource and network for crocheters everywhere, offering original designer patterns and content from authoritative and respected voices in the crochet world.
I think you'll agree that this really is an unusual offer, plus FREE access to our premium on-demand streaming crochet videos when you become an I Like Crochet Gold Club Charter Member today! It's an incredible deal that you don't want to ignore!
Why not be among the select group of crocheters to join us today and benefit from all the valuable information about crocheting that you can't get anywhere else?
Become an I Like Crochet Gold Club Charter Member today—while this special offer lasts!
Happy crocheting!

Caitlin Eaton
Editor, I Like Crochet Magazine