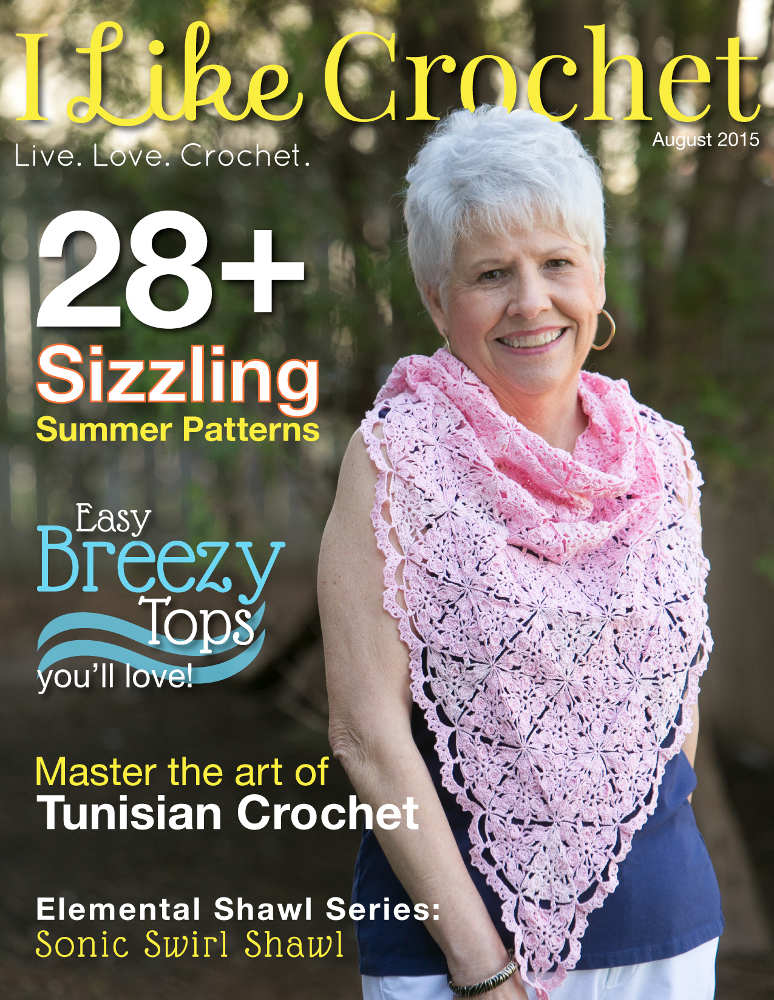 Ah, summer, that time of the year when the air is stifling hot and the beaches and pools are refreshingly cool, when eating ice cream for every meal is allowed and when everything moves just a half-second slower. You might not think of summer as a time for crocheting, but there are actually many projects to make to stay cool in the heat. Using lightweight yarn (avoid wool and anything of a bulkier weight) and working up airy, lacy patterns, you can crochet all types of wearables that won't overwhelm you in the summer sun. So grab those sunglasses and that sports weight yarn and enjoy your summer!
We at I Like Crochet have gathered our favorite summertime crochet pieces for this issue, ranging from easy breezy tops, lightweight summer cardigans and plenty of patterns to help you enjoy your fun in the sun.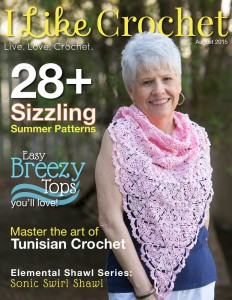 Easy Breezy Tanks and Tops
Tees and tanks are summertime staples, and these four crochet tank patterns will take you from an outdoor music festival to nighttime bonfires and everywhere in between.
Lace Essence Top
Electric Raspberry Top
Boho Beauty Fringe Tank
Openwork Medallion Top
---
Lightweight Cardigans
Cardigans? In the summer? Absolutely! These flowy cardigans are great for breezy nights without weighing you down.
Blueberry Fields Kimono
Cozy Chic Cardi
Pineapple Cardigan
---
Sensational Summer Shawls
Lacy shawls are the perfect summertime accessory – they're easy to ball up and take with you in a bag for an unexpected chill. Plus, as smaller projects, they're easy to work up while you're on the go!
Plum Jam Wrap
Lacy Rose Shawl
Twisted Strands Wrap
Delicate Side to Side Shawl
Floral Triangles Shawl
Elemental Shawl Series: Sonic Swirl Shawl
---
Sunshine Playtime
When you're out and about with your little one this summer, make sure to keep these items handy – from a picnic set to a romper and baby booties, these crochet goodies will keep your little one active and occupied.
Rainbow Droplets Babyghan
Ruffled Playtime Romper
Owl Hooded Blanket
Tootsie Fruity Baby Booties
Playtime Picnic Set
---
Homemade Housewares
Coasters and afghans are always in style, no matter the season. Crochet these pieces to feature in your home, or get started on the afghans now for a head start on the holidays!
Iced Blue Dreams Afghan
Scotty Lapghan
Kitchen Casual Hanging Towels
Peek-a-Bloom Floral Coasters
Lime and Lemonade Coasters
---
Simple Summertime Accessories
You can still accessorize your look with crochet accessories, just make sure to keep the yarn weight and colors season specific. Lacy cowls are always on point, and crochet bag patterns are a must this summer – how else are you going to carry around your sunscreen and sunglasses?
Mint Cream Tote
Denim Dreams Tote
Moonlight Mobius
Breezy Mesh Cowl
Mixed Bag Cowl
What's your favorite summertime crochet project?