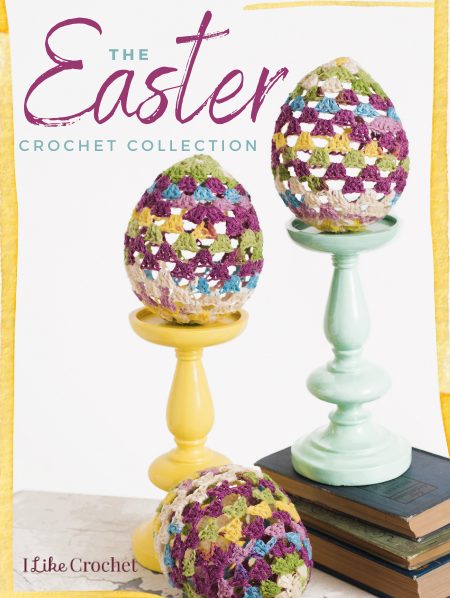 Fill your own basket with more than a dozen stunning projects — bonnets, blankets, bunnies and more!
Dear Crochet Friend,
Easter is a time to put on something new and special — a festive sweater, an adorable hat, maybe a light and fresh springtime scarf. It's also prime time for gifting: Easter baskets, bonnets, bunnies, eggs, and more! Our Easter Crochet Collection is overflowing with project ideas. Let's get started!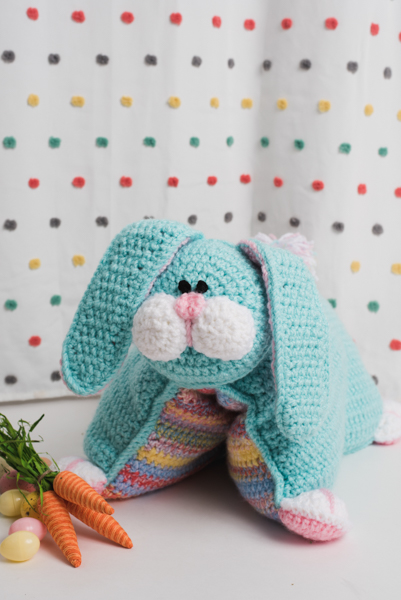 Some Bunny to Love
When it comes to cuteness with a high cuddle factor, Petunia the Pillow Buddy Bunny is a hands-down winner. She's a pillow. She's a buddy. She's super colorful and cuddly. Petunia will be lounging around long past Easter, with her colorful striped belly, fun floppy ears, and adorable face. For all her cuteness, Petunia is an easy project to make, and fits a standard bed pillow.
For the youngest bunnies among us, make this adorable hat had diaper cover set. The Bunny Hop Set is just what baby needs for an extra "hoppy" Easter. This pattern is rated Easy and the pattern accommodates sizes from newborn through 6 months. Prepare for extra cuteness!
Everybunny needs somebunny sometimes, and Bailey the Bunny is the perfect bunny companion. This amigurumi bunny sports pastel dots on his ears and an egg motif on his belly. He's the perfect Easter basket companion.
Our Jelly Bean Bunny is easy to make and easy to customize with your favorite colors. This little bunny looks good enough to eat — but surround him with some jelly beans and other Easter treats and let him enjoy the day, complete with his own carrot.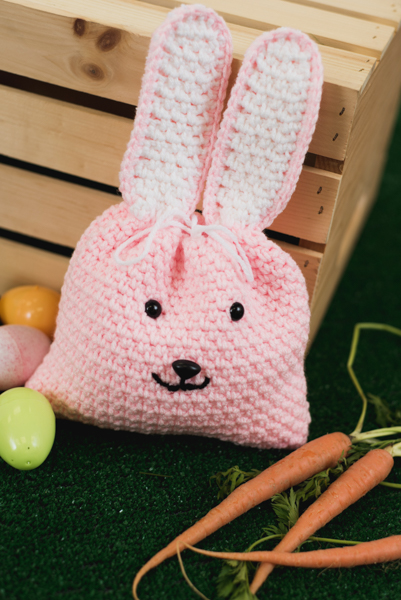 Why buy treat bags when you can make some that will last? Our Sunny Bunny Bag is a stylish little drawstring bag with a bunny face and tall, perky ears. Fill with treats for Easter and watch the smiles all around! If you need a bag for smaller treats or a special little gift, make our Baby Bun Version of our Sunny Bunny Bag. The bunny ears and adorable little bunny face are the perfect mini-me of our Sunny Bunny Bag. You may have to make both — they're just so cute!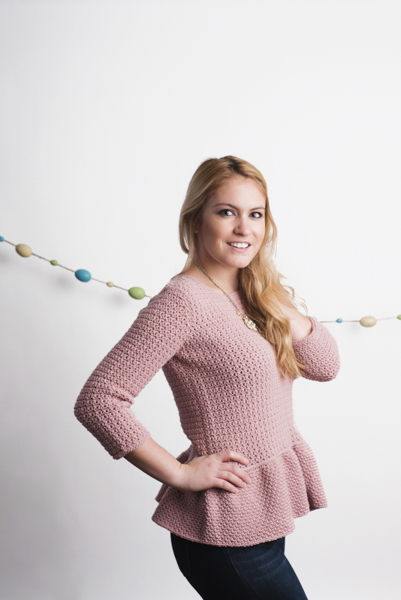 Hop into Spring Fashion
As the seasons change, so do our fashion choices. Step out in style and comfort in our Pretty in Peplum Top. This timeless design will keep you looking pretty as you head out for a stroll or welcome guests to afternoon tea. The flowing peplum adds breezy movement to this top — it's a piece you'll want to wear often!
When you need a little something more to add style than take off the chill, our Dusk Daisy Cardigan is just the thing. The beautiful piece is worked in floral motifs that you join as you go — no final sewing required! Its wide, square neckline and elbow-length sleeves make this classic top the perfect spring fit.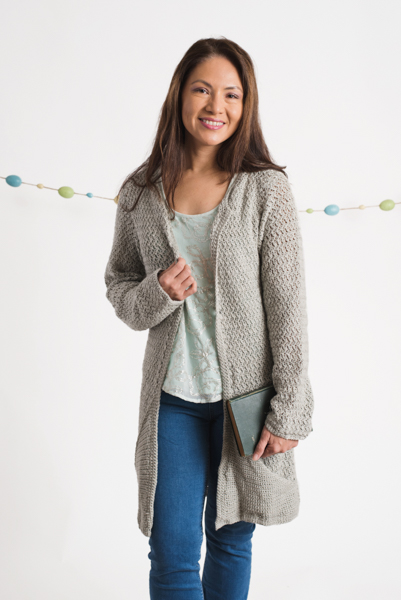 When you need something a little warmer, got for our Serene Spring Long Cardigan. The easy stitch pattern creates a lovely flowing fabric, and a simple single crochet edging gives this sweater a classic, elegant feel. Perfect for a walk in the park or time curled up by the fire with a book.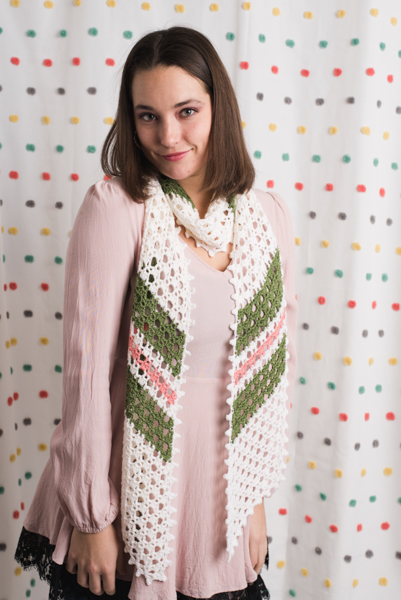 We may be waving goodbye to winter, but that doesn't mean the end of scarf season. Celebrate spring with our light and airy Abigail Striped Bias Scarf. You'll love its lighter-that-air feel with its row of bias-worked eyelets. The hardest part will be choosing your ideal color combination!
Bring Spring Home
Bring back memories of childhood with the adorable Duck, Duck, Goose! Baby Blanket. Crocheted in the round, with intriguing textures and alternating festive colors, this blanket will be home for 18 cheerful ducks swimming around a goose at center stage. This is definitely not your basic baby blanket. Make it for someone special!
If you need a baby blanket more on the low-key side, make our Spring Awakening Baby Blanket. Also worked in the round, the pattern is easy to remember. And when you get to the edge, this blanket features a lovely understated lacy border.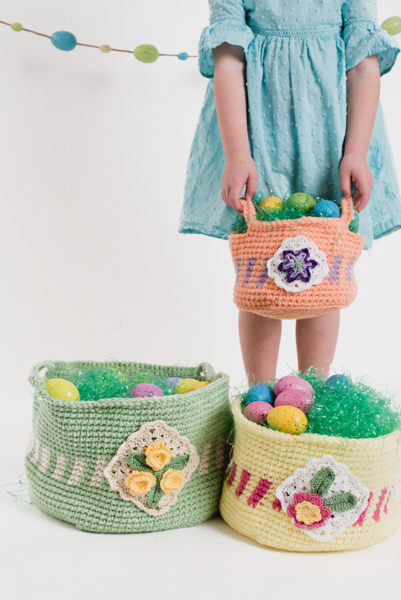 Wouldn't it be nice to have an Easter basket that would last? Well, you can make a whole set of baskets in different sizes! Our Blooming Baskets Set has directions for a small, medium, and large basket that you can use throughout the year, or save especially for Easter. The graduated baskets nest together for easy storage. Add some extra decoration to each basket with a thread granny square embellished with your choice of flower motif.
An Easter basket requires Easter eggs, and you won't find more adorable additions to your Easter basket than our Egg-cellent Granny Stitch Eggs. This crochet version of the classic Fabergé egg gets its shape from working the stitches around a balloon, adding stiffener, then gently popping the balloon — but you don't have to share that secret!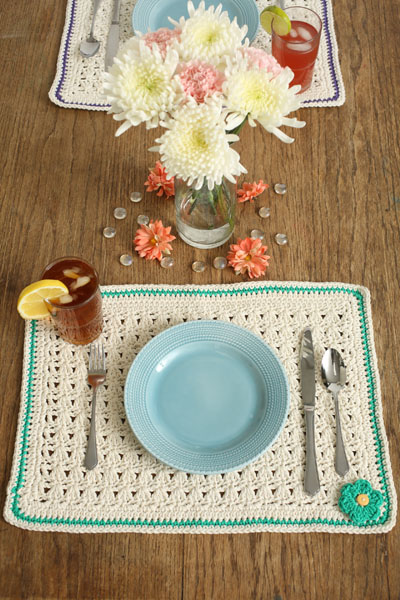 When it's time for Easter brunch, decorate the table with our Simply Blooming Placemats. You pick the color combination that works for your table. Add a little flower at the corner to welcome spring and keep the table festive!
And when it's time to kick back and relax, enjoy the bold sprinkling of flower motifs on our Bloom Brilliantly Pillow. Give a plain old throw pillow new life with this colorful project that you attach with a simple whip stitch when you're done. These flowers won't fade!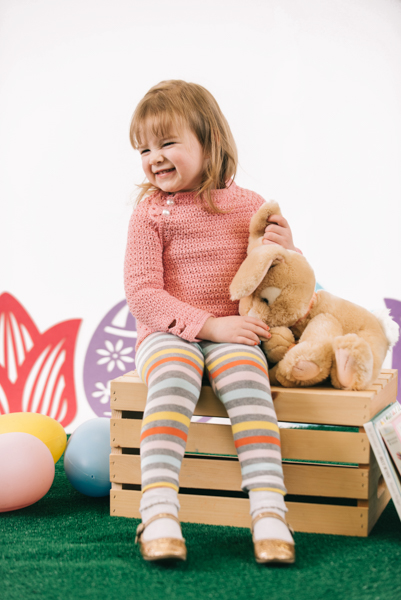 For Your Little Bunnies
We have your little bunnies covered from head to toe in this set of patterns. Take a basic long-sleeved tee a step closer to cute, and you have our Bubble Gum Bows Top. It features adorable bows worked into the sleeves and the back, giving the top a super sweet look. Once you make one, prepare to make more. This is a popular pattern!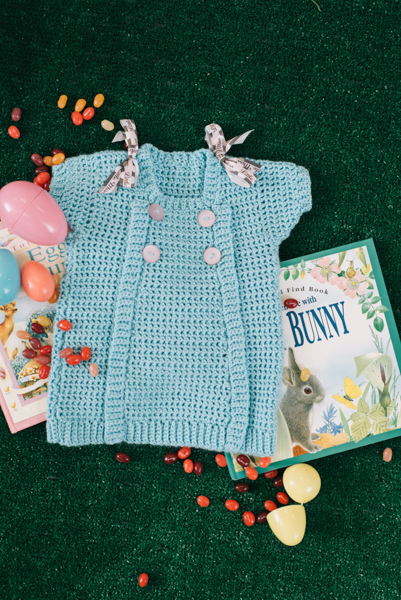 The Buttons and Bows Dress is a perfect little baby dress, complete with decorative buttons and sewn-on bows. Crochet it in your choice of colors. With its lovely lines and adorable short sleeves, this will be a winning outfit for spring.
When little baby feet need some pampering, our Marshmallow Sandals are just the thing. Add a little flair to their favorite outfit with these comfy, ruffle-edged sandals.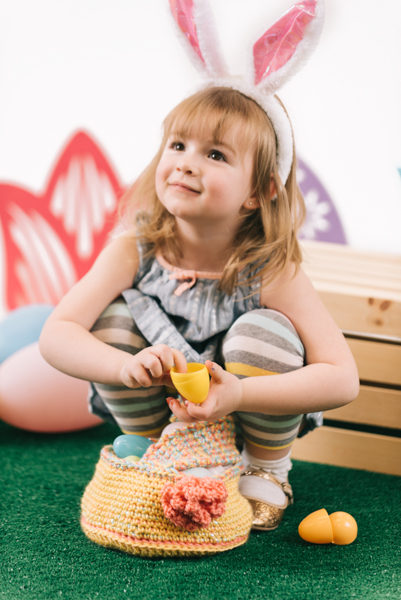 Want to make a custom Easter basket for a special someone? Our Eggcellent Easter Basket is a breeze to make, complete with a little ruffly flower and wide, kid-friendly handle. It's just the perfect size for an egg hunt and to hold plenty of treats!
Of course, an Easter bonnet is always a fun accessory to have, so why not make it adorable? Our Spring Baby Pixie Bonnet is totally customizable for your favorite little pixie, and the flower embellishment adds a perfect finishing touch.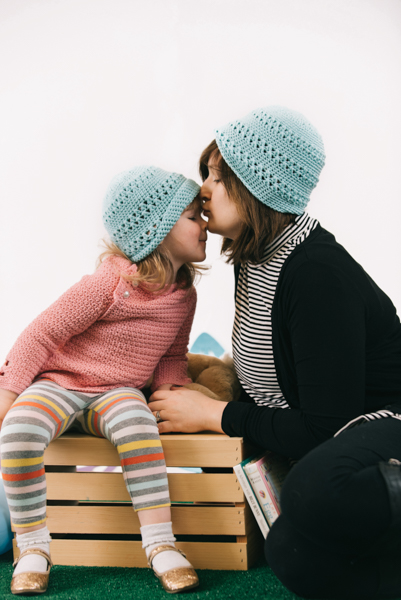 And when you want something practical and adorable, make a pair of Robin's Eggs Beanies — one for each of you. These sweet beanies feature delicate eyelets and a fashionable roll-up brim. Look cool while you ward off the early spring chill in style!
There's so much more in our Easter Collection than can fit in one basket. Where will you start?
But this is just a fraction of what you'll get with an I Like Crochet Gold Club Charter Membership—your membership includes subscriptions to the I Like Crochet Magazine Club and to the I Like Crochet Collections Club; full and immediate access to the digital library of 5+ years of magazine issues with 700+ crochet patterns and articles; step-by-step instructions for patterns; and video tutorials and full-color photographs for details about projects and stitches. All included with your Charter Membership!
Your I Like Crochet Gold Club Charter Membership gives you access to our crochet patterns and content, 24-hours-a-day on whatever device you prefer—desktop, or laptop! And the content is fully searchable, so you can find exactly what you want—when you want it—at your fingertips in an instant.
Here are just a few of the tantalizing patterns sitting in our library right now — you'll get instant access when you join the I Like Crochet Gold Club as a Charter Member:
Cuddly Crochet Baby Blankets
Super-Cute Amigurumi
Blue Sage Hooded Shawl
Easygoing Crochet Tank
Circular Chenille Afghan
Marigold Blanket
Baby Owl Bib
Moonlit Shells Shawl
Monster Baby Booties
Adult Pocket Scarf
Cropped Victoria Top
Vine and Twigs Scarf
Verde Velvet Pillow
Kaja C2C Rug
Flying Geese Jacket
Two Sisters Lake Sweater
And the library of photos and video tutorials is gorgeous, inspiring, and practical—showing you exactly how your finished patterns should look and exactly how to execute, even the difficult ones!
When you join our #1 community for crochet-lovers, you'll receive all of the handy benefits that crocheters everywhere have been buzzing about:
You'll learn new stitch techniques with a variety of patterns that range from beginner to advanced.
You'll find expert tips and tricks that will help you achieve professional results.
You'll start getting requests for your stunning crocheted items from your family and friends.
You'll have access to renowned designer patterns and tutorials from all over the world.
You'll never worry about mistakes in patterns or ripping out your progress because our tech-edited patterns are curated from trusted designers in the crochet community.
You'll be connected to an online community of crocheters who are just as passionate as you!
Don't miss out on this exclusive charter membership offer to get all of the above and more!
When you activate your I Like Crochet Gold Club Charter Membership today, you'll get access to everything we have about crocheting—all access and all the time:
A full year of upcoming issues of I Like Crochet magazine—Including nearly 100 exclusive designer crochet patterns and articles with step-by-step instructions, video tutorials and full-color photography for details of projects and stitches
Instant access to EVERY issue we've ever published—a vast library of more than 5 years of issues with 700+ patterns and articles
A full-year's subscription to the I Like Crochet Collections Club that includes gorgeous designer patterns
Regular e-newsletters, full of the latest crochet tips & tricks
Free patterns, expert tips, and Crochet Along community events
FREE Bonus! FREE access to two on-demand streaming crochet videos Crochet Secrets Revealed: 12 Tutorials by Michael Sellick and Back to Basics: 11 Essential Techniques and Stitches for Every Crocheter. FREE, instant, full, and unlimited access for you right now!
And here is what you don't get when you become a Charter Member of the I Like Crochet Gold Club—advertisements! That's right, we're advertising-free, so that we can devote more time, space, and effort to helping you be an awesome crocheter!
All of this is available to you—right now—when you claim your Charter Membership to I Like Crochet Gold Club. This special introductory offer includes FREE unlimited access to two on-demand streaming crochet videos Crochet Secrets Revealed: 12 Tutorials by Michael Sellick and Back to Basics: 11 Essential Techniques and Stitches for Every Crocheter…our gift to you for signing up now!
No other online magazine has this much information about crochet all in one place for your easy access!
Crocheters everywhere have been enjoying I Like Crochet magazine for years, and now it's better than ever with more benefits, patterns, and content than you could ever dream of—with an I Like Crochet Gold Club Charter Membership.
When we first put this new club together for crocheters like you, your needs and desires were top-of mind. We're the ultimate resource and network for crocheters everywhere, offering original designer patterns and content from authoritative and respected voices in the crochet world.
I think you'll agree that this really is an unusual offer, plus FREE access to our premium on-demand streaming crochet videos when you become an I Like Crochet Gold Club Charter Member today! It's an incredible deal that you don't want to ignore!
Why not be among the select group of crocheters to join us today and benefit from all the valuable information about crocheting that you can't get anywhere else?
Become an I Like Crochet Gold Club Charter Member today—while this special offer lasts!
Happy crocheting!

Caitlin Eaton
Editor, I Like Crochet Magazine