Whether you travel to Port Jefferson by ferry or private boat, you must take the time to stop by the Knitting Cove and Yarn Shop. This delightful shop is located within a five minute walk of the ferry terminal and Danford's Marina. Don't let the name fool you: this is not only a crochet friendly shop but also a place where you can see swatches and samples done up in single, double, treble, and a few fancy stitches. This selection is just what you need to make an informed decision.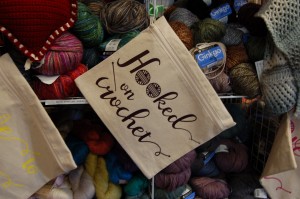 Clearly I was in the right place; this was the first item I noticed when I walked into the store. These project bags by  Michele Andriaccio are sure to please even the pickiest of yarniacs. Best of all, they are printed locally.
Knitting Cove and Yarn Shop is the oldest shop on our tour around Long Island. When it was in business for many years farther up the hill, I remember shopping for exquisite Italian specialty yarns for babies who are now teenagers preparing to go off to college.  Now, Knitting Cove and Yarn Shop is conveniently located in a larger retail location at 116 East Main Street. Owners Toni Andersen and Barry Burns are maintaining the tradition of personalized service with knitting guru Lauren-Rae Romero and crochet instructor Pat Zizza.
After a friendly "hello" you can get down to some serious yarn crawling as you look through the yarn from not one, not two, but three indie dyers.  It's tough to pick where to start. I'm partial to yarns that evoke memories of the sea, so I started with the sparkly sock weight Silver Flicker Sock Yarn from Hampton Artistic Yarns. The blue of Sunny Day spoke to me and came home with me. Prefer gold to silver? They've got that too.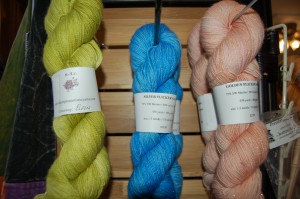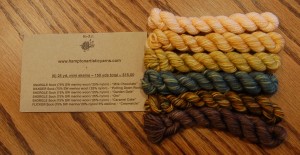 If you cannot figure out what color to buy, Hampton Artistic has just the thing: a set of six 25 yard mini skeins gradient sets of 75 percent superwash merino wool and 25 percent nylon.  A mini set like this is the perfect memento of your trip to the Knitting Cove. Pair it with something plain and simple from your stash to let it take center-stage as an accent feature.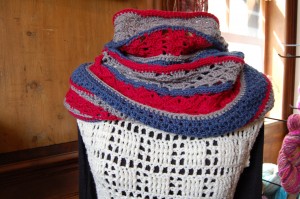 Need a good project? Feel free to do as I did and get a copy of the crochet version of the 2017 Long Island Yarn Crawl Cowl, the 516 to 631 MCAL available on Ravelry. Because the cowl is knit up in three different yarns, you could easily pick up one of each hand dyer's handiwork to work up this pattern.
Do you like the idea of a cowl made from all the special yarns you find on our journey around Long Island?  Wait until you see the other indie dyers Andersen has in store for you.
There is something spectacular about the way a fun stitch works up with a funky yarn; you gain a sense of excitement in the work not found in commercially made goods. Groovy Hues has just the right amount of funk in their superwash merino and nylon blend yarn. Its creator and owner Suzanne Burkett has a gift for color, helping different shades dance together. Whether it is through the interplay of pinks and yellows or the subtle interactions of blues and pinks, Groovy Hues has something for every color pallet.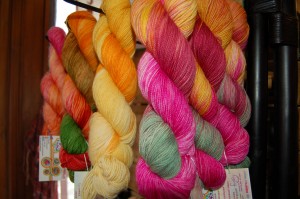 Four hundred yards of fingering weight colors from Groovy Hues make your stitches pop in any pattern, even a simple single crochet market bag or perhaps a poncho. It is made of 80 percent superwash merino wool and 20 percent nylon to keep your project safely in the washable pile next time you're in port.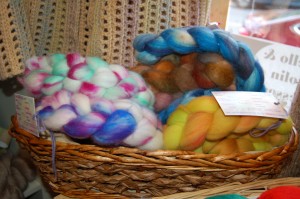 Prefer to roll your own? Burkett also sells a selection of roving at Knitting Cove.
Still hungry for hand-dyed originals? Check out the selection of Lambstrings. Dyed in a wide range of deep jewel tones, light pastels and vibrant neon hues, Lambstrings might have what you're seeking. If you cannot make it to the store in person, you can order direct from Andersen. She also ships internationally.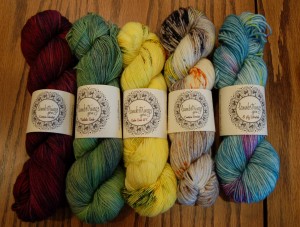 Lambstrings will pull at your heartstrings with the depth of color, saturation and sparkle. For a full range of colors, check out the colors on Lambstrings Facebook page: https://m.facebook.com/Lambstringsyarn.
Crocheted samples abound in order to get your creative side motivated at Knitting Cove. Whether you're looking for something small and simple or large and involved, there are a lot of good ideas hanging on the walls, sitting on the table and awaiting discovery in the pattern books.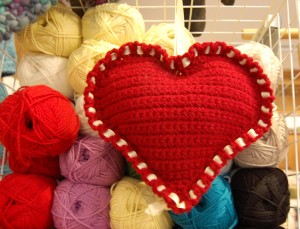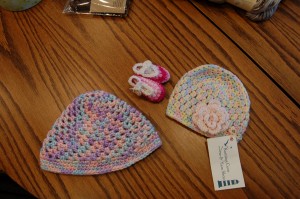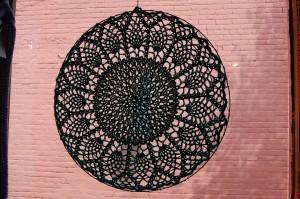 Not in the mood for a cowl or hat? Perhaps looking for something to brighten up the master stateroom? Crochet a beautiful dream catcher and see where your dreams take you.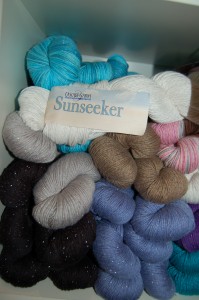 Don't worry if you are not ready for a project and instead prefer to pick up something to add to your stash. The Knitting Cove and Yarn Shop carries a wide range of yarns, including those from larger companies such as Cascade, Berocco, Plymouth, Trendsetter, KFI, Skacel and Sidar.  When I am waiting for dinner to cook in the galley, I like to sit topside with a light weight summer weight wool or plant-based fiber when it's too hot to do much else. This year I am waiting for the temperatures to rise so I can break out the Sunseeker.  Cascade Yarns Sunseeker is a light weight blend of 47 percent cotton, 48 percent acrylic and 5 percent metallic with just enough sparkle to jazz up the most sedate of outfits from dock to pool and back. Best of all, it is machine washable and dryable.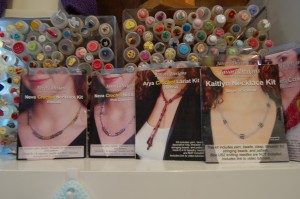 Looking for something to do that's a little different? Try your hand—and hook—at jewelry making with one of these adorable kits from Javori Designs.
Need a quick fix? Work up a simple-to-make cover up using 500 yards of sport weight yarn. Ask Pat for some guidance to get the best yarn; you'll want something superwash for the deck, but for the dockside parties, you might want something silken like KFI Silk Sport or Groovy Hues Silky n Groovin in Earthbow.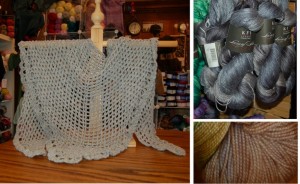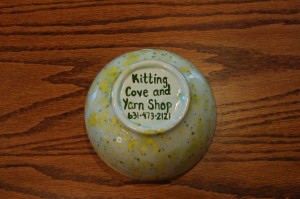 Personalized service doesn't stop at the skein and hook. Knitting Cove and Yarn Shop carries its own line of custom yarn bowls. When the yarn coma is in full swing, you can always call for more yarn to fill your custom yarn bowl. Forget the number? That's ok, it's on the bottom of the bowl.
If you forgot to bring your favorite book or hook, Andersen has choices that include Berocco, KFI and Cascade pattern books.  Hooks include a selection of items from Addi and Knitters Pride.
Between customers from Connecticut and New York, I had a few minutes to sit down with Andersen to talk about her shop and classes. For those of you planning to be in port for a few weeks, there are regularly scheduled classes on Wednesday mornings and Thursday evenings.  If your float plan only keeps you in town for a day, call ahead for a private lesson from Zizza, resident crochet guru.  Knit night is Wednesdays from 6:30 to 8:30 p.m. It's free if you purchase your yarn at the shop or spend $5 which may be applied towards a purchase on Knit Night (crocheters welcome, too, of course). Charity stitching is done as a group on Sundays, but charitable good deeds are not restricted to just one day of the week. Andersen and her customers participate in programs throughout the year by making knitted knockers, chemo caps, premie blankets and blankets for medical personnel to take to remote locations in places like Nicaragua.
Andersen came to the industry first as a customer twelve years ago.  While standing in line at another one of our crochet destinations, The Knitted Purl, she found herself chatting with someone about "that adorable little shop in Port Jefferson." A year later that very shop came up for sale, and the rest, as they say, "is history." Andersen and Burns bought the business.
For Andersen, it's all about the fit.
"I get really excited about helping people figure out their projects, seeing them to completion and that look of satisfaction a customer has when she or he stops by with a finished project," Andersen said.
Andersen's commitment to the right fit starts from the moment a customer walks in the door and lasts until the project is done.  
"Sure, teaching is a big part of it all, but the enjoyment comes from within; helping someone from slip knot to finishing off their project, my role is to guide them to pick the right project and do what I can to help along the journey," Andersen said.
While you are hard at work on your journey, making your yarn and notion selections, your crew will find plenty to keep them occupied in this charming coastal village.  Right across the street from the ferry dock and town marina is La Bonne Boulangerie; stop in for the best brioche this side of The Pond. If you need some ice cream (who doesn't?), Roger's Frigate is my favorite spot. Knowing there is a cappuccino gelato waiting for me makes even the roughest Sound crossing easier.   
For a breakfast worth getting out of the rack for, walk from the waterfront up to 242 East Main Street to get a cup of coffee and breakfast from Toast. There's something for late risers at Toast too. In addition to offering the full breakfast menu until 3:00 in the afternoon, they have a full lunch menu available.  I recommend the chicken salad wrap—the balance of chicken, mayo and apples is the perfect way to relax with friends before boarding the ferry or your own vessel.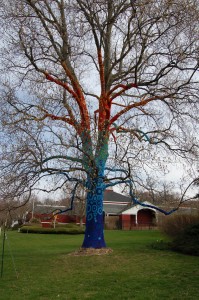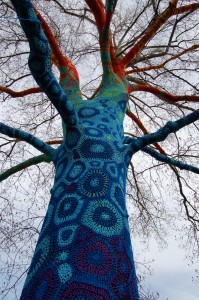 This crocheted tree is located at the Long Island Museum of American Art, History & Carriages, which is about five miles away from the Knitting Cove. Even though the shop did not work on the project, it's worth the Uber or bike ride to discover this extra crochet stop. Find out more here: https://www.discoverlongisland.com/events/the-crocheted-tree-project/.

---
The Knitting Cove and Yarn Shop
116 East Main Street
Port Jefferson, NY 11777
855-461-7117
631-473-2121
http://theknittingcove.com
Tuesday – Saturday 11am – 5pm
Wednesdays 11am – 8:30pm
Sunday 9am – 5pm
(Closed Mondays)
La Bonne Boulangerie
125 West Broadway
Port Jefferson NY 11777
http://labonneboulangerie.com
Toast
242 East Main Street
Port Jefferson, NY 11777
http://toastcoffeehouse.com
Rogers Frigate "The Frigate" to the locals
99 Main St A
Port Jefferson, NY 11777
(800) 240-4249 | (631) 474-8888
Full-service marina and hotel
http://www.danfords.com/marina/boaters-corner/
25 East Broadway, Port Jefferson, NY 11777
Phone: 1-800-332-6367
Getting there:
LIRR service is available from Penn Station on the Port Jefferson Line. It's about a mile and a half walk from the train station to the waterfront.
http://lirr42.mta.info/stationInfo.php?id=67
Ferry Service daily from Bridgeport Connecticut https://www.88844ferry.com