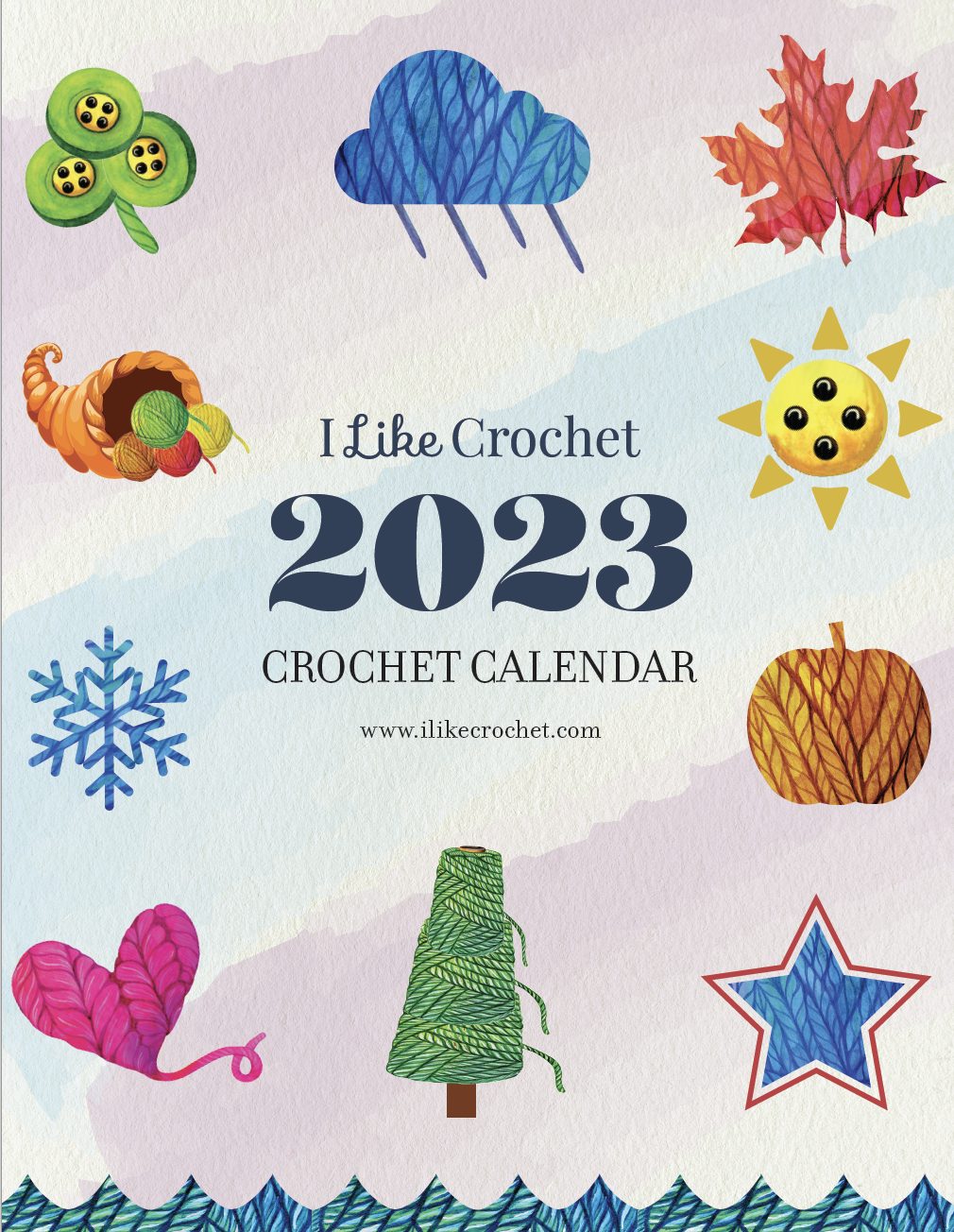 Hello, fellow crochet enthusiasts!
You'll have to excuse me for being so excited, but I just printed my 2023 Crochet Calendar, and I couldn't be happier! Prepare for lots of exclamation points. 🙂
I'm also excited to share this new calendar with you, but let me back up a bit. No sense in putting the cart in front of the horse. Or could I say there's no sense in putting the notions before the yarn?
I love to crochet. No surprise there! Like many of you, I usually have several projects going at any one time. And like many of you, I'm trying to keep track of things like appointments, a career, and household responsibilities. As you can imagine, I very much rely on my calendar.
I also happen to like wall calendars, and I usually start looking for a new one sometime around Thanksgiving. To be honest, though, it's a little disappointing.
I love kittens. I love puppies. I love sunsets and mountains. But we've all had those calendars, and this year, I had my mind set on a calendar that celebrates all things crochet. Unfortunately, they're a little hard to come by.
The more I looked and thought about it, the more it made sense to stop looking around and make the calendar I was looking for. So, I talked to my friends at I Like Crochet, and the result is the 2023 I Like Crochet Calendar!
The 2023 I Like Crochet Calendar is a fun collection of artwork, important dates, crochet challenges, and crochet tips. It's designed by and for those of us who love crochet!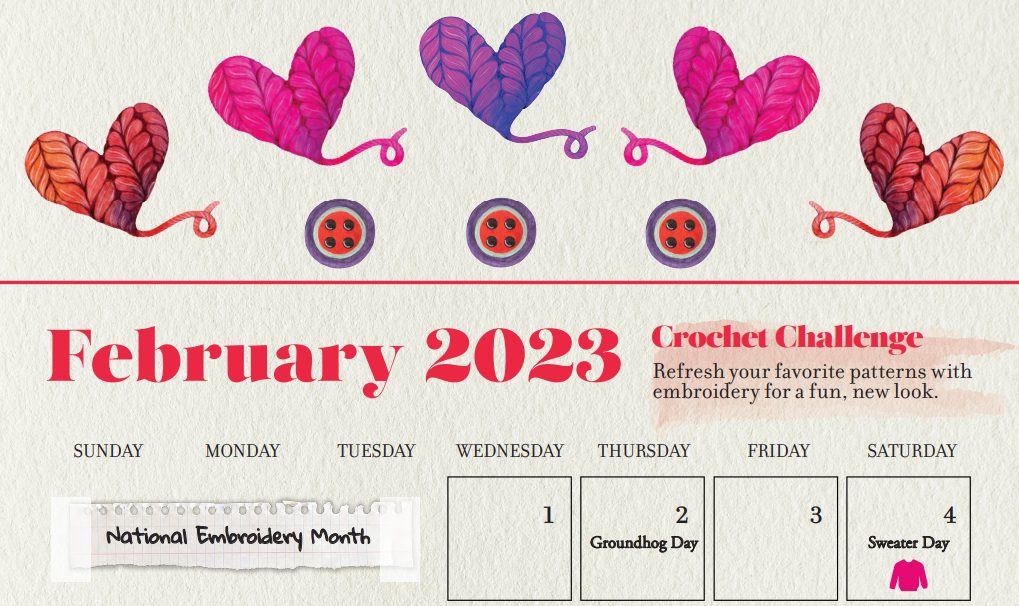 Truly, it's a thing of beauty. There's plenty of color, but not so much that it's distracting. There's room to write important events or record things like when you started that blanket. (At least, that's what I'll probably use it for!) And the truly important dates are all here, like Granny Square Day! Although my favorite holiday is Stay Home with your Dog and Crochet Day. Talk about a dream come true!!

We added some of our favorite tips each month, too. Although, I think one of my co-creators might have directed January's tip at me: "Organizing by fiber, yarn weight and/or project type makes it easier to 'shop your stash' before starting a new project." Sure, it's reasonable advice, but yarn shopping is so much fun!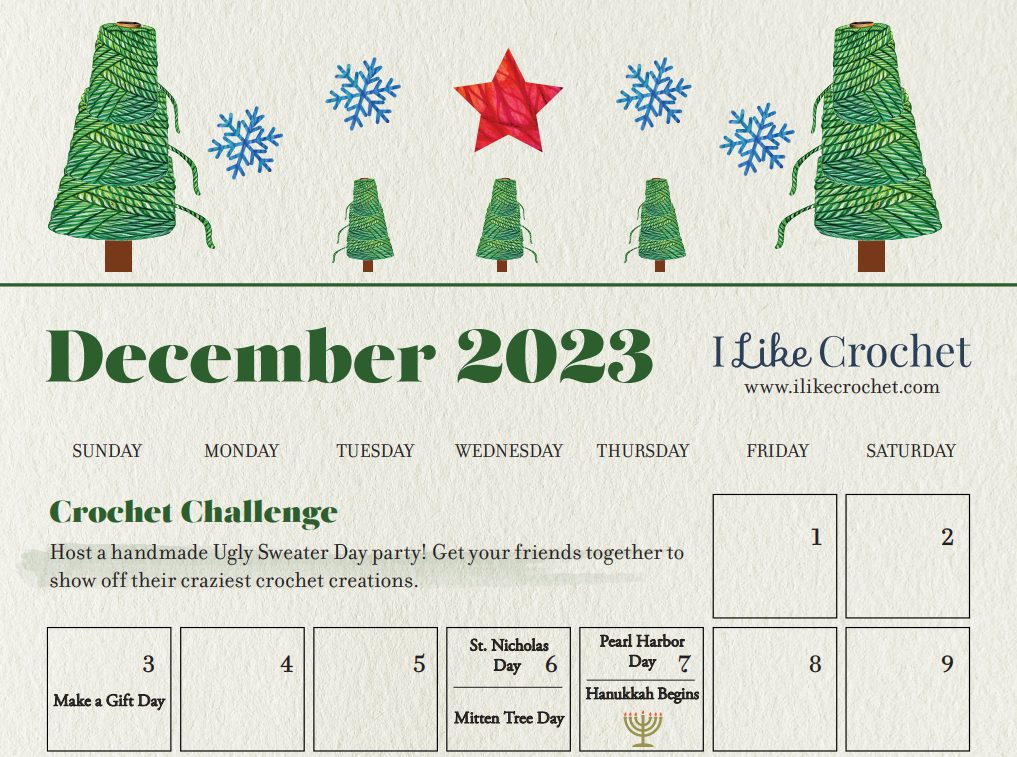 In any case, I'm loving my calendar already, and am very much looking forward to National Crochet Month in March. I'd really love to share this printable calendar with you, too!
The brand new 2023 I Like Crochet Calendar is yours with your Charter Gold Membership. Beautifully illustrated, and with some fun crochet challenges and tips, this is one calendar you won't want to miss out on.
Plus, you get so much more when you join.