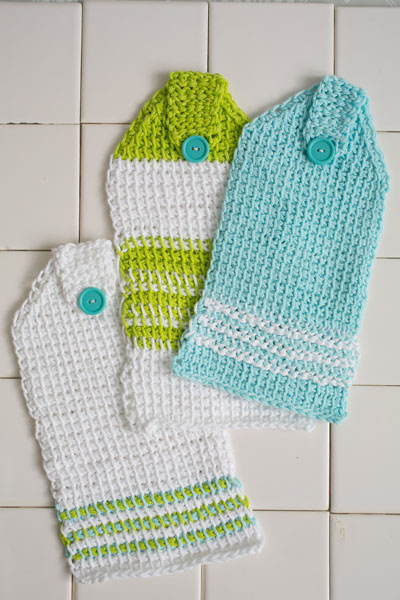 From: The August 2015 issue of I Like Crochet
Skill level: Beginner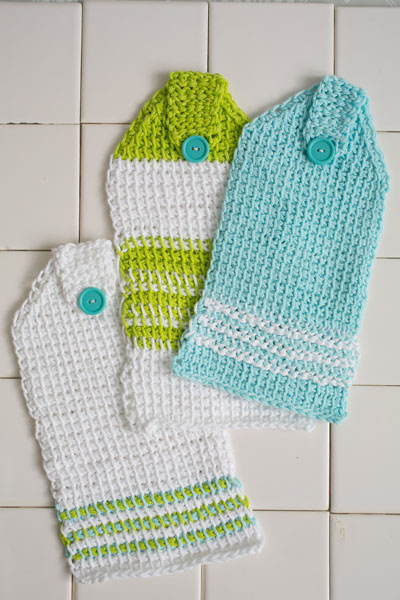 Everyone loves a cheerful kitchen full of delicious aromas, family hubbub, and plenty of conversation. Cleaning up the kitchen? Not so much.
But when these pretty Kitchen Casuals Hanging Towels from I Like Crochet hang by your sink, you'll approach dish washing with a whole new attitude! Worked in the plush Tunisian crochet stitch with absorbent cotton yarn, this dishcloth pattern is both pretty and practical.
Imagine working these Kitchen Casuals Hanging Towels in colors to match your kitchen—what a great accessory! You can also whip them up for friends, and a set of these towels makes a terrific housewarming gift. Don't know the kitchen color scheme? No problem! Just use neutrals that go with everything.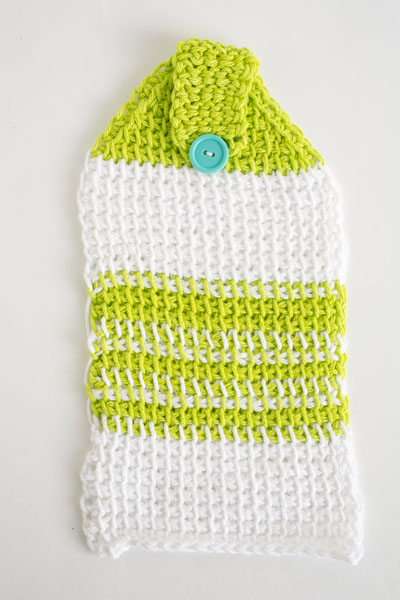 A word about Tunisian crochet: This dense style of crochet, also called Afghan crochet, creates a textured pattern that has a cushy feel. You work the stitch on special hook with a combination of crochet and knitting techniques. If that sounds tricky, don't worry—you'll love this stitch and will want to use it again and again.
This pattern is another winner from crochet pattern designer Kristi Simpson. Everyone loves her designs—they're all so fresh and pretty! We are so lucky to have her among the designers who create patterns for I Like Crochet and you.
The Kitchen Casuals Hanging Towels pattern includes:
Complete pattern instructions for three towel designs
List of materials, notions, and hook size
Special directions for Tunisian Crochet
Finishing instructions
Honestly, even if you never actually use these towels to wipe dishes, the Kitchen Casuals Hanging Towels will look pretty on display and a quick towel to dry your hands. They bring the perfect handmade touch to any décor—from modern to farmhouse style. And, you made them yourself!
This pattern is included in the August 2015 issue of I Like Crochet. And wouldn't you just love to access it anywhere you go? You can! If you become a Gold Club Member, you'll be able to view this kitchen towel pattern on your laptop, smartphone or tablet – whichever device you happen to prefer!
Of course when you become a Gold Club member, you'll also get stitch tips and tutorials, designer profiles, and oh, yes … hundreds of patterns for everything from dishcloths to home decor! And you can take all of it with you wherever you want to crochet – on the sofa, at the park, on a plane or train … well, you get the picture.
If you're a subscriber, be sure to check it out in the August 2015 issue of I Like Crochet! And if not – why not subscribe now to get all of the goodies mentioned above? Remember, you'll never see these exclusive designer patterns or our expertise anywhere else.
Happy Crocheting!