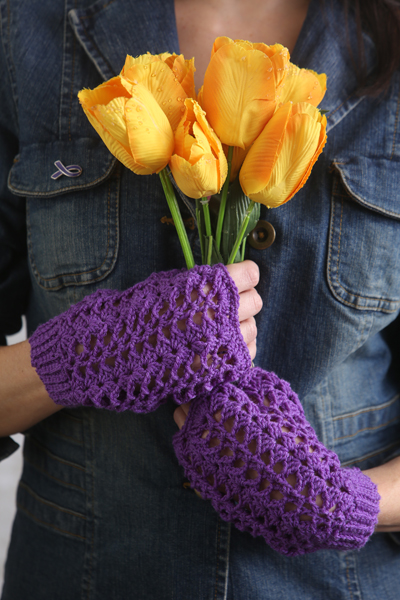 From: The April 2016 issue of I Like Crochet
Skill level: Intermediate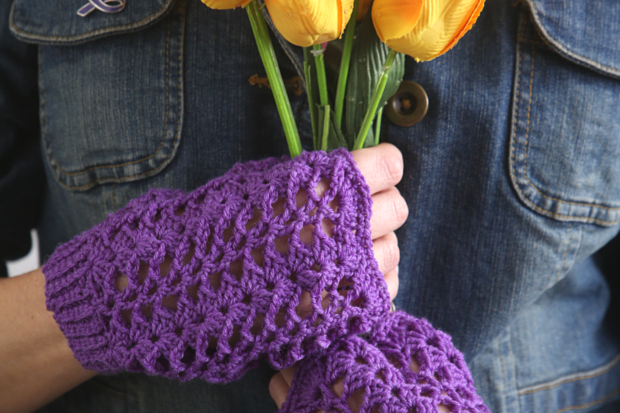 When you're looking for a little warmth and a lot of style, turn to the Proper Plum Lace Mitts pattern. Pretty and practical, flirty and fun, this pattern's vintage vibe goes just as well with a denim jacket as it does a frock coat.
Fingerless mitts probably began as a way for a lady to keep her hands covered while allowing access to her fingertips, whether she was lifting a teacup or selling flowers. But mitts work just as well today for tapping on your smartphone or laptop. How cute would you look wearing these when the thermostat in your office puts a chill in the air and on your fingers? All your coworkers will want a pair!
This intermediate fingerless glove pattern is worked in 85% merino/15% silk yarn, resulting in fine, lightweight mitts. Starting with the cuff, you crochet ribbing before beginning the lace pattern. Work the thumb gusset and upper hand section, then thumb edging and finishing. You'll finish these mitts lickety-split!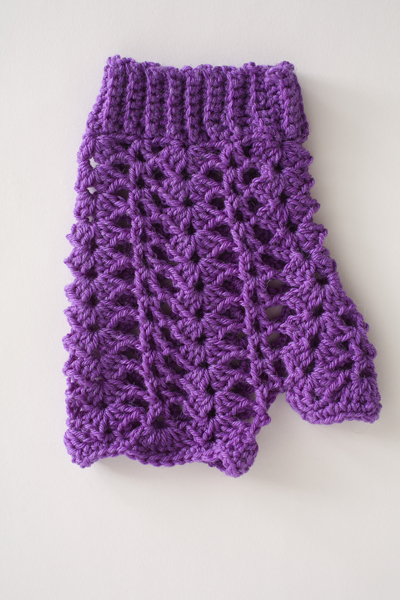 Popular crochet and knitting project designer Mary Beth Temple created the Proper Plum Lace Mitts pattern—and many others—for I Like Crochet. Mary Beth's patterns range from vintage looks, like these gloves, to modern crochet wraps—and everything in between.
The Proper Plum Lace Mitts pattern includes:
Complete pattern instructions
List of materials, notions, and hook size
Finishing instructions
Remember, just because the pattern name includes the word "plum" doesn't mean you can't work these sweet mitts in your favorite color. Deep green, rust—even black—would look great in fall and winter. Pale pink or yellow would complement a spring outfit. And what about white for the Boho bride? You'll need a pair of these mitts for every occasion!
You'll find this pattern in the April 2016 issue of I Like Crochet. And did you know you could access it anywhere you go? If you become a Gold Club Member, you'll be able to view this lovely lace mitts pattern on your laptop or tablet – whichever device you prefer!
Of course, when you become a Gold Member you'll also get stitch tips and tutorials, and oh, yes … hundreds of patterns for everything from wraps to afghans! And remember, you can take all of it with you wherever you want to crochet – in your home, at the beach, on the train – the choice is all yours!
If you're a subscriber, be sure to check out the Proper Plum Lace Mitts pattern in the April 2016 issue of I Like Crochet! And if not – why not subscribe now to get all of the benefits mentioned above?
Enjoy!