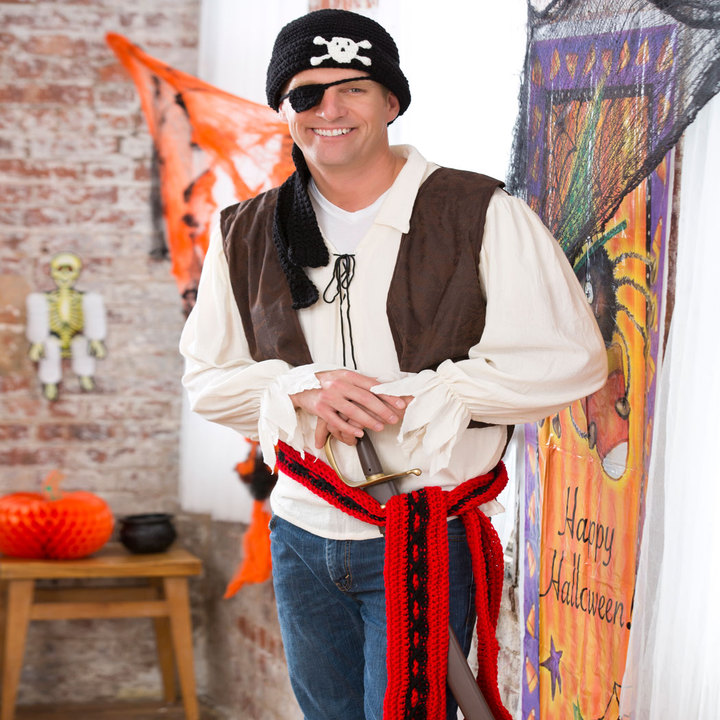 The moon is big and bright, the nights are getting longer, the air is crisp and the leaves have started to change. That can only mean one thing — HALLOWEEN IS HERE! It's my very favorite time of the year because I love to dress up in costumes.
Uh oh! What's that? You forgot to put together a costume? Well, that is easily remedied — especially if you have a bit of yarn and a crochet hook.
You'd be surprised how easily you can put a costume together with things around the house and then accessorize it with just a few minutes and some yarn.
Here are some super quick ideas that you can whip up in no time at all:
Put on a crisp white button down and a brown blazer and crochet a red bow tie:  Voila! 11th Doctor from Doctor Who
A trench coat coupled with a stripey crochet scarf of many colors will evoke the image of the 4th Doctor from Doctor Who
Toss a pretty black dress on with some fun tights. Paint the tip of your nose black, add whiskers and crochet some little black triangles onto a headband: Super-Cute Black Cat
Find some old round glasses at the thrift store and crochet a scarf in alternating gold and maroon stripes: Harry Potter
Dress all in grey, paint your nose pink, add whiskers, crochet large round ears and add to a headband: "I'm a mouse, duh!"
Dress all in white, loosely wrap white yarn around yourself, being sure to go from torso to limbs. Make a very large black pom-pom, glue black pipe cleaners to the bottom and add googly eyes. Pin the spider to you. AHHHHH you're a spiderweb!
Need some more last minute crochet Halloween idea? Check out these two from I Like Crochet: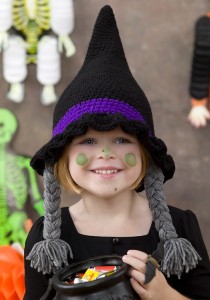 Bewitching Hat: This easy pattern lets you work up a pointy and positively bewitching hat, complete with grey braids.  All you'd need to do is add a black dress, a broom and a little bit of face paint.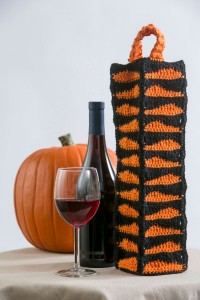 Finally, if you are headed to a Halloween party don't forget a little gift for the hostess.  This Halloween Wine Tote coupled with a favorite bottle of vino makes a great gift, and the best part is that it works up in the hurry.  You won't have to rush out to the store before the party to get a gift bag!
For a very last minute costume, put on black pants and a white top, tie a bandana around your hair and make this quick pirate eye patch for the fastest pirate costume ever!
---
Pirate's Eye Patch
Pattern by Red Heart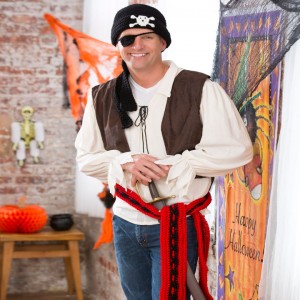 Skill Level: Beginner
Size: One size
Gauge: Not necessary
Materials
Yarn: Red Heart Super Saver (100% acrylic; 364 yards [333 meters]/198 grams): #312 Black (1 skein)
Hook: US size K/10.5 (6.5 mm) hook
Pattern
Row 1: Ch 5; sc in 2nd ch from hook and each ch across; turn. (4 sc)
Row 2: Ch 1, 2 sc in first sc, sc in next 2 sc, 2 sc in last sc; turn. (6 sc)
Rows 3 and 4: Ch 1, sc in each sc across; turn.
Row 5: Ch 1, sc in each sc across, ch 40 for tie.
Fasten off.
Join yarn to first sc of Row 5; ch 40. Fasten off.
Weave in ends.