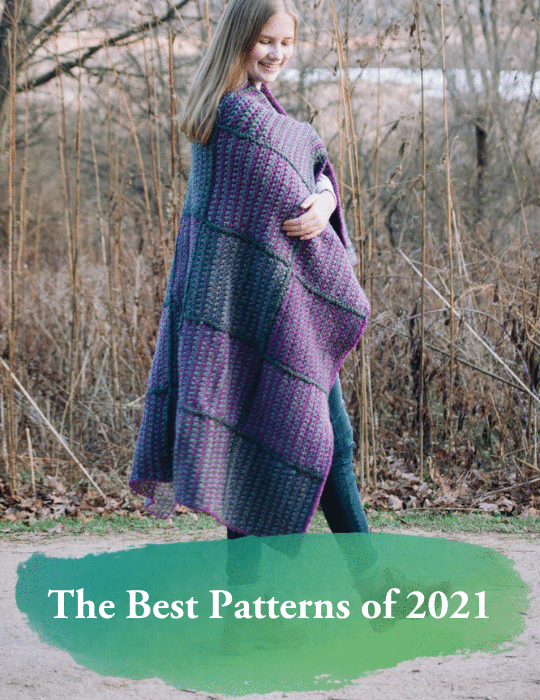 Blankets, cardigans, afghans, tank tops, shawls, and more. They're all on our list of the best patterns from this year. How many of them did you make?
Dear Crocheter,
What a year it's been! A year full of challenges, but also opportunities. With so much of life in flux, it was a relief to have the familiarity of a reliable creative outlet. Crochet is more than a craft — it's a way to center ourselves; a way to express our creativity; a way to shake off some of the day-to-day stress, one row at a time. From beginners through experts, we're happy to have been able to share new patterns and techniques to crocheters of all skill levels.
These "Best of" collections are always fun to put together, and this one was especially interesting. We tallied up the patterns published in this year's issues that got the most views on our website, and created a collection for everyone to enjoy. Whether you're new to crochet or you can crochet in your sleep, there's something here for you to make for yourself, for friends, for family. This collection includes everything from weekend projects to easy beginner patterns to more challenging designs.
When we were done sorting things out, we discovered we had a few themes in this year's Best of 2021 Crochet Patterns:
Summer of Crochet: Think beach.
Sweater Weather: Bold lines, trendy looks.
Unique Crochet: Clever construction, versatile uses.
Blanket Statement: Unique stitches, gorgeous results.
Breezy Sweaters: Who says all sweaters have to be warm?
Breezy Cardis: Catch a breeze in style.
Tanks A Lot: Tank top patterns that rival anything you'll find at the store.
Favorite Cardigan: Cozy is key.
Best Southwest: Southwest-inspired accent pieces.
The 25 designs you'll find in Best of 2021 Crochet Patterns are the most popular patterns we've featured this year. Whether you're new to crochet or you have a home full of crochet projects you've made over the years, we're happy to have you here. We hope you enjoy the Best of 2021 Crochet Patterns from I Like Crochet.
Each one of the patterns in I Like Crochet includes:
Complete stitch instructions
List of materials, notions, and hook size
Pattern and special stitch notes
Finishing instruction
Full color, detailed photographs of each pattern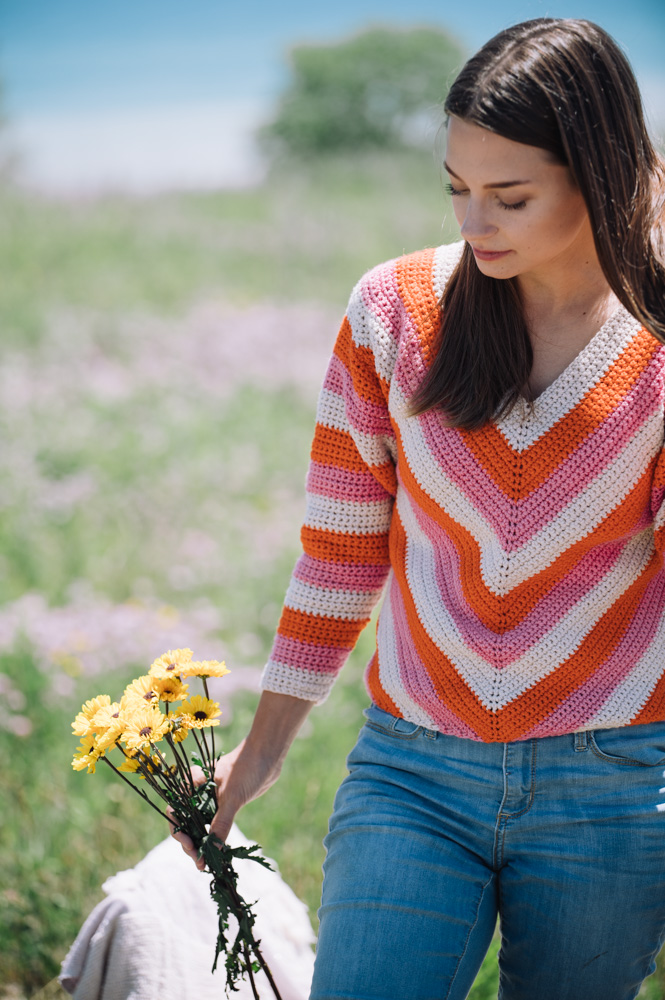 The Ivanna Chevron Sweater is the bold and beautiful sweater you've been looking for. The singular solid V motif is a real eye-catcher. The unique and clever construction of the front panel will be an enjoyable endeavor for intermediate and expert crocheters alike. Plan to finish this project in about 2 weeks. Use our color combo or choose your own!
For a perfectly portable project you can put together in pieces, the Linen Stitch Gingham Blanket is a modern twist on a traditional gingham quilt. This is a great project that you can work on whenever, wherever. The 25 linen stitch rectangles are in a straightforward pattern that's easy enough for beginners and interesting enough for experts. Whatever your skill level, you'll love the cozy feel of this blanket when it's finished.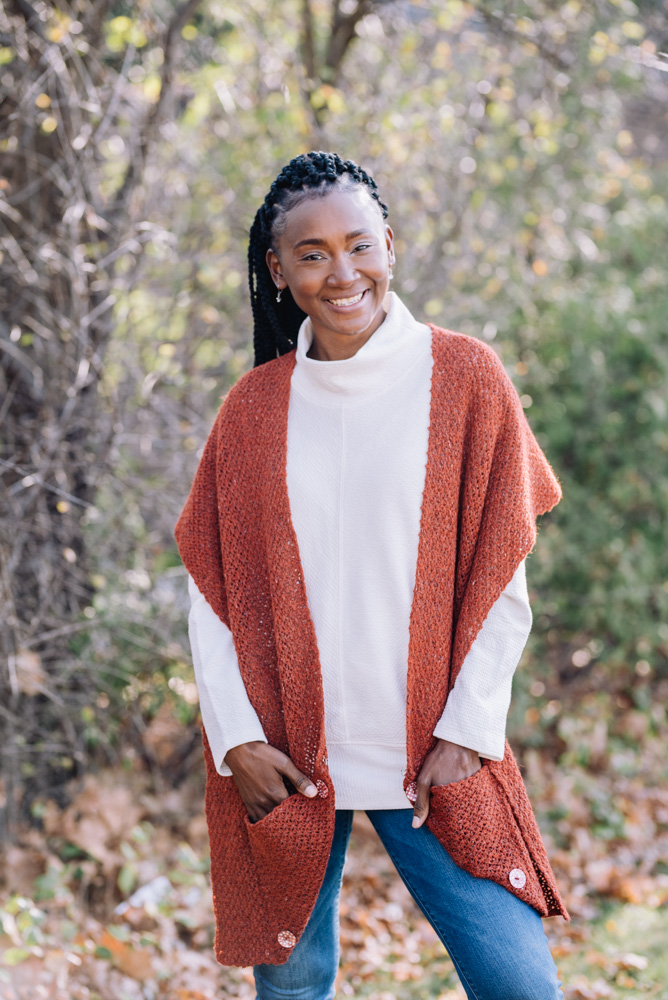 The Convertible Pocket Shawl is one of those fabulous projects with great visual interest combined with a super-easy pattern. The two angled pockets sport decorative buttons, and the shawl conceals three invisible fasteners so you can convert the shawl to a capelet! There are instructions for three sizes, and you can easily customize the fit. You could have this mostly done by the end of a weekend.
We're also happy that the Jade Lace Curtain made it into the Best of 2021 Crochet Patterns collection. We love to see patterns that look intricate and challenging, but that are actually easy enough for beginners to take on. This is a winning pattern no matter your skill level. The light and lacy curtain pattern is totally customizable to the window you want to put it in. Enjoy the view through an elegant, lacey project you made yourself!
The Best of 2021 Crochet Patterns collection is a wonderful way to end this year and start next year. Each one of these designs is a winner on its own, but together? This is a powerhouse of the most amazing new designs from 2021.
This collection has something for everyone. From the Westerly Duster Cardigan to the Crochet Bed Pocket you'll find something colorful and creative to make. The Wind River Rug is reversible, and sure to brighten your living room or bedroom with its earthy colors. And the Harmony Hairpin Lace Afghan is an explosion of color and comfort!
We've had a great year of fabulous crochet patterns. Which project will you choose first?
But this is just a fraction of what you'll get with an I Like Crochet Gold Club Charter Membership—your membership includes subscriptions to the I Like Crochet Magazine Club and to the I Like Crochet Collections Club; full and immediate access to the digital library of 5+ years of magazine issues with 700+ crochet patterns and articles; step-by-step instructions for patterns; and video tutorials and full-color photographs for details about projects and stitches. All included with your Charter Membership!
Your I Like Crochet Gold Club Charter Membership gives you access to our crochet patterns and content, 24-hours-a-day on whatever device you prefer—desktop, or laptop! And the content is fully searchable, so you can find exactly what you want—when you want it—at your fingertips in an instant.
Here are just a few of the tantalizing patterns sitting in our library right now — you'll get instant access when you join the I Like Crochet Gold Club as a Charter Member:
Cuddly Crochet Baby Blankets
Super-Cute Amigurumi
Blue Sage Hooded Shawl
Easygoing Crochet Tank
Circular Chenille Afghan
Marigold Blanket
Baby Owl Bib
Moonlit Shells Shawl
Monster Baby Booties
Adult Pocket Scarf
Cropped Victoria Top
Vine and Twigs Scarf
Verde Velvet Pillow
Kaja C2C Rug
Flying Geese Jacket
Two Sisters Lake Sweater
And the library of photos and video tutorials is gorgeous, inspiring, and practical—showing you exactly how your finished patterns should look and exactly how to execute, even the difficult ones!
When you join our #1 community for crochet-lovers, you'll receive all of the handy benefits that crocheters everywhere have been buzzing about:
You'll learn new stitch techniques with a variety of patterns that range from beginner to advanced.
You'll find expert tips and tricks that will help you achieve professional results.
You'll start getting requests for your stunning crocheted items from your family and friends.
You'll have access to renowned designer patterns and tutorials from all over the world.
You'll never worry about mistakes in patterns or ripping out your progress because our tech-edited patterns are curated from trusted designers in the crochet community.
You'll be connected to an online community of crocheters who are just as passionate as you!
Don't miss out on this exclusive charter membership offer to get all of the above and more!
When you activate your I Like Crochet Gold Club Charter Membership today, you'll get access to everything we have about crocheting—all access and all the time:
A full year of upcoming issues of I Like Crochet magazine—Including nearly 100 exclusive designer crochet patterns and articles with step-by-step instructions, video tutorials and full-color photography for details of projects and stitches
Instant access to EVERY issue we've ever published—a vast library of more than 5 years of issues with 700+ patterns and articles
A full-year's subscription to the I Like Crochet Collections Club that includes gorgeous designer patterns
Regular e-newsletters, full of the latest crochet tips & tricks
Free patterns, expert tips, and Crochet Along community events
FREE Bonus! FREE access to two on-demand streaming crochet videos Crochet Secrets Revealed: 12 Tutorials by Michael Sellick and Back to Basics: 11 Essential Techniques and Stitches for Every Crocheter. FREE, instant, full, and unlimited access for you right now!
And here is what you don't get when you become a Charter Member of the I Like Crochet Gold Club—advertisements! That's right, we're advertising-free, so that we can devote more time, space, and effort to helping you be an awesome crocheter!
All of this is available to you—right now—when you claim your Charter Membership to I Like Crochet Gold Club. This special introductory offer includes FREE unlimited access to two on-demand streaming crochet videos Crochet Secrets Revealed: 12 Tutorials by Michael Sellick and Back to Basics: 11 Essential Techniques and Stitches for Every Crocheter…our gift to you for signing up now!
No other online magazine has this much information about crochet all in one place for your easy access!
Crocheters everywhere have been enjoying I Like Crochet magazine for years, and now it's better than ever with more benefits, patterns, and content than you could ever dream of—with an I Like Crochet Gold Club Charter Membership.
When we first put this new club together for crocheters like you, your needs and desires were top-of mind. We're the ultimate resource and network for crocheters everywhere, offering original designer patterns and content from authoritative and respected voices in the crochet world.
I think you'll agree that this really is an unusual offer, plus FREE access to our premium on-demand streaming crochet videos when you become an I Like Crochet Gold Club Charter Member today! It's an incredible deal that you don't want to ignore!
Why not be among the select group of crocheters to join us today and benefit from all the valuable information about crocheting that you can't get anywhere else?
Become an I Like Crochet Gold Club Charter Member today—while this special offer lasts!
Happy crocheting!

Caitlin Eaton
Editor, I Like Crochet Magazine