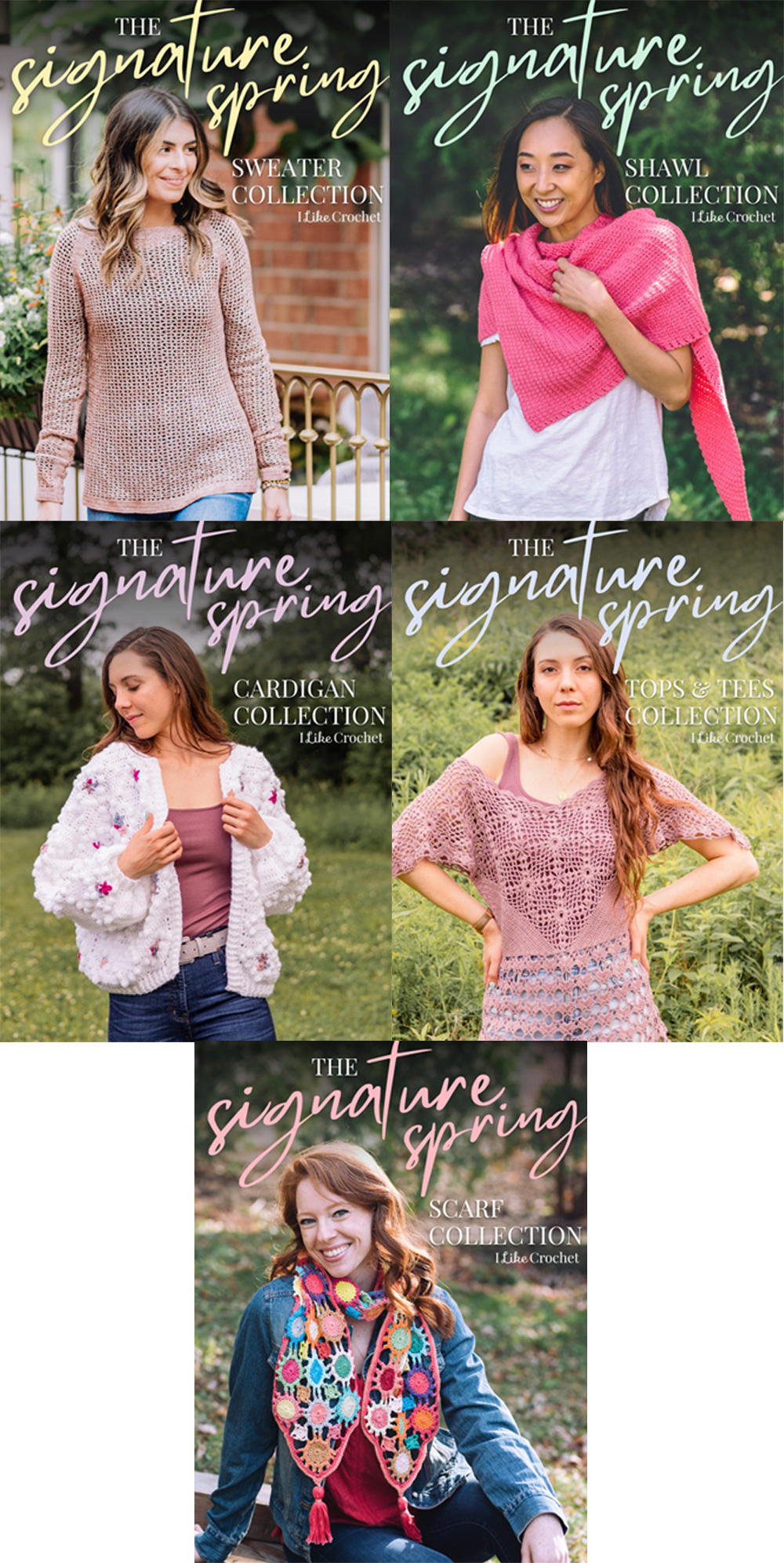 80 creative crochet patterns in 5 collections!
Dear Crochet Friend,
I you like crochet like we like crochet, you're always on the lookout for new patterns. Well, with the changing seasons come new signature styles — in everything from scarves and shawls to sweaters, cardigans, tees and tops.
Come with me on a whirlwind tour of our five Signature Spring Collections from I Like Crochet — featuring 80 projects in all!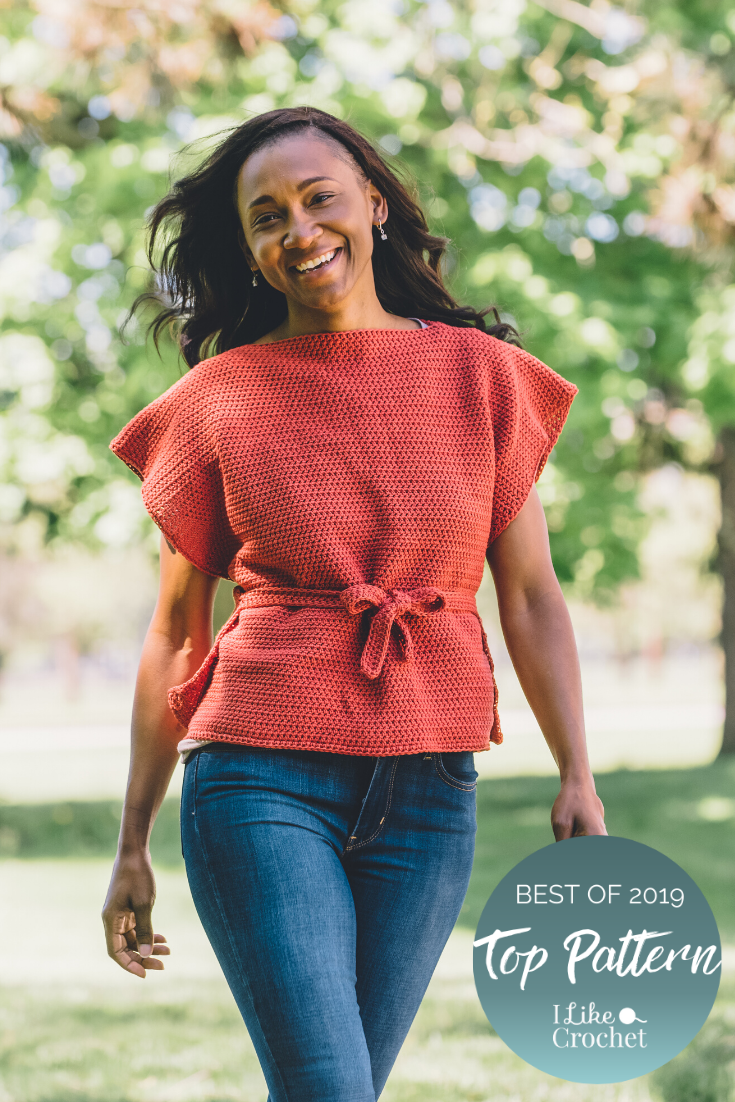 Signature Spring Tops & Tees Collection: 10 Projects
Tops and tees are wardrobe staples, but that doesn't mean they have to be bland and boring. Our Ainsley Top was inspired by the beauty of a summer meadow. Each element of this graceful top lets the avid crocheter enjoy a broad variety of crochet techniques. You'll love the drape of this top with plenty of lace accented with — you got it — more lace. Take your basic crocheted tee to the next level with our Vivi Ruffle Sleeve Top featuring lace at the sleeves and at the hem, too. It feels as good as it looks!
Sometimes you just need to feel as pampered as a princess. That's the time to get out your hooks and make the Pink Princess Ribbon Tee for the ultimate in lightweight comfort. This pattern is rated easy, so crocheters of all levels can make this simple yet elegant pullover.
Other projects in our Signature Spring Tops & Tees Collection include:
That's a Wrap Shirt: A timeless wardrobe staple that's reversible
Claire Scallop Top: Sweet scallops at the neckline, sleeves, and hem
Lace Diamond Top: A delicate lace pattern on a sleeveless top
Cozy Cowl Neck Tee: Lacy fan stitches and graceful lines
Lighter than Air Top: Classy, elegant, and flowy
Cherry Raglan Tee: Top-down construction, classic fit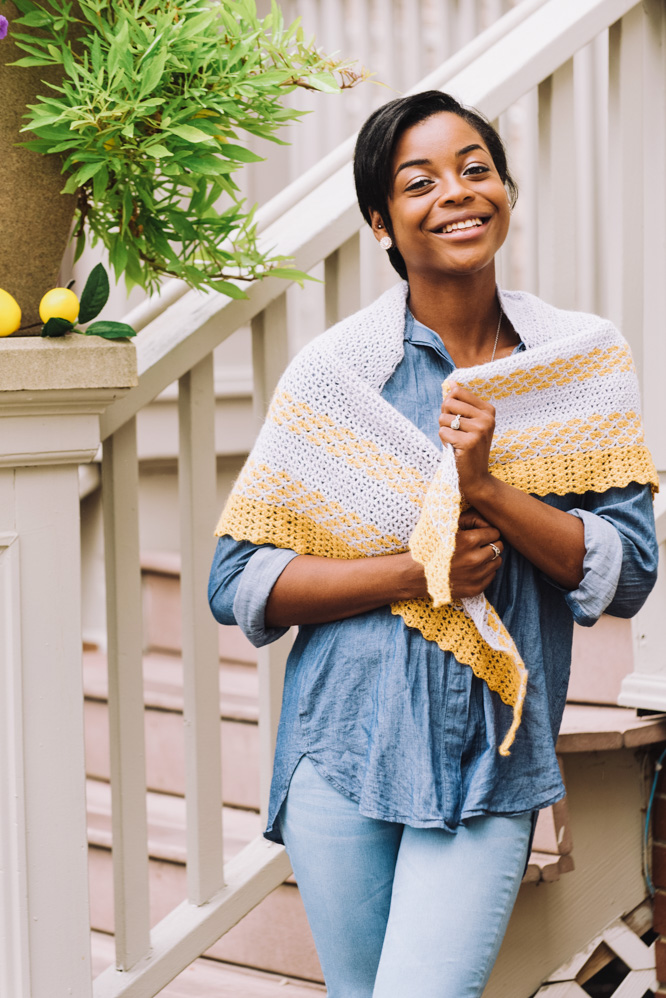 Signature Spring Shawl Collection: 31 Projects!
A shawl is the perfect accessory, whether you want to add a splash of color or keep the chill off in style. Our Sunset Breeze Crescent Lace Shawl features a delicate lace pattern for intermediate crocheters. Work this shawl from tip to top to create the delicate crescent shape, and add the lacy border at the end. This is bound to become your new favorite lacy layer.
It never hurts to keep a simple shawl on hand. But why go simple when you can go gorgeous? Our openwork Carnation Pink Shawl flows with a beautiful variety of stitches to produce a light, airy addition to your shawl collection.
The rest of our colorful Signature Spring Shawl Collection includes:
Reese Wrap
Blythe Filet Shawl
Cherry Blossoms Stole
Spring Blossom Wrap
Shells and Lattice Shawl
Floral Triangles Shawl
Lemon Buttercup Shawl
Seasonal Shawl Series: Spring Shawl
Delicate Side to Side Shawl
Earthen Blocks Shawl
Water Lily Shawl
Vines & Flowers Wrap
Dragonfly Wing Shawl
Half Circle Crochet Shawl
Sonic Swirl Shawl
Bliss in Bloom Shawl
Secret Waterfall Shawl
Dew Drops Shawl
Morning Glory Shawl
Aloe Bloom Shawl
Spring in Bloom Shawl
Springtime Decadence Shawl
Raindrop Lace Shawl
Cloudy Day Shawl
Easy Sideways Crochet Triangle Shawl
Moonlit Shells Shawl
Color Me Calm Shawl
UnbeLEAFable Lilac Shawl
Second Season Wrap
Triple Shell Shawl
You're sure to find your own signature shawl in this collection! So many choices!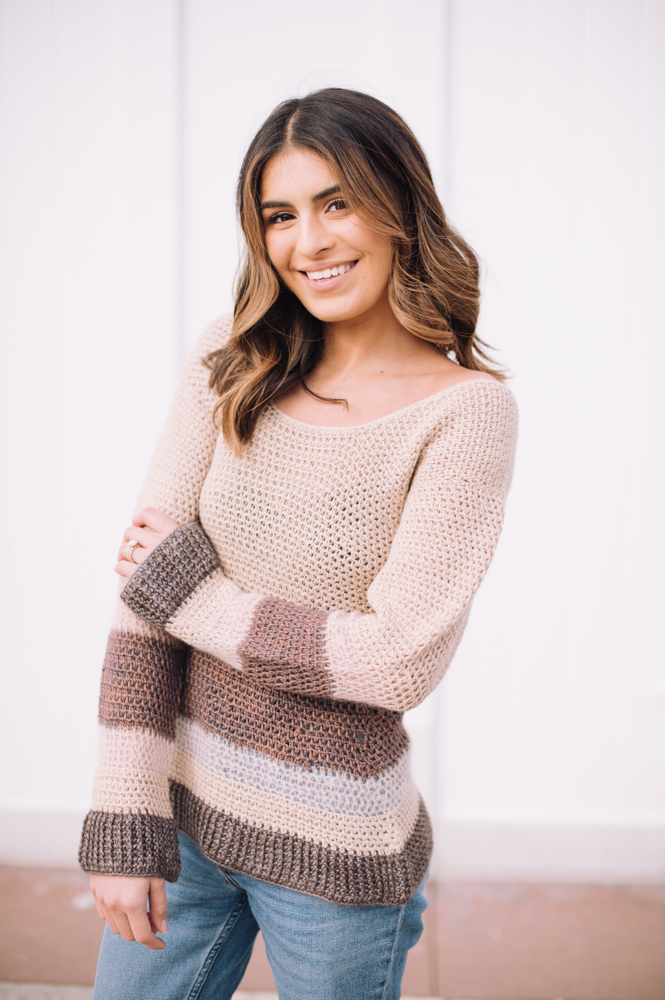 Signature Spring Sweaters Collection: 8 Projects
It's always sweater season here at I Like Crochet. We love how our spring sweaters get us through that transitional season from chill to chilling. For beginning crocheters, sweaters are definitely an option. One of the best things about our projects is how many of the patterns are rated easy, but look stunning when they're done. A sweater pattern doesn't have to be difficult to be divine! Make the Shimmering Boatneck Blouse with festive yarn and let the yarn do most of the work!
Ready to take on a more intricate project? How about the Sierra Swoncho: part sweater, part poncho, and all adorable! Simple mesh meets dramatic lace borders to create a sweet spring garment. You'll love the belled sleeves and the flirty flow of the swoncho's hem. Keep it handy to keep off the chill as you collect the compliments.
Other fun projects in our Signature Spring Sweaters Collection include:
Queen for a Day Top: For the lace lovers among us
Oak Sweater: Square neck, gentle shaping, great texture
Makayla Mesh Sweater: Easy breezy style
Garden Glow Sweater: A beginner-level pattern with a stylish asymmetrical neckline
Michigan Mesh Sweater: Loose, comfy V-neck flair
Pretty In Peplum Top: High flirty factor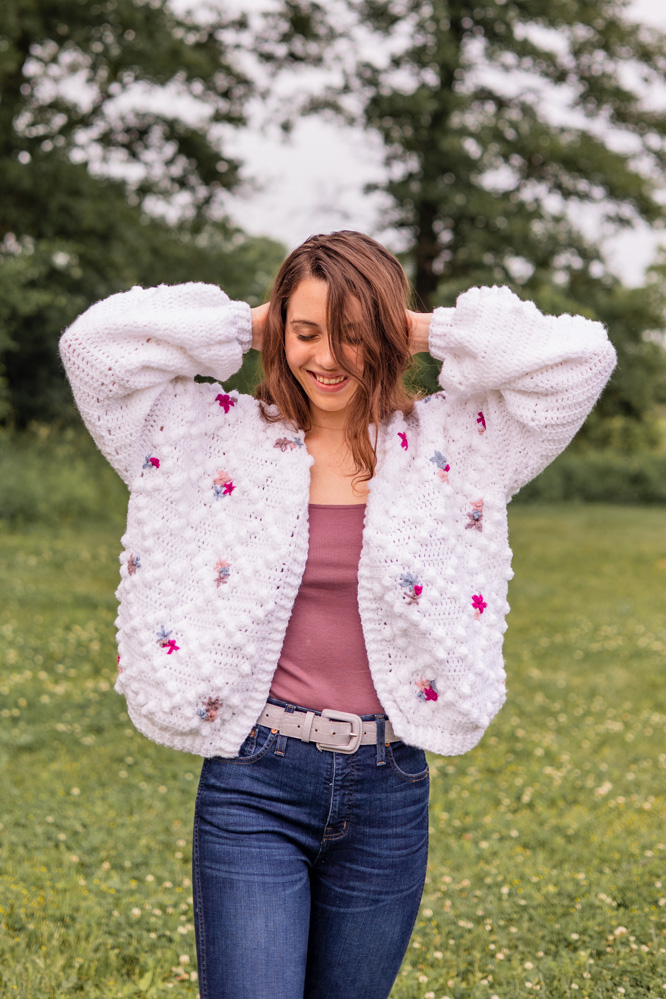 Signature Spring Cardigans Collection: 18 Projects
Be ready for anything with one of our signature cardigans in styles ranging from wildly whimsical to perfectly pretty. Our Margareta Cardi is all flowing lines and bold stripes. If you move between the worlds of crochet and knitting (or you'd like to), this is a great opportunity to crochet a sweater that echoes the texture of a knit garment. Our Ladylike Buttoned Cardi features a cropped length, a deep V-neck, and dainty buttons down the front of a dazzling filet crochet motif. It's the perfect choice to dress up a simple summer dress.
There are more than a dozen more cardigans waiting for you in this collection:
Peach Bliss Cardi: A classic
Cozy Chic Cardi: A great transition piece
Hexi Lace Cardi: Boxy and beautiful
Mint Breeze Cardigan: Figure-flattering lace
Brooke Scalloped Cardigan: scallop motifs made this pattern pop
Marilie Bobble Cardigan: Bobbles and embroidery? You bet!
Classic Checks Cardigan: A classic style with added popcorn stitch
Cascading Waterfall Cardigan: Graceful drape in an easy lace pattern
Café Sunshine Cardigan: Timelessly classy
Magnolia Scalloped Cardigan: Classic style with a pop of color
Strawberry Cream Cardigan: Cropped, with delicate detail
Butterfly Crochet Cardigan: Light, lacy — and reversible
Downton Cardigan: Simple, striking lace pattern
Plus our Serene Spring Long Cardigan, Dusk Daisy Cardigan, and Tied and True Cardigan. We have cardigans for all occasions in our Signature Spring Cardigans Collection!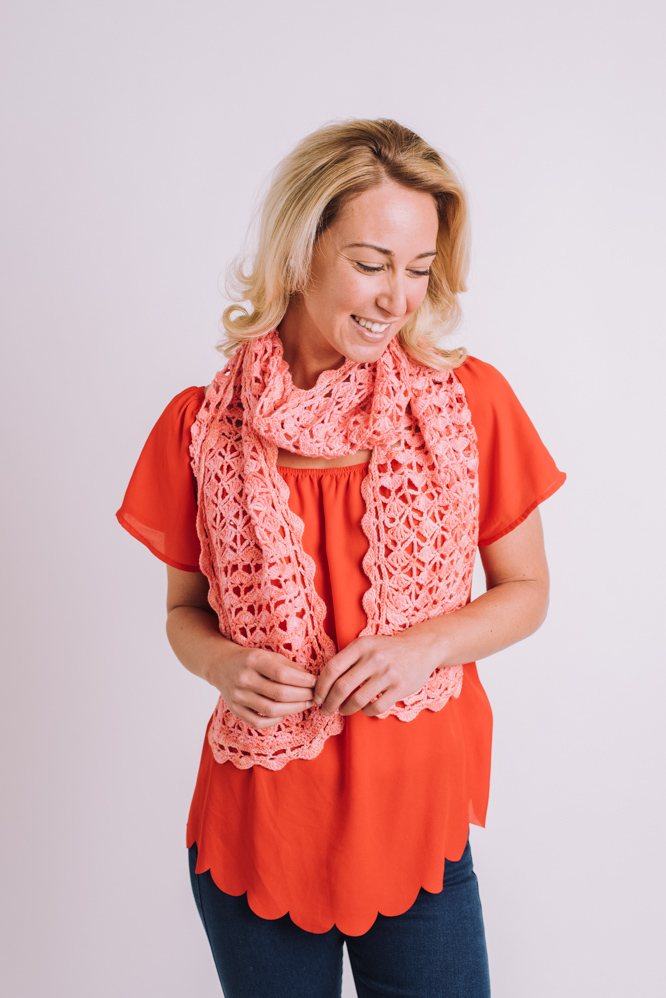 Signature Spring Scarf Collection: 13 Projects
Winter scarves are delightful, cozy, and warm. But warmer weather calls for a different kind of scarf. Our Signature Spring Scarf Collection has 13 lovely scarf patterns ranging from light and lacy to wild and whimsical. Our patterns are perfect for crocheters who are just beginning and those who enjoy a little challenge. You'll love the look and feel of these lightweight scarves!
We may be putting winter in the rearview mirror, but that doesn't mean the end of scarf season. Celebrate spring with our light and airy Abigail Striped Bias Scarf. You'll love its lighter-that-air feel with its row of bias-worked eyelets. The hardest part will be choosing your ideal color combination! Inspired by pink moon scallop shells collected from sandy beaches, our Moon Scallops Scarf brings together small and large shell shapes. The result is a breezy scarf that's easy to make and easy to wear.
Don't miss our other patterns in this collection, whether for you or for gifting:
Ayla Tassel Scarf: A one-cake wonder, alternate rows of crochet lace pair with narrow tassels for a delicate aesthetic.
Eden Eyelets Scarf: Eyelets float between rows of double crochet.
Pyramids of Style Scarf: Shell and v-stitches combine to create an eye-catching design.
Skinny Latte Scarf: Made with a beautiful trellis-like stitch, this project is easy and quick to work up — ideal as a portable project.
Fresh Air Scarf: The delicate edging of a shawl — without the shawl.
Mint Julep Scarf: Intricate and airy — perfect for spring and summer!
Making Waves Scarf: Make crocheted waves with long, colorful repeats.
Colorblock Plum Scarf:  The beauty of this scarf lies in the color and texture of the fiber.
All these, plus the Patchwork Posies Scarf (a perfect scrap-buster), the Flower in Bloom scarf with vibrant flower-shaped granny squares, and our Margot Queen Anne's Scarf — light and airy with great colorway potential!
With the 80 projects featured in our five Signature Spring Collections from I Like Crochet, you could do a project a week and still have projects left over after a year of quality crochet. The good news is that some of these projects can be finished in a weekend, or even just a day! For the enthusiastic crocheter, our Signature Spring Collections are a treasure chest of creativity just waiting to be opened. What are you waiting for? Let's crochet something new!