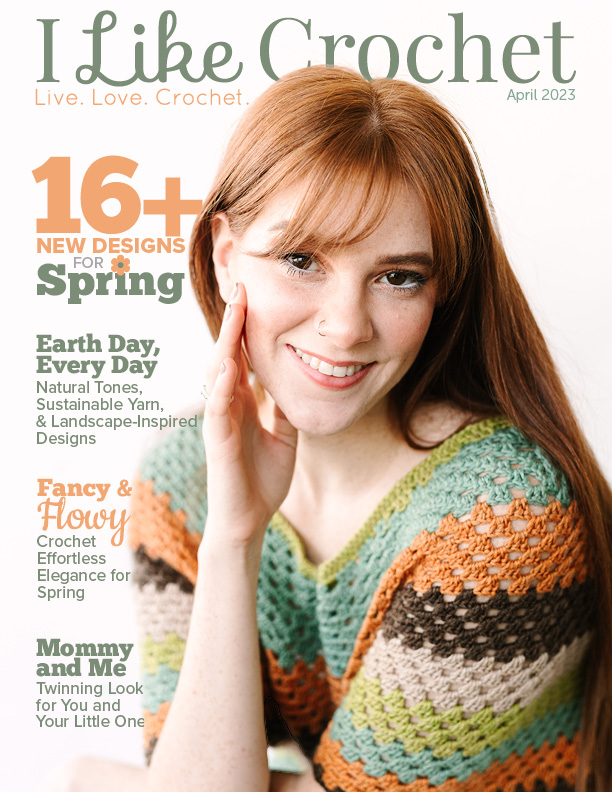 Tops, bottoms, tees, blankets, shawls, and more — plus adorable mother-daughter projects. Make something for friends & family, but save some time for you!
Dear Crochet Friend,
Ah, the promise of Spring. Fresh flowers, blossoming trees, longer days for strolling — and lots of opportunities to crochet!
Our April issue has projects to brighten up your home, your wardrobe, your dinner table and more! Here's a preview of our latest issue.
Fancy and Flowy
We've got you covered with patterns for a top, a shawl, and even a skirt! New outfit, anyone? Start off with the Solida Bold Shoulder Top. You'll love this fun & flirty design that incorporates half double crochet, a lovely lace section, and delicate shell edging for this one-shoulder top. Looking for more lace? Look no farther than out Viola Pineapple Crochet Maxi Skirt. This design is just full enough to be comfy for an evening stroll. You'll love the feel and flow of this skirt.
Top everything off with our Ayanna Lace Motif Shawl. Better than your basic triangle, this shawl begins with a single triangle at the bottom and builds up from there. The light and lacy look coupled with the cheerful flowers is sure to turn heads.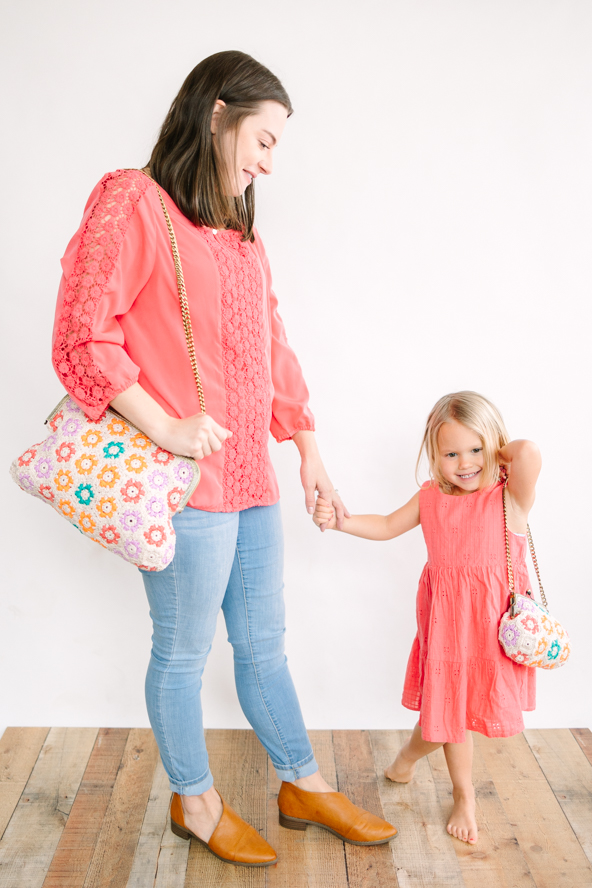 Mommy and Me
With Mother's Day on the horizon, this is a great time to make a Mommy and Me project. The Zelie Mom & Daughter Flower Puff Bags will make great statement pieces for the spring and summer with their bold and beautiful flowers. Attach a metal purse clasp and chain, and you'll have matching bags you can't find in any store!
For a day project that will make mom and daughter happy, crochet a lovely beaded bracelet for mom and the perfect little mini-me bracelet for the young one. Magnetic clasps make these Sarelia Mom & Daughter Crochet Bracelets easy-on, easy off! Or how about matching headbands? Our Fiora Headband set is the perfect project for girls' adventure day out. Crocheted flowers means Spring will always be in the air!
Get ready to go retro with our Kalena Tank Tops for adults and toddlers. The vintage-inspired top has a bright and bold central floral motif that will brighten anyone's day. Crocheted in 100% cotton, this top will take you all the way through summer.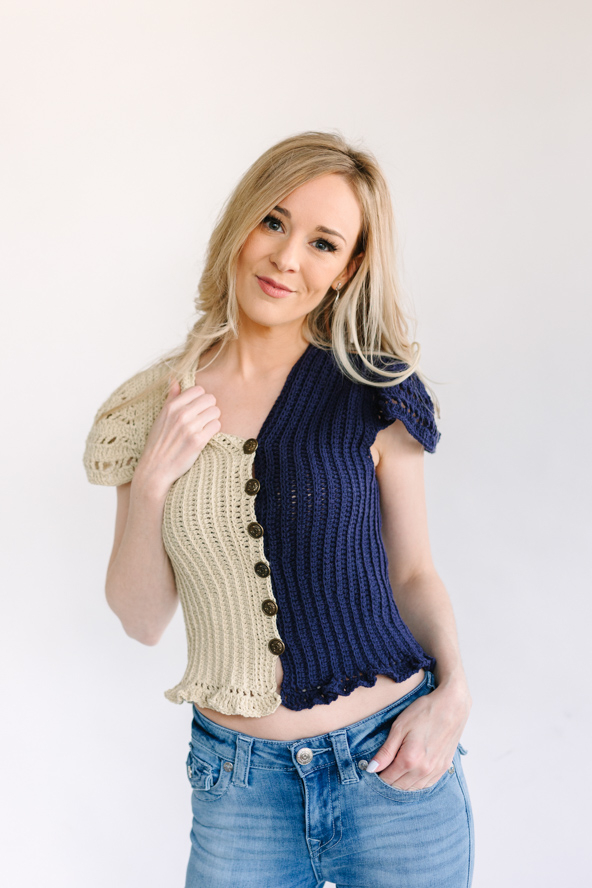 Earth Day Every Day
We celebrate Earth Day in April; but really, isn't every day Earth Day? Choose a natural yarn for our Altaira Two Tone Tee. This top has a lot going for it: a soft and breathable fabric, a comfy rib stitch pattern with lacy edges, flirty, lacy cap sleeves, and your choice of bold buttons to bring the two different-colored sides together. Everyone needs a statement piece for spring; this could be yours!
Or make yourself the perfect lacy tee shirt topper with our Georgina Motif Vest. A lacy floral square adorns each front panel and the back, and it's easy to use a simple filet crochet to adjust the size just the way your like it. Crochet this in two shades, the way we did, or make a bold vest to contrast with your favorite layering top.
Bring nature inside with our Countryside Pillow. Create this layered landscape using the altered berry stitch, and dig into your yarn stash to make this pillow uniquely your own. Pick your own color combination to create a sunrise feel, a sunset feel, or a feel of wide open spaces. The world's your pillow with this perfectly variable pattern!
It takes a while for Spring flowers to grow, but you can make our Daisy Baby Rattle in just a day. This project is perfect for beginning crocheters. When baby outgrows the rattle, plant it in a little flower pot in the nursery.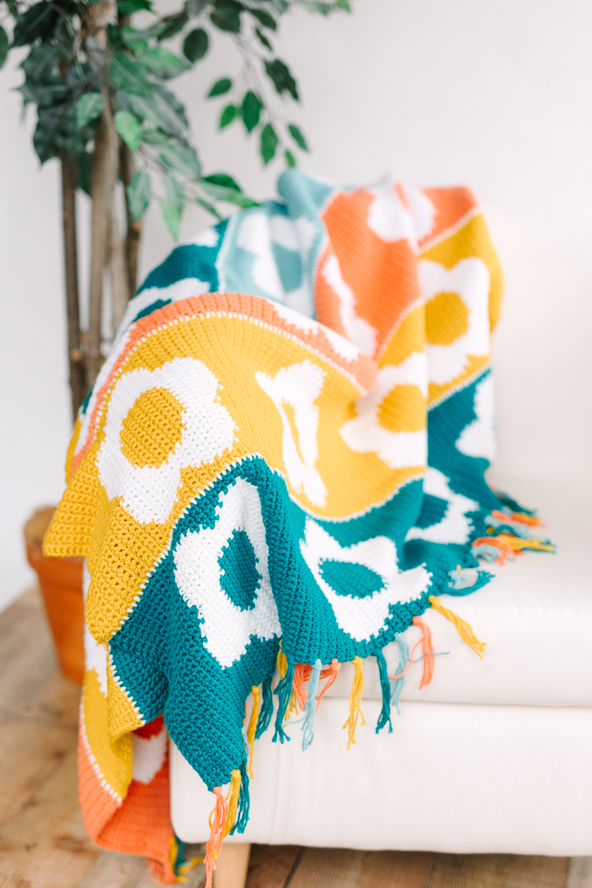 Retro Bright
You know that everything old is new again, right? Flower power is back in style with our Lottie Retro Flower Baby Blanket. These bold flower panels are worked individually (can you say travel project?) and then crocheted together. Finish the whole thing off with a multi-colored fringe and you've got a bold baby blanket with no sign of pastels. Groovy!
Depending on the colors in your yarn stash, our Patchwork Puppy could come out with some wild colors to brighten a little one's day (or your day; who doesn't love puppies?). This project meets at the intersection of amigurumi and patchwork crochet motifs. The great thing is, you can complete this puppy in a day, and make another one the next!
Retro style is for all of us. Our Ramona Granny Stitch Dress is a groovy nod to granny stripes with modern style. Crochet this dress in the round from the top down. This project is rated easy, and could take just two weeks from start to finish. Pick your bold color combination get ready to rock those granny stripes!
Of course, a little decoration goes a long way, and we have patterns for you and your home. Add a little Spring bling to your hair with our Bouquet Bobby Pins and Barrette set. You pick the colors (dig into that stash!) and arrange your flowers your way for bobby pins and a barrette that are totally you. Want to keep that floral feel indoors? Make our Raffia Flower Napkin Ring Holders. In just two hours — yup, two hours — you can have your own unique crocheted raffia rings in bright Spring colors. What a simple and lovely way to dress up the table!
With this issue of I Like Crochet, the hardest part will be picking which project you'll make first. Don't forget to make something for you!