Features
Patterns
Departments
Get All-Access Membership Now!
Learn More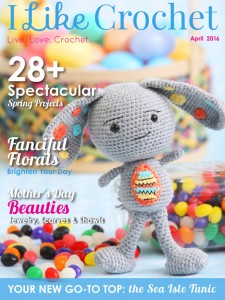 A Note from the Editor
Melting icicles, green grass, flowers emerging from once-frozen soil—spring is here! Aside from the change in temperature, one of my favorite parts about the season is the feeling that I have a fresh slate. Because no matter how cold the winter, spring will always follow.
If you've also got a touch of spring fever, now is our chance to accomplish everything we've been putting off, from cleaning out that ever-growing yarn stash to crocheting more for your family and friends.  No matter which goal you decide to target first, you'll find plenty of inspiration in this exciting new issue.
Fill your closet with an array of fresh designs by crocheting up a selection of light and lacy projects, like the gorgeous Second Season Wrap. Crescent shaped and rich in color, this pattern is just what you need to transition between cool-to-warm weather.
If you're looking to add some fresh flair to your home, don't miss our Spring Delights for the Home section. Stocked with vibrant throws and a bold accent pillow, you'll take your living room from drab to fab with just a couple weekends of crocheting.
And let's not forget about Easter! The charming Bailey the Bunny amigurimi is just the beginning to the festive designs we've prepared. From the Bunny Hop Set to the lighter-than-air Hexi Lace Cardi, you'll discover designs for you and your little one that are just the right fit.
Happy crocheting,

Design submissions and article ideas should be sent via email to submissions@ilikecrochet.com