Features
Patterns
Departments
Get All-Access Membership Now!
Learn More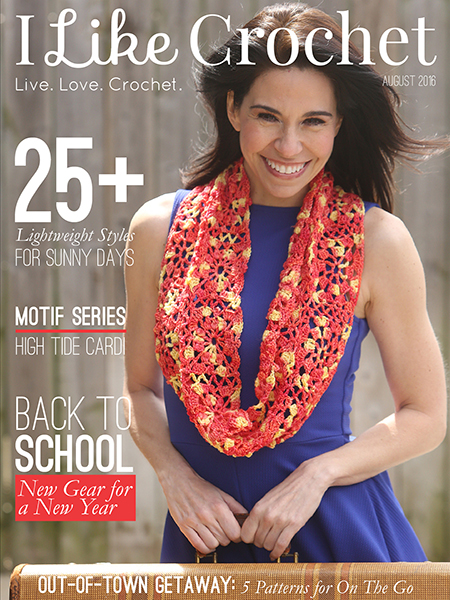 A Note from the Editor
Change is on the horizon. Can you feel it? The once-warm air is laced with cooler breeze as the sun sets each night. People are starting to bundle up in their favorite lightweight cardigans and scarves. I find myself thinking ahead to all my favorite fall activities: evening hay rides, pumpkin patches, warmed mugs filled with hot cider. But if you find yourself enamored with what's to come, don't forget to enjoy what's here right in front of you. The tail end of summer is the ideal time to cross off the rest of your summer bucket list. Whether that means scheduling an impromptu weekend trip, planting an herb garden or crocheting more projects from your pattern to-do list, there's still time to enjoy what the rest of this season has to offer. And just imagine — your crochet project illuminated by the firelight of your family's bonfire, the darkness of the night punctuated with flashes of light from fireflies — is there a better way to enjoy your favorite hobby?
To help you navigate your way through the next few months, Nicola and I have pulled together some must-have projects to start crocheting now. My personal favorite is the Up and Away Tank. It's delicate and light and works well layered with colorful tanks. Plus, don't leave for the beach without your new favorite Boho Tote. This well-constructed bag boasts a stunning applique Mandala that will let you say goodbye to summer in style. While our Lightweight Styles for Sunny Days section includes some of our favorite weightless scarves, ideal for adding warmth and a punch of color to any outfit.
Plus, get your children or grandchildren ready for the school year with irresistibly cute backpacks and a school bus pencil case. The Owl See You at School Backpack is so cute, you'll be tempted to whip one up for yourself.
Happy summer crocheting,

Design submissions and article ideas should be sent via email to submissions@ilikecrochet.com