Get an entire library of everything about crochet—with your I Like Crochet Gold Club Charter Membership.
Plus, a FREE on-demand streaming crochet video — when you join today!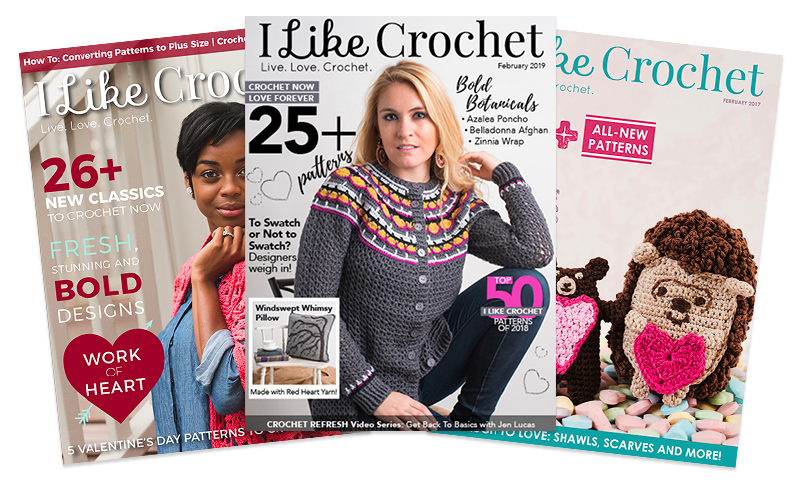 Here's what you get when you join the I Like Crochet Gold Club as a Charter Member:
A full year of upcoming issues of I Like Crochet magazine—BOTH the web edition and the tablet edition, including nearly 100 exclusive designer crochet patterns and articles with step-by-step instructions, video tutorials and full color photography for details of projects and stitches
Instant access to EVERY issue we've ever published—a vast library of more than 5 years of issues with 700+ patterns and articles
A full-year's subscription to the I Like Crochet Collections Club that includes 50+ gorgeous designer patterns
Regular e-newsletters, full of the latest crochet tips & tricks
Free patterns, expert tips, and Crochet Along community events
FREE BONUS! In addition to this special introductory Charter Membership offer, you'll get instant, full, and unlimited access to our premium on-demand streaming video Crochet Secrets Revealed: 12 Tutorials by Michael Sellick — get expert, hands-on visual guidance about all the tricks of the trade!
And here is what you don't get when you become a Charter Member of the I Like Crochet Gold Club—advertisements! That's right, we're advertising-free, so that we can devote more time, space, and effort to helping you be an awesome crocheter!
Act today to get your special introductory Charter Membership offer!