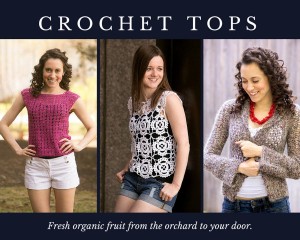 Crochet tops are a unique way to make a statement, from crochet summer tops to handmade cardigans and pullovers. The range of patterns you can find for a top range from a lacy cover-up to vests and tanks and even cardigans or pullover sweaters. No matter the temperature, there's a great crochet look you can make that would perfectly work. Before you think that you need to be a crochet master in order to work up something like a tee or sweater, think again. While there are many crochet top patterns that require at least an intermediate level of skill, there are also many easy tee patterns that can be worked up by knowing just a couple of basic crochet techniques.
From sleeveless crochet tops and tanks to a crochet sweater pattern, these projects are range in difficulty and style. Some of the tops listed here are very straight forward and are worked in a modular fashion, requiring minimal, if any, shaping. Other top patterns are a little more complex and have added details like waist shaping or all-over lace patterns which, by the way, make excellent swimsuit coverups. No matter your skill, though, you can absolutely crochet your own tee or tank.
Crochet cardigan patterns can be a bit tricky to work up sometimes, but by following the pattern closely, it is possible to crochet your very own. Whether you use thick yarn and crochet close together or you opt for a thinner and looser stitch, sweaters and cardigans are essential wardrobe pieces. Thicker sweaters keep you warm which a thinner crochet sweater is the perfect thing to throw on in the evening chill or at an air-conditioned location.
Besides following the specifics of the pattern, there are many ways to make a crochet top your own, like changing up the color of the yarn or, for cardigan patterns with buttons, switching up the button type or color. If you're advanced enough with your crochet skill, you might even be able to alter a pattern to use a different weight of yarn to better suit your tastes!
Crochet Summer Tops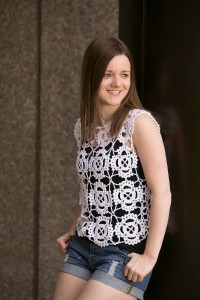 Short and sleeveless tees and tanks make up the perfect summertime wardrobe, so we've gathered some of our favorite crochet top patterns to share! Bright colors and all-over lace designs evoke the summertime vibe, and all these patterns range in difficulty, so there's something for everyone.
Crochet Sweater Patterns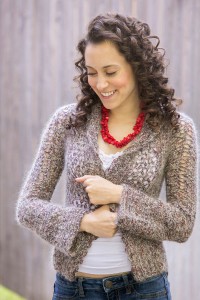 Sweaters and cardigans seem like such an undertaking, but really they're no more difficult than a tee or a tank. They're just made with longer sleeves. Crochet sweater patterns are popular year-round as the yarn weight used will determine the overall warmth. Plus, we've thrown in a cute, vintage sweater vest to spruce up any simple shirt.