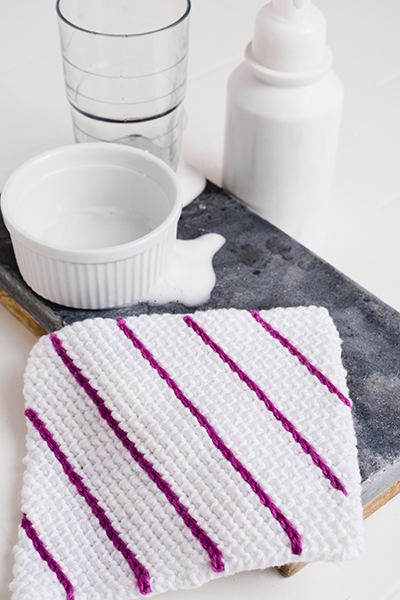 This dishcloth is worked in the round to make a practical double-thickness that holds up well to many dishwashing sessions; plus, the added texture helps to scrub away grime and dirt. Fun diagonal stripes are top stitched for a finishing touch.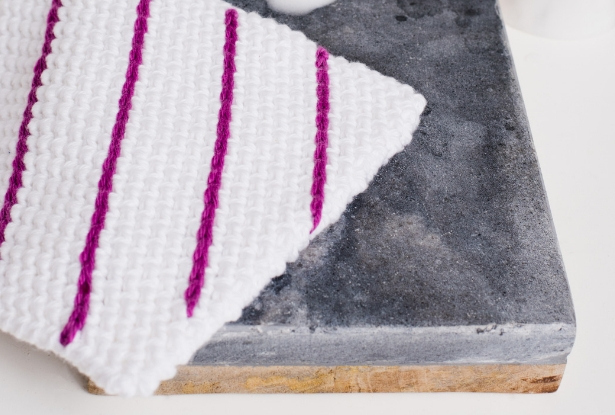 Skill Level: Easy
Size: 6.5" x 6.25"
Gauge: 16 sts and 12 rows = 4" [10 cm]
Materials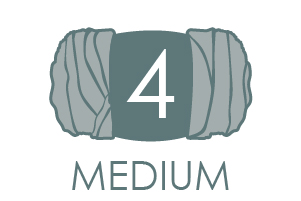 Yarn: Hobby Lobby I Love This Cotton (100% Cotton; 180 yards [165 meters]/100 grams): 6 White (C1, 1 ball), 312 Hot Orchid (C2, 1 ball)
Hook: US size G/6 (4.25 mm)
Notions: Tapestry needle, removable stitch marker
Special Stitches
Hhdc (Herringbone half double crochet): Yo, insert hook into next st, yo, pull lp through st on hook inserted into AND first lp on hook, yo, pull through 2 lps on hook.
Pattern Notes
Base of dishcloth must be worked in the round for stitch to turn out correctly.
Ch 2 at beginning of each round does not count as a stitch.
Top stitching is done between stitches on the diagonal
Pattern
With C1, ch 28.
Row 1: Hhdc in 3rd ch from hook and in each ch across. Turn so other edge of chain in front; Now working in the unworked front loop of chain, continue working Hhdc in each ch across, sl st in top of first Hhdc. (52 sts)
Rnd 2: Now working in rnds, ch 2, Hhdc in same st and in each st around, sl st in first Hhdc. (52 sts)
Rnds 3-21: Rep Rnd 2.
Fasten off, leaving a long tail.  Leave pocket of dishcloth open for now.
Finishing
Start at bottom left hand corner of dishcloth and count over 7 diagonal lines you can see with the Hhdc sts.
Mark the space in between the 7th and 8th diagonal of sts with a stitch marker.
*Count over 6 diagonal lines and mark next space with stitch marker; rep from * across for a total of 6 markers
[With C2, make a slip knot and insert inside pocket of dishcloth, insert hook through first sp along the first diagonal marked (space would be the first space along the bottom edge – see photo for a guide), put slip knot on hook, pull hook out with working yarn inside, *insert hook in next sp on the diagonal, yo (inside), pull yarn through lp on hook; rep from * across diagonal] 6 more times in each diagonal marked.
Weave in C2 tails working inside pocket.
Lastly, using long C1 tail, tapestry needle, and whip stitch, sew top opening of dishcloth closed making sure to pass needle through both loops of both stitches along the top edge.