Features
Patterns
Departments
Get All-Access Membership Now!
Learn More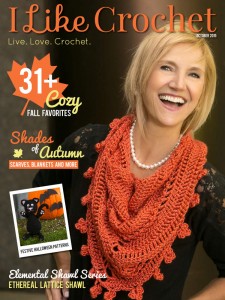 A Note from the Editor
Do you have a favorite season? For me, autumn is at the top of the list. Who could resist the warm-colored leaves, cozy-long sweaters or that rush of flavor travelling up your tongue when you sip your first cup of hot cider? For me, it's not just about fall, it's about one month in particular: September. In September, you get the best of both worlds: warm days mixed with hot, summer-like sun and days with cool temperature dips that make pulling out your soft ankle boots a necessity. These pendulum months, where temperatures swing back and forth from hot to cold, can be challenging to dress for, but they don't have to be. Instead of thinking about them as challenges, see them as opportunities. They're a chance to experience two seasons in one, and they're also an excuse to start crocheting items that fall into two seasonal categories.
To help guide you through these transitions, we gathered the best autumn patterns, including both warmer and cooler-weather options. No matter what the day brings, you'll be ready to take it on in style armed with only the best crochet patterns we have to offer. Some of my personal favorites include the gorgeous Ethereal Lattice Shawl and the Vine and Twigs Scarf. The lightweight shawl is perfect for those end-of-summer nights spent chatting on the patio while the textured Vine and Twigs Scarf is ideal for protection from cool winds during afternoon apple-picking sessions. Plus, how could anyone say no to a scarf with such a rich colorway?
And don't forget about Halloween! From spooky-cute decorations to creative costumes for little ones, you'll discover everything you need to make your celebrations memorable and fun. You won't believe how cute the Fuzzy Monster Booties are!
Happy crocheting,

Design submissions and article ideas should be sent via email to submissions@ilikecrochet.com