The village of Huntington is a charming stop as we make our way around Long Island by boat searching for the perfect yarn destination.  From the moment you settle into your slip at Willis Marine, you know this is going to be a good stop.  Willis Marine is at the head of the harbor and is the closest marina to downtown Huntington, where we will tour two different yarn shops. The friendly dockhands and professional staff at Willis Marine Center have been serving the needs of mariners since 1975, and the Center is conveniently located next to Compass Rose Marine Supply. From lanyards and whistles to yarn and hooks, you and your crew will be able to find all you need for your journey in Huntington.
---
---
After checking in with the staff, make your way up to Mill Dam Road, take a right onto NY 110, New York Avenue, and walk south into the village.  Drop your bibliophile off at the Huntington Book Revue, which has an impressive selection of local authors' work, history books and delicious coffee.  Now onto the yarn and of course, afterwards, ice cream. Take a right onto Main Street and a left onto Green where you will find JoAnn Esposito's shop, The Knitting Garden, at 49 Green Street. Don't let the name fool you: this is your home for fiber in Huntington whether you knit, crochet or weave.
As you enter the shop and the doorbell chimes, the cheerful voices, well-lit store and friendly staff welcome you.  Inspirational projects and swatches throughout the store enhance the experience as you peruse Esposito's collection of yarn.
---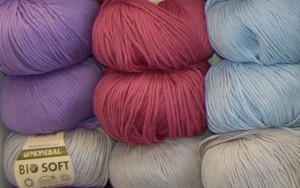 ---
With summer in mind, I was drawn to the cotton selections first as the temperature was nearing 80 degrees the day I visited. Always on the hunt for yarns I can use to crochet and knit for friends with special needs, I was drawn to BioSoft by Mondial.  A 100 percent organic cotton spun into a soft pillow of goodness, made in Italy and available in a lovely array of colors, Biosoft is just what the allergy doctor ordered.  If your pattern requires something a bit heavier and you don't like to double up, the shop also offers some exceptionally soft Katia bulky weight cotton, which was surprisingly subtle when crocheted into a market bag.  If you need something with a bit more of a polished finish or in a jewel tone, be sure to take a look at the Ella Rae Phoenix, which is manufactured in Croatia for Long Island's own Knitting Fever, LLC.
---
It can be a good idea to have a few different colors to choose from as you crochet away the idle hours between ports.  In addition to a wide selection of full skeins of Madeline Tosh, The Knitting Garden also carries fingering weight mini skeins. Mini skeins are the perfect memento of your time at sea; buy a few from various ports and make up a few grannies or a whole tote bag. It can become the ultimate memory quilt, growing as your journey evolves from port to port.
---
---
The Knitting Garden sells a small selection of pattern books, including those from Katia, a tough-to-find line under way around Long Island.  In order to provide inspirational patterns across a wide spectrum of projects, Esposito also has a selection of books from which you can order patterns via Ravelry or Amazon. This trend of moving away from stacks of books seems to be catching on—several of the shops I visited on this trip have books in the store for customers to peruse with the option to buy patterns either through the store or online.
---
---
---
---
Let's face it: on some days there is just some bit of a project that does not make sense and you need a helping hand.  Call ahead to The Knitting Garden to set up an hour-long class for $25 or come in for a 10-minute drop-in for $10  to get your project moving again.  Should you be lucky enough to spend a few days in port, on Wednesday afternoon from 4 to 5:30 p.m. there is an open stitch for folks to work on projects purchased at the store.
"The people who come, come to learn and share from each other; it's wonderful to see," Esposito said.
Sharing projects with one another and talking about yarn on a lazy summer afternoon—what could be better?
Should your stateroom require a bit of organizing, you must check out the selection of bags from Atenti, Walker, Jajaja and Gleener.  The mesh bags from Walker also make useful beach totes—no need to use such a beautiful bag for a single purpose.
---
---
Gradients are the in thing this season. Esposito artfully approaches color and is interested in helping customers find the right gradient set for their projects, thus providing us with a wide selection of sets from which to choose. From Maine's Frolicking Feet, Vermont's Frabjous Fibers Wonderland Yarns or New York's TSC Artyarns, each yarn has its own special qualities and colorways ranging from subtle to shocking.
---
---
---
---
Malabrigo is a big seller, and it's no wonder—who wouldn't want to take it home after seeing it displayed so beautifully? One can appreciate the skeins singularly or in groupings of color when they are well laid out like this.
Personal service is the reason I shop at The Knitting Garden when we are in port. Esposito has an eye for color and the ability to see the yarn as something special. Plus, her gift is in the detail. Whether I need a few skeins to get me through the next leg of my journey or some quick help with a pattern, this shop is my go-to spot in Huntington.  After a pleasant visit to see what's new, I usually make a stop at Bon Bons Chocolatier for my crew, who so patiently waited while I explored the yarn shop. Then I pair my chocolate with an ice cream from Kilwins for my walk back to Willis.
Getting Here:
Willis Marine Center
17 Mill Dam Road
Huntington, NY 11743
40 52.949 N
73 25.405 W
(631) 421-3400
LIRR Cold Spring Harbor Station, Port Jefferson Branch, at West Pulaski Road and East Gate Drive, is not far away, but unless you bring a bike and like hills, it's better to get an Uber.  Long Island's North Shore is hilly, and the streets are windy, which can make for a tough three mile ride.
LIRR Huntington Station on New York Avenue at Broadway is a bit too far from downtown, and there isn't a good way to walk it safely. An Uber or taxi is better to travel to downtown. There is a shuttle; check on the schedule by using the MTA trip planner http://tripplanner.mta.info/MyTrip/ui_web/customplanner/TripPlanner.aspx for up-to-date information
Other local businesses:
Compass Rose Marine Supply
https://www.compassrosemarineny.com
15 Mill Dam Road
Huntington, NY 11743
631-673-4144
Book Revue
313 New York Avenue
Huntington NY 11743
(631) 271-1442
Bonbons Chocolatier
391 Main Street
Huntington, NY 11743
631-549-1059
Kilwins Ice Cream
293 Main Street
Huntington, NY 11743