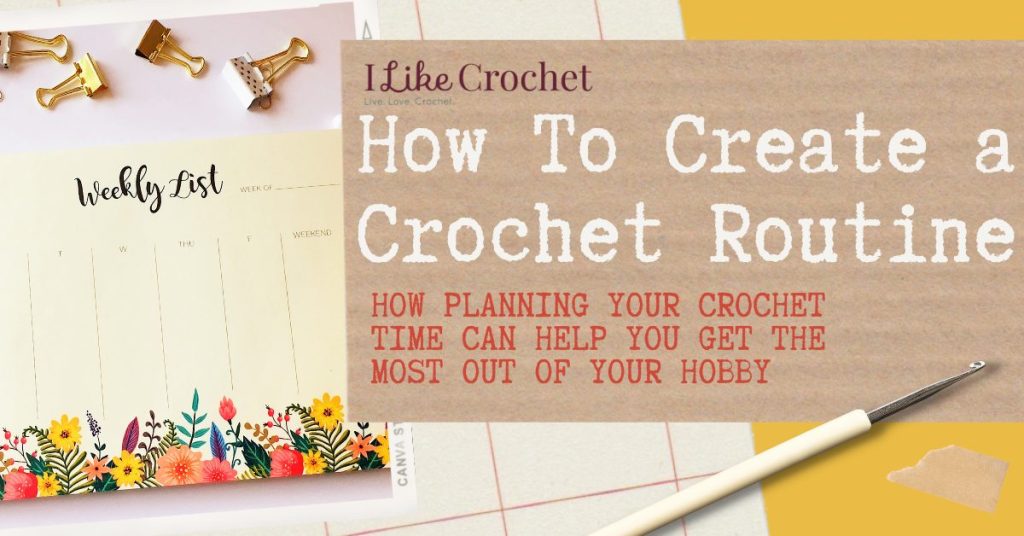 What are the words that describe your crochet routine? For the last few months mine have been 'chaotic' and 'infrequent'! As I adjust to becoming a mum of two and trying to cope with all the chores an increased household contains (baby makes four!), it has meant I've had almost no time to grab my work bag.
It's a challenge isn't it; trying to balance family life, work and a crochet obsession! I work four days a week, I have a family and a house to look after and all I want to do is crochet – I'm sure you can empathize! When you give so much of yourself to other things in your life it can be hard to find the time to do things that make you happy – but it's important, isn't it? That is why I'm going to try and craft myself the perfect routine to fit everything in and hopefully inspire you to do the same.
As I started to think about how I could make my own situation easier, I thought, "There must be others in the same boat as me," so I hopped onto social media to talk to fellow crafters about their habits. I studied their responses and got to work sorting out what might work for yours truly…
I loved this tip from Laura:
"I have a craft bag with everything in it ready to go. I use it on road trips, vacation flights, when I'm waiting around at the doctors or for my children when they are in class / practice"
Another good idea was suggested by Amanda:
"I take my crochet with me to work and hook on my breaks"
I also liked this plan recommended by Patricia:
"Write down everything that you want to accomplish on the weekends so you have more time to craft"
Next I went and looked at different blogs and websites that talk about productivity and schedules to see what insights they could offer me…
One of the ideas I have decided to adapt is to set myself some smart goals.  To do this you write down three tasks (home, work or craft related) to complete per day and three things to accomplish per week. Once finished you tick them off your list – simple right?  Still not sure what I mean? Well I might choose home tasks (to free up more time for crochet) for my daily list, so something like this:
Make sure the evening meal is prepped in the morning or night before for the next day.
Make sure lunches prepped or made evening before work.
Make sure work clothes / school uniform / bags for school and day-care are ready the evening before needed.
Completely possible to do am I right!?
My three weekly tasks I'd choose to be more crochet related; so something like this:
1. Do hand exercises: I crochet A LOT and really want to include this in my routine to avoid repetitive strain injuries. Though I really like this top tip from Ana who said:
"I keep a tennis ball with my crochet and squeeze it a couple of times a day to help keep my hands supple."
2. Work in progress mini goal: for me, whatever I'm working on whether it's a pattern design or something I'm making I want to either finish it up, or if it's a big project, feel as if I'm making headway with it. So I'll set myself a mini goal to achieve before the week is out – and hopefully not get distracted (#hookerproblems).
3. At least two hours per week I'd like to focus on writing on blog posts, emails and working on social media for my crochet business.
The fantastic thing about crochet is that it can so easily fit around the needs of the family, the house and work if needed. The following are the components of what I will hope will make a successful schedule for me – perhaps some of the elements could work for you too:
The work day routine:
6 a.m. – 6:30 a.m: Baby wakes everyone up (better than any alarm clock), everyone gets dressed and ready to go for the day.
7:30 a.m. – 4:30 p.m: Work the day job.
5 p.m: All children collected from school and day-care. Feed children. Amuse children until bedtime.
6:30 p.m. – 7 p.m: The three B's – bath, book and bed for the children.
7:30 p.m: Complete my 3 daily tasks to be ready for the next day.
7:45 p.m: Eat evening meal with husband then with all the children in bed time it's time for crochet! This is my main hooky time so I'll take full advantage of this as my time to unwind from the stresses of the day whilst watching (or listening – you hookers will understand!) to a good TV show.
10 p.m: Time for bed.
The home day routine:
Every month I have six days at home with baby and two days per month I'm lucky enough to get a day where the children are in school / day-care and I can work on my crochet business.
6 a.m. – 7:30 a.m: Pretty much the same as the work day routine.
8 a.m. – 9:00 a.m: Laundry (as much as we all hate it it's got to be done!)
9 a.m. – 10:30 a.m: Go out for a walk, preferably outside.
11 a.m. – 12:30 p.m: Work on the paperwork side of the business
12:30 p.m. – 1 p.m: Lunch
1 p.m. – 4:30 p.m: Work on my weekly tasks, do some light cleaning where needed and then hook all I can (on the days where the baby is at home I'll hook whilst she naps).
5 p.m. – 10 p.m: Same as the work day routine.
The weekend routine:
Saturday: Clean all morning, possible hooking in the afternoon if able, crochet after children's bedtime.
Sunday: Family day. Crochet after children's bedtime.
I know it's going to take a bit of trial and error before I get it right, but I find myself looking forward to slipping into the calming rhythm of a regular routine.  If you are looking to craft yourself some new habits so you get more time for your crochet passion, then I hope this goes some way to helping you out.
Until next time; keep calm and crochet on my friends.
Does your crochet routine look similar? What are your weekly crochet goals?