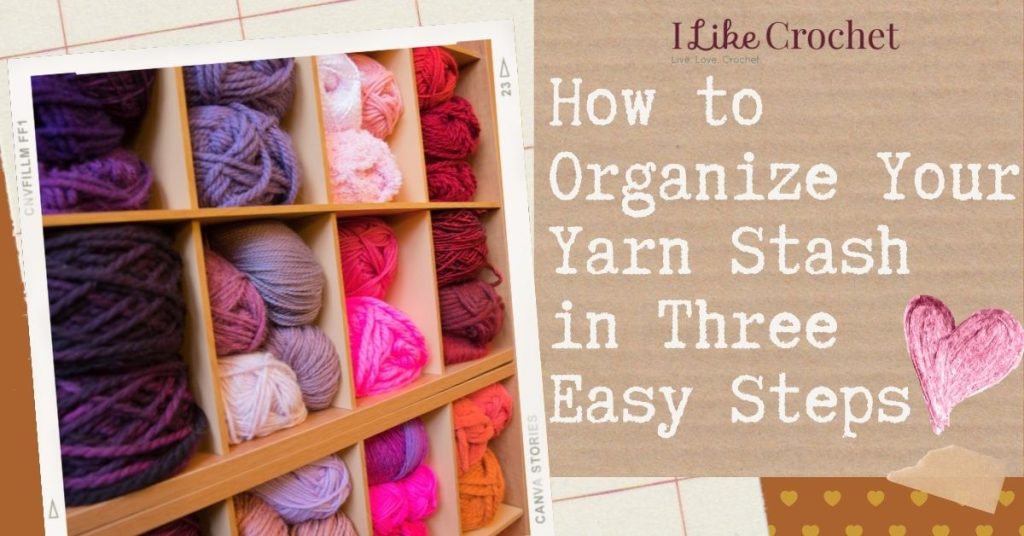 Whether you have one or two balls of yarn for your current project or you've achieved SABLE (stash acquisition beyond life expectancy), organizing your yarn stash can be the difference between enjoying the yarn in your collection and being overwhelmed by it. But organizing doesn't have to be difficult. Let's start with a few basic steps and learn how to spring clean your yarn stash.
This is one of those questions where if you ask 100 different people you get 100 of the best ideas and solutions ever. Of course, the answer to this question lies in the kind of space you have and your organizational preferences. Do you prefer to see everything you have? Do you just want it all neat and tidy and out of sight?
How much yarn do you have, anyway?
Before you organize your stash, take a long weekend to catalog your collection (yes, even those bags of yarn in the closet). If that's too overwhelming, spend an hour each day looking for yarn until you know what's on hand. I find it helpful to photograph my yarn and post it in my Ravelry yarn stash.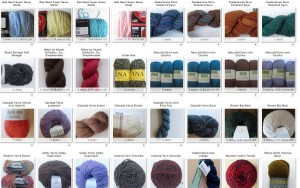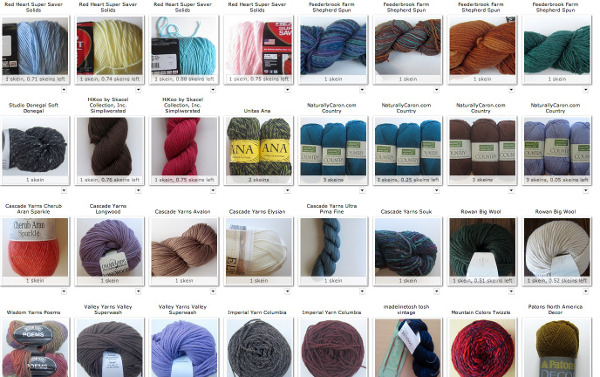 Keep it on display or out of sight?
Once you know how much yarn you have, choose your favorite storage approach. Do you want to hide your stash, or do you prefer to have it on display?
For hidden storage, plastic bins are a great option since they can be stored in a basement or closet. Airtight storage can even help keep out moths. A disadvantage to hidden storage is that you may forget what you already own, so posting your stash to Ravelry will give you a quick visual reminder of what's in your stash. Others sort their yarns by color, fiber content, or weight into clear plastic bins. Everything is easily seen but is safe from tangles and dust. You can stack them, store them under a bed, or place them on shelves. If you are worried about bugs, you can toss some cedar balls into each bin to deter them. Another option that works is to sort yarn into the large space saver bags that you can remove air from. I have a few bags of yarn stored this way; I removed some of the air but not enough to compress the yarn completely. I did this when we moved recently and it worked so well that I left the yarn in the bags and stored it all under my bed.
If you have a closet to work with, hanging organizers are indispensable. You can use the shelves to sort in any way you please. There are even some specifically designed for your yarn stash and have pockets to help organize your needles and patterns. I have a few of these and I just love them.
If you'd like your yarn collection front and center, consider dedicating a bookcase to your stash. You can stack yarn up on the shelves, just as you might see in a local yarn shop, and your crochet books can help to prop up yarn. This approach requires more maintenance, as you'll need to protect your yarn from dust, pet hair and critters, but it allows your collection to shine.
If you have the space to make a display, cubby style shelving units are very useful. Your stash and books can all be neatly organized. They come in a wide variety of sizes and colors, and there are endless options for organizing the shelves. Fabric bins, dividers, drawers, doors are all great options. In my craft room, I use stacks of wire cubby shelving. It's very inexpensive and can be taken apart and reconfigured if you feel the need to rearrange your space. This versatile method is great if you have an oddly shaped area to utilize, like under stairs for example. I have even seen them used to build a display around a bed or couch!
Perhaps you want to take a more balanced approach with storage baskets. Fabric or woven storage baskets are now available in a variety of sizes, colors and shapes, and they can be stacked in bookshelves or left on a table for display. A behind-the-door shoe organizer stuffed with yarn can allow flashes of color from your yarn collection to peek into your room. Keep an open mind during visits to thrift stores and antique shops; a large ceramic or glass bowl makes a great yarn centerpiece. A vintage storage chest can also be a great storage container – but be sure to clean it thoroughly so you don't introduce any yarn-eating bugs into your home.
An organization system
Once you've picked the right storage approach for you, decide on the best way to organize the yarn. The four major methods are by color, by fiber, by yarn weight and by project type. The best approach for you will depend on a combination of the type of yarn in your collection, your storage approach and the type of crocheter you are.
Many utilize large Ziploc bags to keep things neat and tidy. The Ziplocs have an additional benefit off keeping bugs at bay. There are some who sort yarn by project. I do this with yarns that I buy with a very specific pattern in mind. I will often print out the pattern and include it in the bag as well. If the yarn comes in hanks, I will wind it so that when it's time to pick the project up, it's ready to go and there are no excuses not to start.
Organizing by color looks wonderful if your storage approach includes some open or clear containers. You may even choose to store different colors in different rooms, based on your décor.
Organizing by fiber, yarn weight and/or project type makes it easier to "shop your stash" before starting a new project. You may also use a combination of these approaches based on your personal crocheting habits.
Planning ahead before organizing your stash, by cataloging your yarn on Ravelry and choosing a storage approach and organizing system, will help you keep your yarn orderly for years to come.
One of the best ways to get ideas on how to store your yarn stash is to jump into the Pinterest rabbit-hole head first. Be warned: once you start, you may need someone to grab your feet and pull you up for air. You will eventually find a style that appeals to you, trust me.