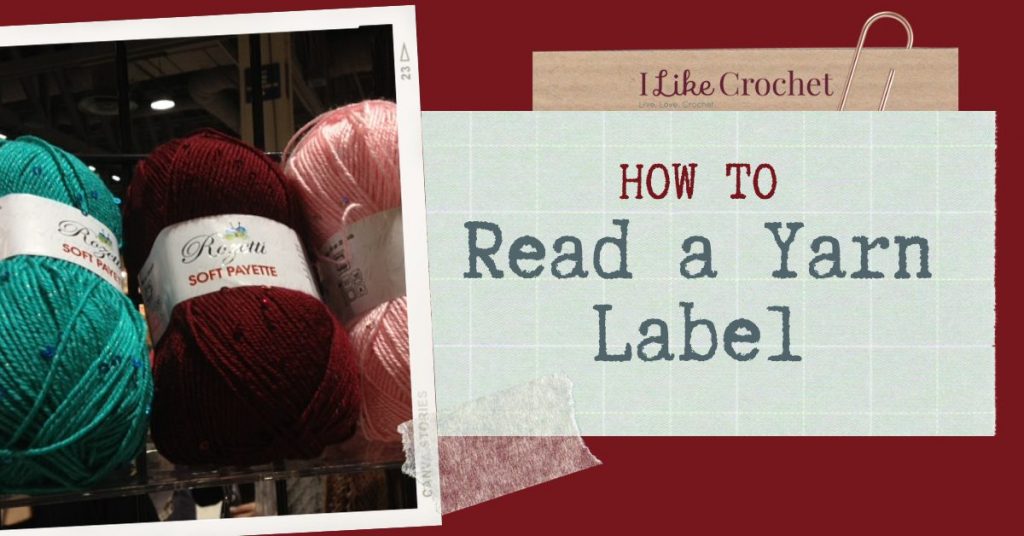 We know it's tempting to rip off your yarn labels so you can start crocheting right away, but before you toss them you might want to think twice: there's actually a wealth of information to be found on those little labels! But like with most things, the more information included, the more overwhelming it can seem — but don't worry. We're going to break down all the common symbols and information so you won't feel so lost. Once you're armed with the proper knowledge, you'll confidently be able to read every yarn label in your stash.  So let's get started by breaking down the label and everything it has to offer.
How to Read a Yarn Label: The Basics
Below is a sample yarn label from Bernat yarn. Let's go through it step by step. Below is a quick overview of all th common information and symbols you'll find on your label: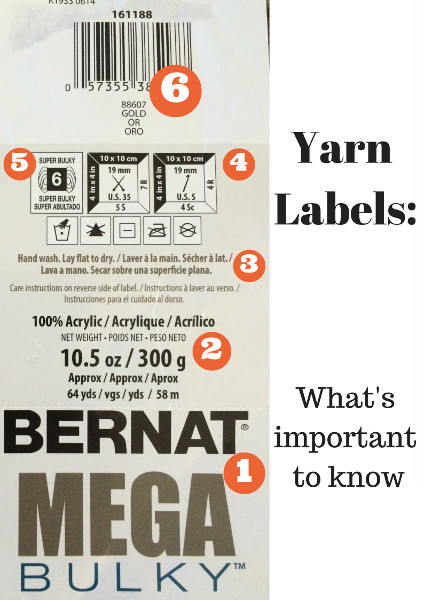 1. Brand and yarn name. In this example, we're looking at Mega Bulky yarn made by Bernat.
2. Fiber content, weight and yardage. This is important to note if you have allergies to certain fibers. You should also pay attention to the amount of yarn in each skein and compare to how much your pattern requires. This will help you determine how many skeins you need to buy in order to complete your project.
3. Care information. Here you will find all the information you need to care for your finished product.
4. Gauge information. These graphics will show you the suggested hook and knitting needle sizes used to get the number of stitched indicated in an industry standard 4" x 4" gauge swatch.
5. Yarn weight. On major yarn company labels, this is an image with a number ranging from 0 to the newly designated 7. 0 is the thinnest yarn, while 7 is the new JUMBO classification. This information gives you a general idea of the yarn thickness.
6. Yarn Colorway and Dye Lot. This area includes the name and number of the yarn color. Along side this information, you will also see something known as the 'dye lot.' Dye lot indicates all the yarn that was dyed at the same time, so you'll be guaranteed matching hues/tones between skeins. Sometimes the same yarn color will vary between dye lots due to the manufacturing process, so it's crucial that you get enough yarn to finish your project in the same lot, otherwise the colors may not match if you have to purchase an additional skein (potentially from a different dye lot) at a later date.
And that's all there is to it! Please keep in mind that not all yarn labels look alike: some might have more (or less) information, information in different places, or slightly different graphics. However, this article covers the common pieces of information you'd find on a standard label. We hope this helps!
Crochet Tip: Finished with your project? Keep the yarn label! In fact, even if you have any left over yarn from your project, store it with the label. Why? If you ever need to refer back to the label, whether for a project repair or for a reference for a future project, you'll know exactly where to find it.  If you are giving the finished product as a gift, you might consider giving a copy of the label so the recipient knows how to care for the handmade gift safely an effectively.
For more crochet tips, don't miss our other articles: how to read a crochet pattern or how to make sure you're using the right yarn for your crochet project.
So tell us, do you keep your yarn labels? Why or why not?