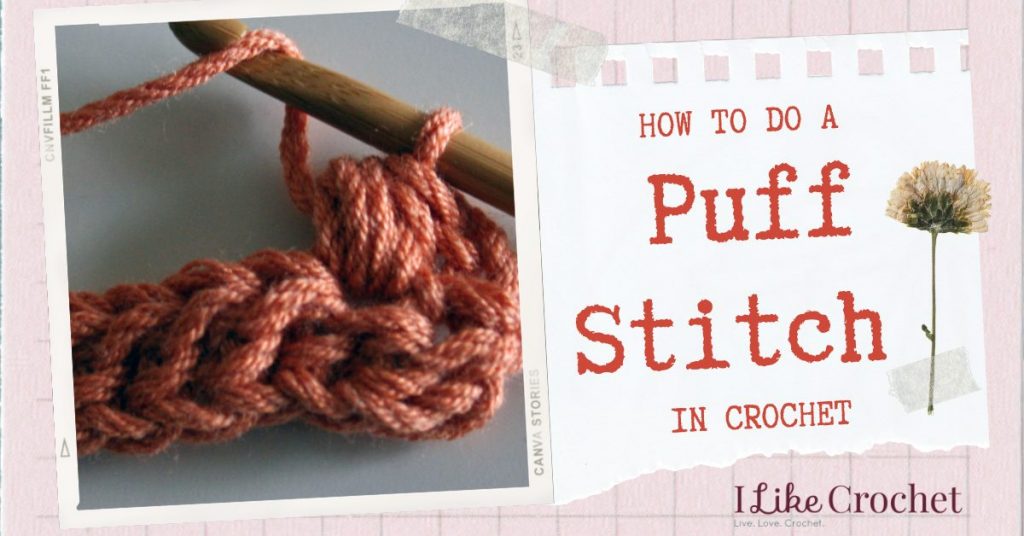 Looking for a fun texture to add to your crochet patterns? Look no further than the crochet puff stitch. The puff stitch, abbreviated as PS in most patterns, generally smaller then the bobble or popcorn and have their own excellent textural punch. We think you'll really love this free stitch tutorial!
How To Do a Puff Stitch in Crochet
Puff Stitch: (Yo, insert hook into previous row between first and second dc in 3-dc group, yo, draw up a long lp) 3 times (7 loops on hook), yo, draw through first 5 lps, yo, draw through remaining 2 ls on hook.

While bobbles and popcorns can be made with multiple types of stitches – double crochet, treble, double treble – puffs are usually made with half double crochets, and its symbol reflects that common approach. I say usually because there are exceptions to every rule. Here are some fun variations on the puff stitch that you may come across in patterns:
---
Puff Stitch (PS): (Yo, draw up a loop) 4 times in stitch, yo, draw through all 9 sts on hook.
---
Crossed Puff Stitch (xp) (worked over 2 sts and completed with a ch 1.
Insert hook in next st, yo, draw up a loop (to approx. height of dc). Insert hook in next st, yo, draw up a loop. Bring hook across the front of the loops just made and insert hook in the first st worked, yo, draw up a loop. Insert hook in 2nd st worked, yo, draw up a loop (5 loops on hook). Yo, draw through all loops, ch 1. (1 xp completed).
---
Sideways Puff Stitch (SPS)
Dc in next st, ch 2, (YO, wrap hook around post of dc just made, draw up a ½" loop) 4 times, YO, pull through all loops on hook, ch 1, sk next 2 sts.
---
The Puff Stitch:

As you can see, much smaller than the bobble or popcorn but still just as fun and dare I say, cute! Here are some of our favorite patterns where the puff stitch is highlighted:



What do you think about the puff stitch? Let us know in the comments below!