From: The December 2015 issue of I Like Crochet
Skill level: Intermediate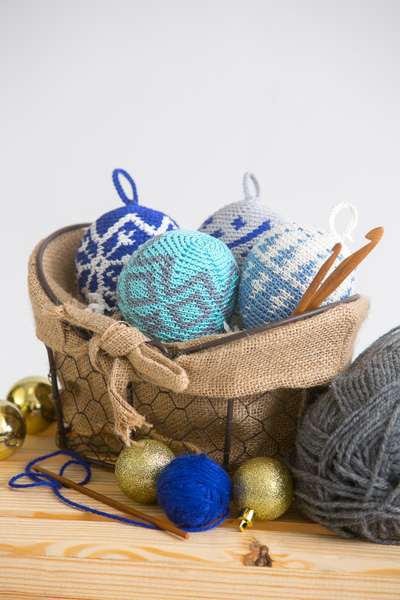 Handmade decorations make wonderful Christmas memories. They're the ones that get handed down with stories about who made them and when: a child in kindergarten, a grandmother for her first grandchild, a parent and child crafting together. Why not make some memories of your own this year with the Rustic Christmas Bulbs pattern?
This Christmas crochet pattern has four geometric designs, each more charming than the last. The motifs borrow some of their appeal from folkloric sweaters, conjuring up snowy days spent skiing or ice skating and then warming up by the hearth with a mug of cocoa. They will fit in beautifully with the rustic farmhouse home decor that's so popular now.
The Rustic Christmas Bulbs, each about 8" in circumference, look beautiful hanging from the tree or nestled in a basket for a beautiful display. Make two or three sets and string them across the mantelpiece or between bedposts. You can crochet them using the yarn colors shown in the pattern or select hues that complement your décor. Because the bulbs are small, this is a great stash-busting project!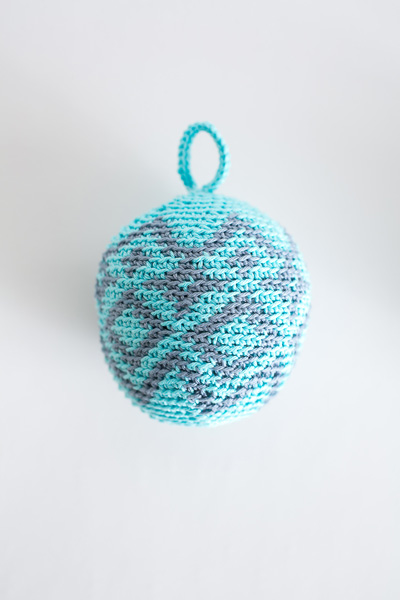 Each ball is worked in the round only, with single crochet stitches through the back loop. You change colors using the fair-isle method. This pattern comes with an easy-to-follow, downloadable chart showing you the stitch pattern and color key. The chain stitch is used to make the hanging loops for an easy finish.
Independent crochet designer Amy Gunderson created this pattern for I Like Crochet. Amy is known for her intricate yet accessible crochet patterns. Once you've made the Rustic Christmas Bulbs you'll want to try her other designs.
The Rustic Christmas Bulbs pattern includes:
Complete stitch instructions for four designs
List of materials, notions, and hook size
Pattern notes and abbreviation guide
Downloadable chart
Finishing instructions
These Rustic Christmas Bulbs are sure to become favorites as you unwrap and hang them on the tree year after year. What a wonderful gift to give a newly married couple or a friend with a new home! The recipient will surely treasure these handmade Christmas decorations—and you, their maker—for years to come.
This pattern is included in the December 2015 issue of I Like Crochet. And wouldn't you just love to access it anywhere you go? You can! If you become a Gold Club Member, you'll be able to view this crochet ornament pattern on your laptop or tablet – whichever device you prefer!
Of course, when you're a Gold Club Member, you'll also get stitch tips and tutorials, and—don't forget—600+ patterns for everything from festive Christmas décor to cozy winter sweaters. And remember, you can take all of it with you wherever you want to crochet – on the sofa, at the park, on a plane or train … well, you get the picture.
If you're a subscriber, be sure to check it out in the December 2015 issue of I Like Crochet. And, if not – why not subscribe now to get all of the goodies mentioned above?
Happy crocheting!