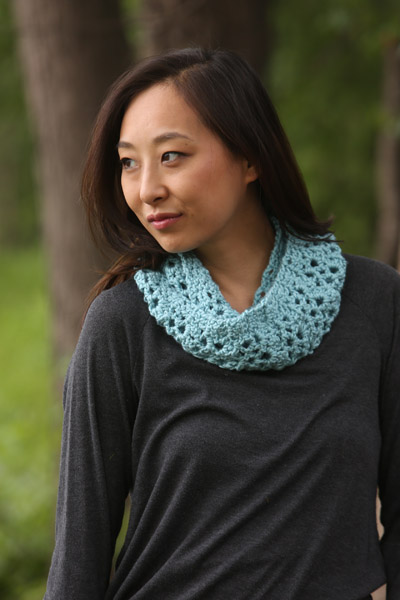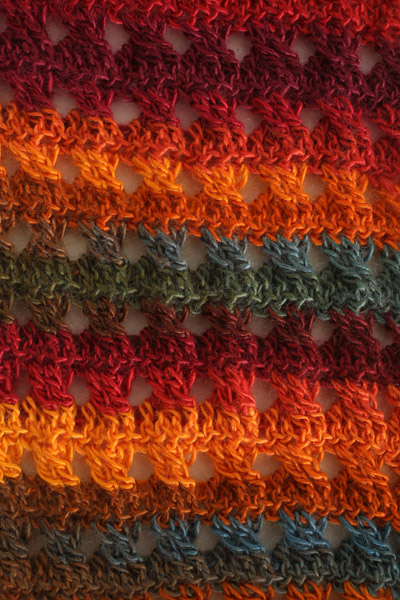 When the wind blows and the snow falls, there's nothing like wrapping yourself in the warmth of a handmade scarf. The coziness brings a sense of calm and well-being that is so satisfying, especially when you've crocheted the scarf yourself.
Here at I Like Crochet, we have the scarf you're looking for—actually, we have a bunch of them! One of our recent favorites is the Wonder-FALL Scarf, a gorgeous tribute to the colors of the season.
Jennifer E. Ryan created a striking cable pattern that you'll have memorized almost instantly—it's just a 3-row repeat! If you haven't crocheted cables yet, then why not start here?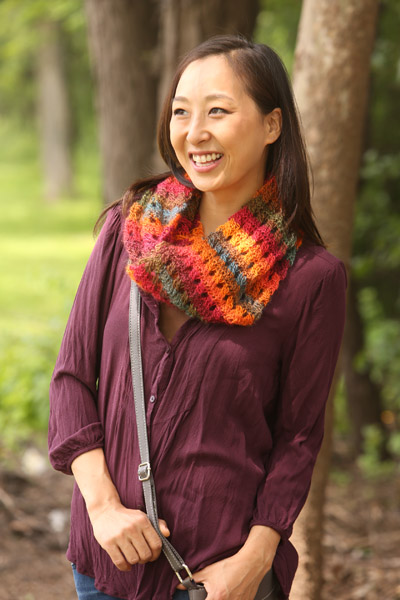 While you work this addicting stitch pattern, the yarn is working hard too, creating a rainbow of fall color. But don't limit yourself to autumn colorways! Try icy blues for a fresh winter look—there are so many gorgeous self-striping yarns on the market these days, and choosing your favorite is half the fun.
Give your scarf collection a lift with this beautiful, modern piece. It's special enough to give as a gift, too. Surprise your best friend with a handmade masterpiece this year! She'll love the Wonder-FALL Scarf so much that she'll be begging for one in all her favorite colors.
Scarves take outerwear from mediocre to marvelous, so dress up your look with one of these stylish, timeless classics.
The Textured Heather Scarf is (you guessed it!) all about beautiful texture. It's worked in rows, and designer Roseanna Beck cleverly uses decreases to attain a stitch pattern with so much interest. Use two colors for a chunky stripe, or just one color for a more subtle, chic look. Textured Heather is perfection for a school-colors scarf—your student will rock this scarf on the quad, and before you know it, you'll be asked to work up a bundle for her buddies! Long enough to loop around your neck with room to spare, this cozy scarf is picture-perfect for any outfit.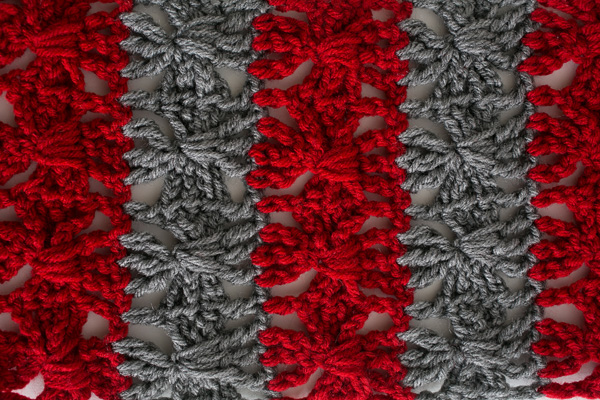 A cabled scarf is a must-have for everyone, and if you want to expand your crochet cable know-how, the Olympus Scarf is the pattern for you. Kristen TenDyke has designed a classic look, with a chain cable running the length of the scarf, bordered by vertical ribbing worked in half double crochet stitches. This is a great first-cable project! Kristen was inspired by the stunning vista of Mount Olympus in Utah, which is covered in green forests at its base, giving it a striking appearance. Experience the beauty of nature with the Olympus Scarf.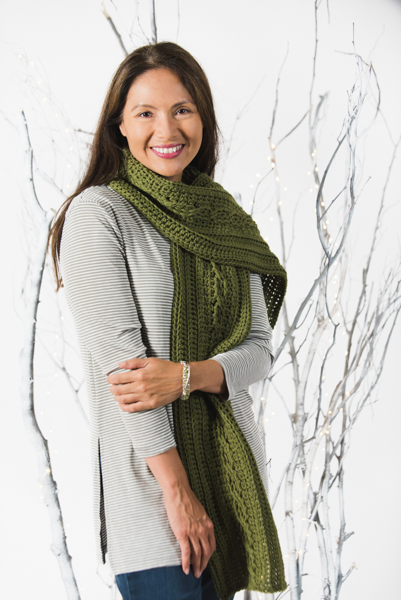 Create more scarves that you'll never want to take off! With our huge selection of patterns, you'll never run out of ideas. Here are three more that you'll adore:
Fall for Blue Infinity Scarf: This easy infinity scarf will become your go-to accessory to wear and to make for your friends. It's cozy enough for cool weather, but since it's an infinity scarf, you can wear it long and flowing on those milder fall days.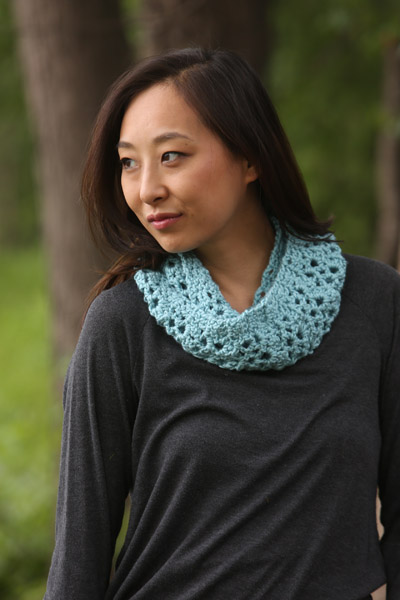 October Blossoms: Worked up quickly in worsted-weight yarn, this scarf features an overall lacy stitch pattern and a sweet flower fringe at each end. With easy size adjustments, it can also be made into a wrap to toss around your shoulders for those cool autumn days and evenings.
Unforgettable Keyhole Scarf: This gorgeous keyhole scarf, worked up in a vivid variegated yarn, showcases the deep reds and violets of the season. The shell-like construction and vibrant colors give an airier feel to this autumn scarf, and the optional, repositionable flower allows for customization.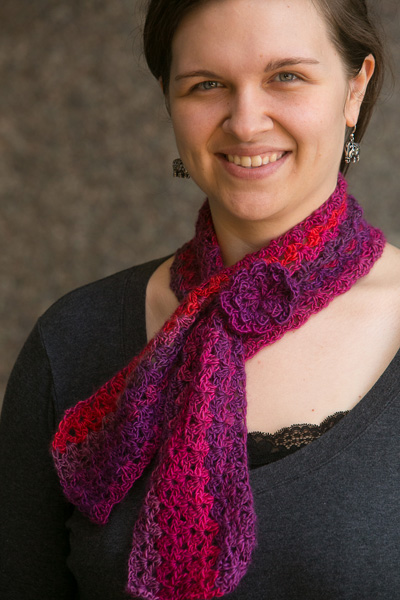 To ensure a successful crocheting experience, all of I Like Crochet's patterns include the following:
Complete stitch instructions
List of necessary materials
Special stitch instructions
Pattern notes when necessary
Finishing instructions
Detailed photography
It's the perfect time of year to crochet scarves, so get out your hook and one of our fabulous designs, and get stitching!
But this is just a fraction of what you'll get with an I Like Crochet Gold Club Charter Membership—your membership includes subscriptions to the I Like Crochet Magazine Club and to the I Like Crochet Collections Club; full and immediate access to the digital library of 5+ years of magazine issues with 700+ crochet patterns and articles; step-by-step instructions for patterns; and video tutorials and full-color photographs for details about projects and stitches. All included with your Charter Membership!
Your I Like Crochet Gold Club Charter Membership gives you access to our crochet patterns and content, 24-hours-a-day on whatever device you prefer—desktop, or laptop! And the content is fully searchable, so you can find exactly what you want—when you want it—at your fingertips in an instant.
Here are just a few of the tantalizing patterns sitting in our library right now — you'll get instant access when you join the I Like Crochet Gold Club as a Charter Member:
Cuddly Crochet Baby Blankets
Super-Cute Amigurumi
Blue Sage Hooded Shawl
Easygoing Crochet Tank
Circular Chenille Afghan
Marigold Blanket
Baby Owl Bib
Moonlit Shells Shawl
Monster Baby Booties
Adult Pocket Scarf
Cropped Victoria Top
Vine and Twigs Scarf
Verde Velvet Pillow
Kaja C2C Rug
Flying Geese Jacket
Two Sisters Lake Sweater
And the library of photos and video tutorials is gorgeous, inspiring, and practical—showing you exactly how your finished patterns should look and exactly how to execute, even the difficult ones!
When you join our #1 community for crochet-lovers, you'll receive all of the handy benefits that crocheters everywhere have been buzzing about:
You'll learn new stitch techniques with a variety of patterns that range from beginner to advanced.
You'll find expert tips and tricks that will help you achieve professional results.
You'll start getting requests for your stunning crocheted items from your family and friends.
You'll have access to renowned designer patterns and tutorials from all over the world.
You'll never worry about mistakes in patterns or ripping out your progress because our tech-edited patterns are curated from trusted designers in the crochet community.
You'll be connected to an online community of crocheters who are just as passionate as you!
Don't miss out on this exclusive charter membership offer to get all of the above and more!
When you activate your I Like Crochet Gold Club Charter Membership today, you'll get access to everything we have about crocheting—all access and all the time:
A full year of upcoming issues of I Like Crochet magazine—Including nearly 100 exclusive designer crochet patterns and articles with step-by-step instructions, video tutorials and full-color photography for details of projects and stitches
Instant access to EVERY issue we've ever published—a vast library of more than 5 years of issues with 700+ patterns and articles
A full-year's subscription to the I Like Crochet Collections Club that includes gorgeous designer patterns
Regular e-newsletters, full of the latest crochet tips & tricks
Free patterns, expert tips, and Crochet Along community events
FREE Bonus! FREE access to two on-demand streaming crochet videos Crochet Secrets Revealed: 12 Tutorials by Michael Sellick and Back to Basics: 11 Essential Techniques and Stitches for Every Crocheter. FREE, instant, full, and unlimited access for you right now!
And here is what you don't get when you become a Charter Member of the I Like Crochet Gold Club—advertisements! That's right, we're advertising-free, so that we can devote more time, space, and effort to helping you be an awesome crocheter!
All of this is available to you—right now—when you claim your Charter Membership to I Like Crochet Gold Club. This special introductory offer includes FREE unlimited access to two on-demand streaming crochet videos Crochet Secrets Revealed: 12 Tutorials by Michael Sellick and Back to Basics: 11 Essential Techniques and Stitches for Every Crocheter…our gift to you for signing up now!
No other online magazine has this much information about crochet all in one place for your easy access!
Crocheters everywhere have been enjoying I Like Crochet magazine for years, and now it's better than ever with more benefits, patterns, and content than you could ever dream of—with an I Like Crochet Gold Club Charter Membership.
When we first put this new club together for crocheters like you, your needs and desires were top-of mind. We're the ultimate resource and network for crocheters everywhere, offering original designer patterns and content from authoritative and respected voices in the crochet world.
I think you'll agree that this really is an unusual offer, plus FREE access to our premium on-demand streaming crochet videos when you become an I Like Crochet Gold Club Charter Member today! It's an incredible deal that you don't want to ignore!
Why not be among the select group of crocheters to join us today and benefit from all the valuable information about crocheting that you can't get anywhere else?
Become an I Like Crochet Gold Club Charter Member today—while this special offer lasts!
Happy crocheting!

Caitlin Eaton
Editor, I Like Crochet Magazine