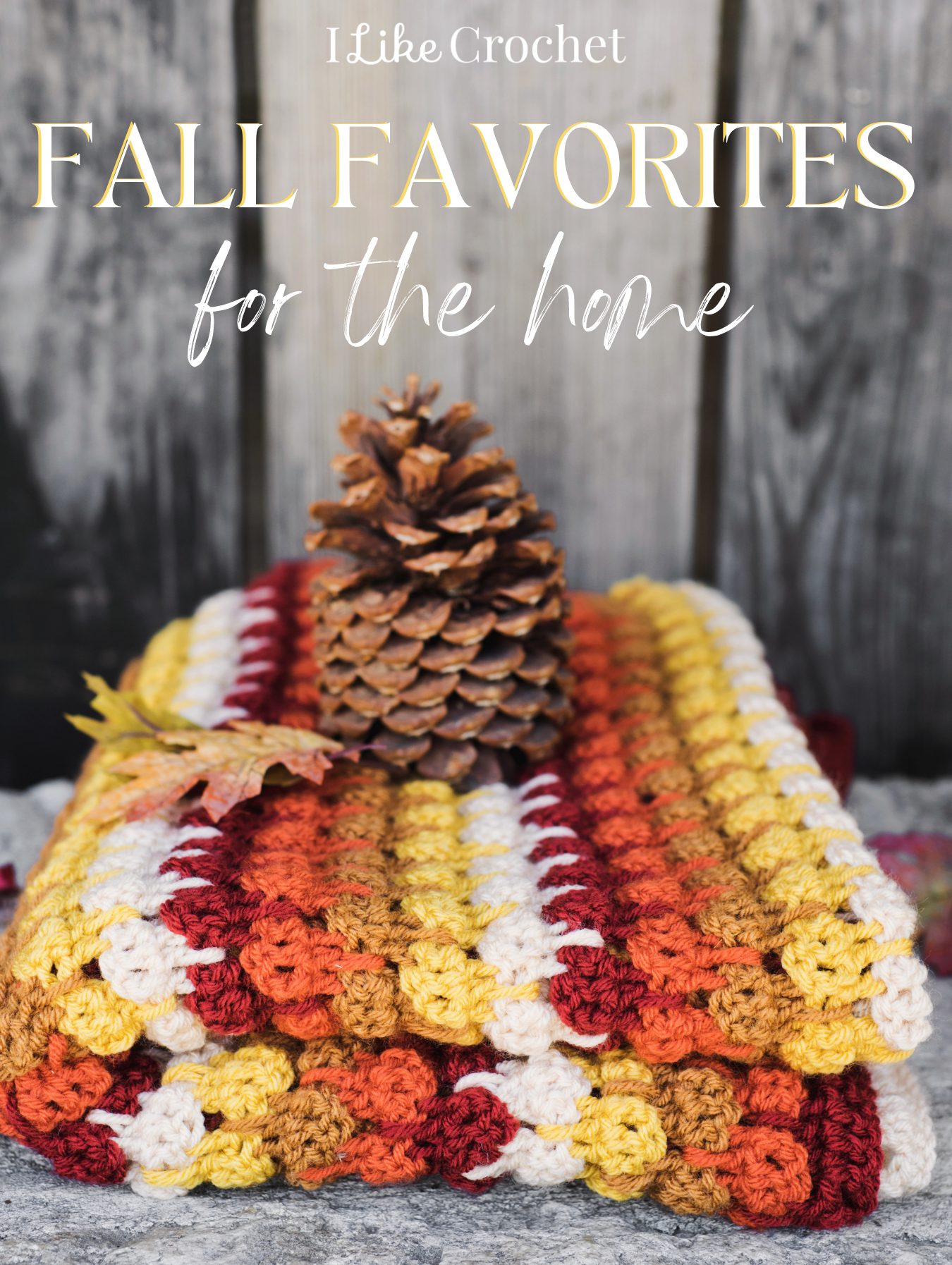 Celebrate the change of seasons with dozens of fabulous fall crochet projects.
Dear Crocheter,
Soon summer will make way for fall, and our hooks will be itching to dig into bright yarns in gold, red, and orange. Fall Favorites for the Home has over two dozen projects for you to brighten your home with fall color — terrific totes, door décor, tasteful table dressings, posh pillows, colorful afghans, and more! Still feel like a you're at the beginning of your crochet journey? Plenty of these projects are rated easy. Crocheters of all experience levels will find satisfying projects here. Let's take a peek at some of what's in Fall Favorites for the Home!
Feeling Like Fall
Need something with a fall theme to carry stuff? We have two projects for you. Our Checkered Country Basket is quick and easy to make. Use your favorite combination of autumn colors to work up this handy basket in the round. When it's your turn to take something to the party, give your host a Halloween treat by slipping their favorite wine into your handmade Halloween Wine Tote. Fun waves of orange and black give this tote a festive look.
You can't really have too many kitchen towels or dishcloths — plus, it's great to have some extras on hand when the kitchen gets really busy. Our Autumn Blooms Set features a floral stripe that echoes the exuberant color of chrysanthemums. The towel and dishcloth are a breeze to work up. You can make the pair to give as a gift. Blend practical with pretty and you get our Harvest Home Cloth with beautiful texture and seasonal color combinations. Back loop stitches and half-double crochet stitches combine to give the illusion of a freshly plowed field. Make an extra set to keep in your gift stash!
If you like to decorate your front door with something seasonal, you know that it will soon be time for a change. Make our Cottage in the Woods Wreath to brighten up your door with muted stripes and cheerful flowers. Or go all-in for cheerful with our Sunny Sunflower Door Decor! This bold and bright blossom is just bursting with fall enthusiasm. Hang it on your door, in your hallway, or maybe in the kitchen!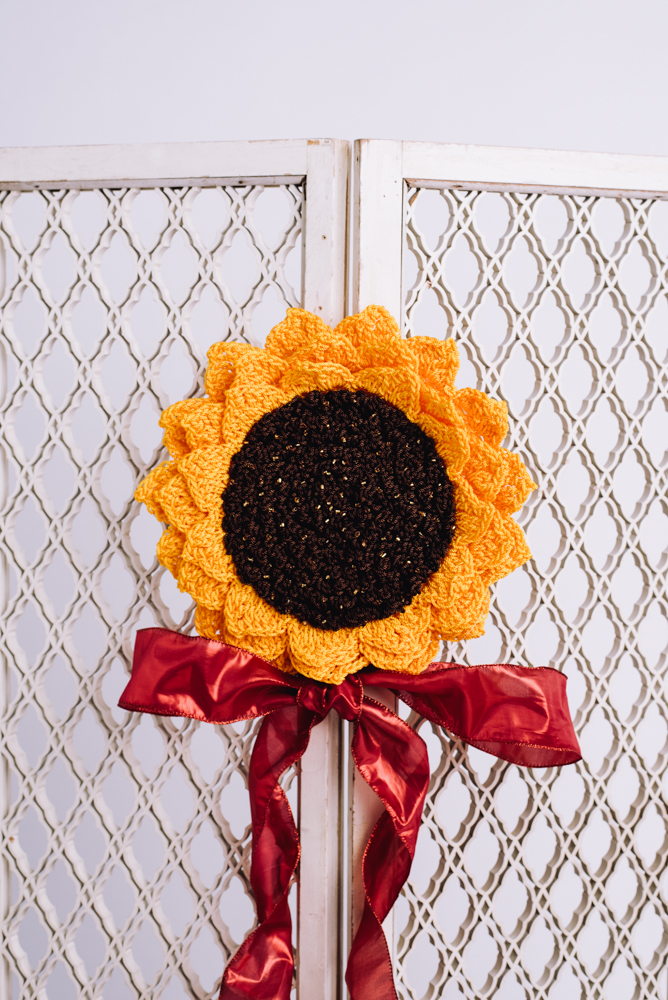 For the Table
Celebrate everything your love of fall with some autumn accents for the table. Keep your morning cup of coffee warm with our Café au Lait French Press Cozy. This fancy-looking cozy is an easy-rated pattern. It's easy to work up, fun to make, and best of all — easy to care for! Need something to keep the contents of your mug hot and steamy? Wrap your mug up in a selection from our Trick or Treat Mug Cozy Set. Whether you're throwing a party or you just like a little festive holiday décor, these cozies are the perfect Halloween treat! Check your stash — you might have everything you need on hand!
It's fun to set the table with a seasonal theme. Our Falling Maple Leaves Set lets you do just that, with a lovely placemat and coaster. Make a full set out of just one color, or mix things up with a range of fall colors for a really festive table! Our Sweet Cinnamon Table Runner will be the center of attention on the table, with its gorgeous floral motif and autumn color palette. You're sure to find plenty of good reasons to put this piece out. You can cap off your fall table décor with our Flicker of Fall Tea Light Holder, with its bold autumn leaves wrapped around a tealight holder. Have a fall event that needs some accessorizing? Make a batch of these as take-home gifts.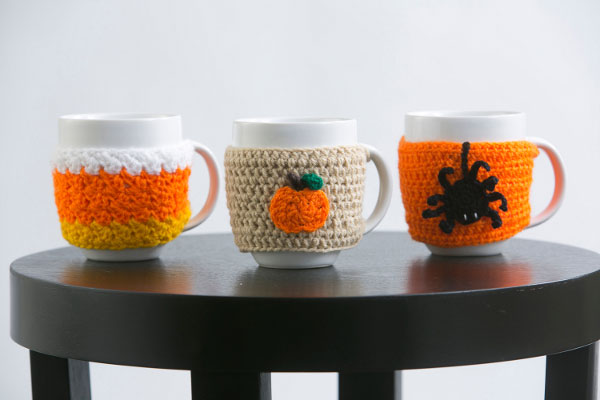 Fall Pillows
Pillows are one of the easiest home décor accessories to update from season to season. We have a great harvest of fall themed pillows for you to consider. Let's start with the Japanese Maple Pillow. This pattern takes simple striping to a new decorative level with the addition of the spike cluster stitch. Add a button flap on the back, and you have a pillow cover that looks fantastic, plus it's a breeze to swap out for a new cover whenever the mood strikes you. This pattern is rated Easy, so get your hooks out!
Our Autumn Equinox Pillow hints at the autumnal equinox, with its equal measure of day and night. This pillow pattern mixes light and dark colors to create a dynamic look in the round. Why shop for designer pillows when you can make your own stylish pillows? Try making our Goldenrod Cabled Pillow, rated Easy, cables and all! You'll actually crochet the entire pillow in one piece, from lower back to cabled front to the fashionable (and practical) upper back flap. Never crocheted cables before? No worries! This pattern includes a tutorial video to walk you through the steps. And if you want to bring the bright, bold colors of fall indoors, make our Fall for Floral Pillow with its beautiful bouquet of chrysanthemum motifs that are easy to join as you go. This pillow's so cheerful you may never put it away!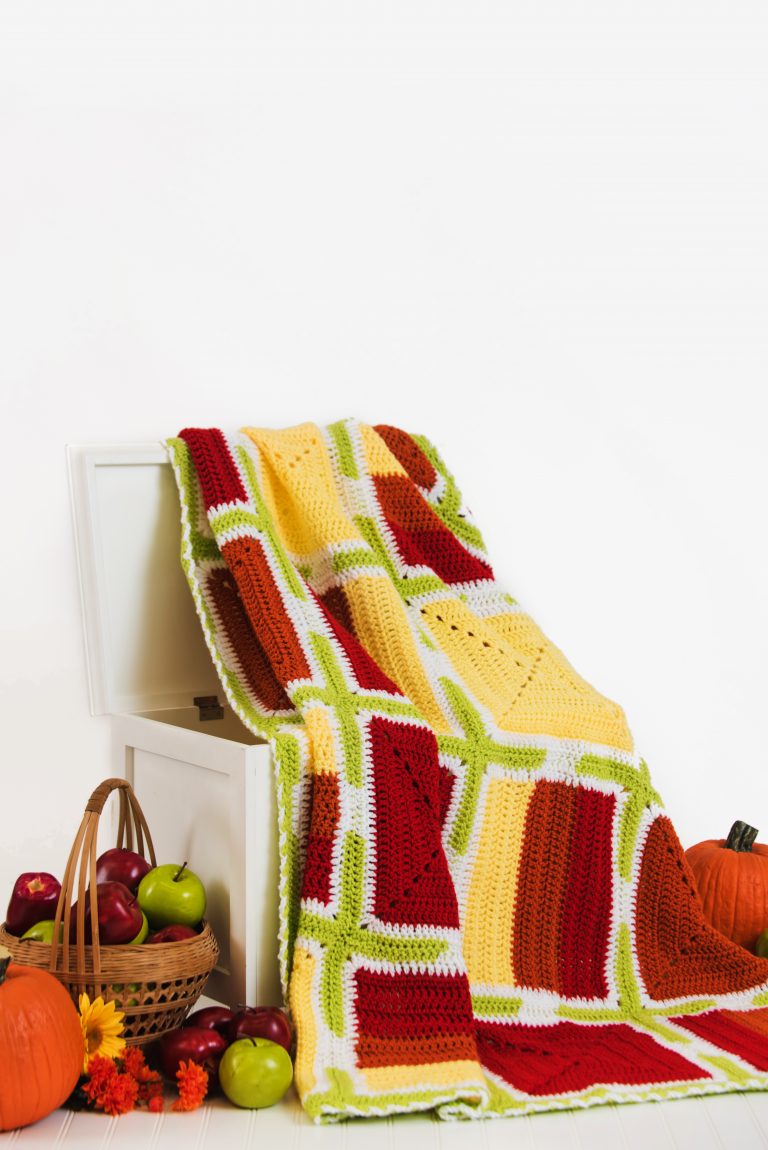 Afghans for Autumn
Our Fall for Floral Pillow just calls out for a partner, and we have one! Our Fall for Floral Afghan is like a field of flowers with its cascade of colorful chrysanthemum motifs. Join as you go and watch your floral throw grow! Equally colorful in a different way is our Marigold Blanket, which features the Larkfoot stitch. Never done that stitch before? Well, we have a video tutorial that takes you through the steps to create this stitch that adds visual interest to your project without a lot of work. If you can double crochet, you can make this blanket!
How about an easy afghan pattern with lacy diamonds and bold stripes? Pattern, texture, and color come together in our Cayenne Throw. Openwork panels and a treble crochet border frame a central field of diamonds that float between chain-stitch bridges. The result? Pure perfection in blanket form. Celebrate apple picking season with our Suncrisp Appleghan. This vibrant throw captures the essence of autumn with its bold blocks of color. Alternating between solids and stripes, this is a project you can easily take on the road and finish up when all your squares are done.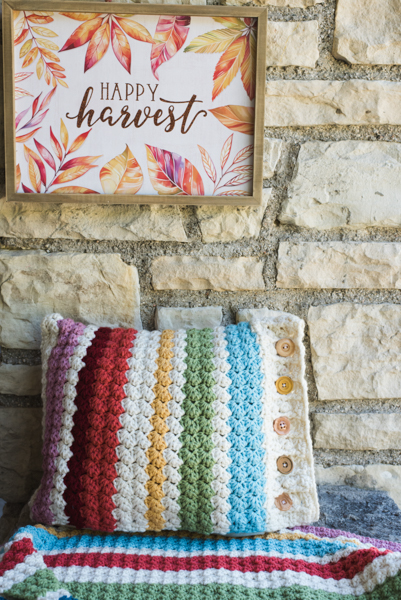 Next up in our selection of fun fall throws: It's a pillow! It's a lapghan! Wait, it's both! Keep our Saffron Pillowghan handy as a comfy throw pillow until you need an added layer of warmth. Then just unbutton the "pillowcase" and nestle under this colorful stripey layer. This pattern is rated easy, so all crocheters can make this. It's perfect for the family room, guest room, or to take on the road!
How do you keep your chrysanthemums blooming all year long? Crochet them! Our Chrysanthemum Throw is made with simple squares you can join as you go or crochet individually and seam them all together later. Crochet shells fold on themselves to create this stunning flower motif. Picture autumn leaves and bright blue skies, and you have our Nutmeg Trail Afghan. Striped rectangles surround a decorative square, coming together in a meandering pattern — great for relaxing and daydreaming!
Get the feeling of lying in the grass as autumn leaves float down when you curl up under our Autumn Fields Throw. Variations in double crochet make this pattern enjoyable for expert crocheters and beginners alike. Pick your perfect combination of fall colors and watch it all fall together! Looking for a denser fabric with a more subdued texture? Make our Autumn Zig-Zag Throw. This intermediate patterns has a straightforward pattern repeat that results in a stunning throw with a marvelous texture.
Embrace the changing of the seasons with some fabulous fall projects. Which ones are calling to your hooks?