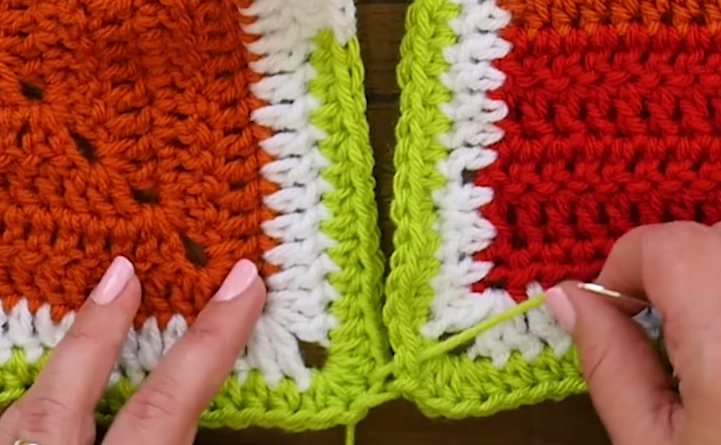 It's time to join the squares for the Suncrisp Appleghan CAL!
Inspired by bright colored apples, sunny autumn days and crisp fall air, this Appleghan captures the essence of Autumn without being drab. Made up of different squares, each week you'll learn how to do a different motif for this amazing afghan. All the information needed to get started with the Crochet Along can be found here!
Assembly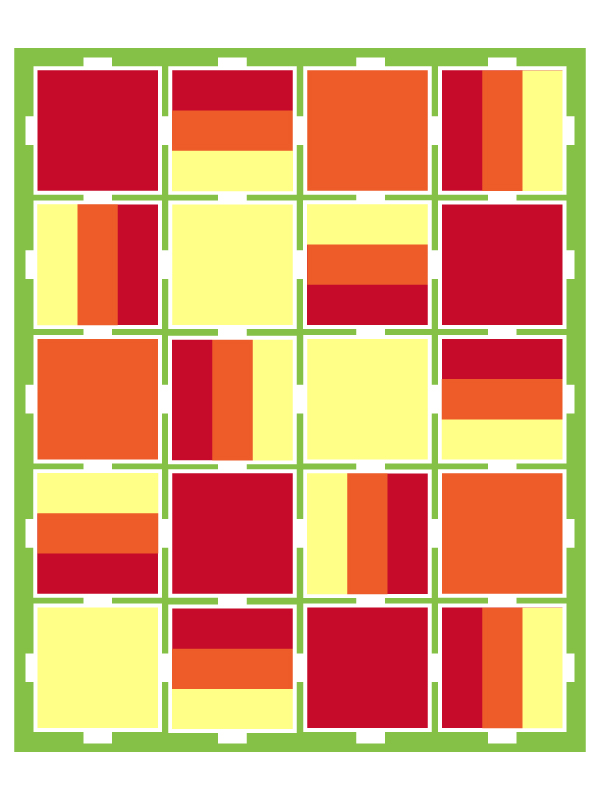 Mattress Stitch Seaming
Step 1: Thread a yarn or tapestry needle with the yarn you'll use for seaming. Bring it through the first stitch on the first block from the wrong side of the fabric to the right side.
Step 2: On the second block, sew the first stitch from the back to the front – mirroring the stitch on the first side.
Continue with the next set of stitches, working each side back and forth, sewing from the back to the front, or the wrong side to right side, keeping it even.
After you've worked several sets of stitches, start tightening up the first few.
Check out Tamara Kelly's photo tutorial on how to do the Mattress Stitch!
CAL SCHEDULE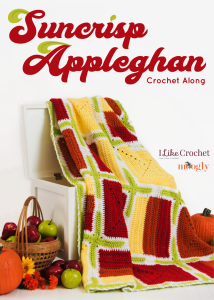 September 8 – Part 1 – Square #1
September 15 – Part 2 – Square #2
September 22 – Part 3 – Joining the Squares
September 29 – Part 4 – Finishing and Edging
October 6 – Last chance to post your photos!
October 9 – Winner announcement!
---
Let's Get Social! Share your photos of your progress in any of the following places for an entry to win a year subscription to I Like Crochet Magazine!
One of the best parts of a CAL is that you're not alone! Other crocheters are here to support you and help you along the way as you work on the same pattern together. Feel free to ask questions in our Ravelry group and Tamara will be sure to guide you in the right direction! Post photos of your progress on our Facebook page and Facebook group to be added to our Facebook album featuring Suncrisp Afghans as well as being featured in a future issue of I Like Crochet. Give us a follow on Instagram and share your photos there too! Each photo shared can earn you an entry to win a free subscription. Just use the hashtag #AppleghanCAL so we can find your photos wherever you decide to post them.
*Note: you need to like our page and/or be a member of our Facebook group in order to post a photo. If you aren't already fans or members, simply like our page or request to join.
---
Official Rules for Giveaway:
Post photos of your progress on the I Like Crochet Facebook Page, Happy Hour Facebook Group, or on Instagram with the hashtag #AppleghanCAL. By sharing your photos and participating in the CAL you agree to let I Like Crochet use your photos in a Facebook album and share them in our magazine.
Max number of entries is five original photos. Duplicate photos will not be counted. One winner will be chosen at random after all the photos have been tallied.
The winner will be announced on this blog at the end of the day on October 9, 2017 as well as contacted via social media. Photos posted after the announcement will not be counted.
Contest open to anyone 18+ in US and/or Canada