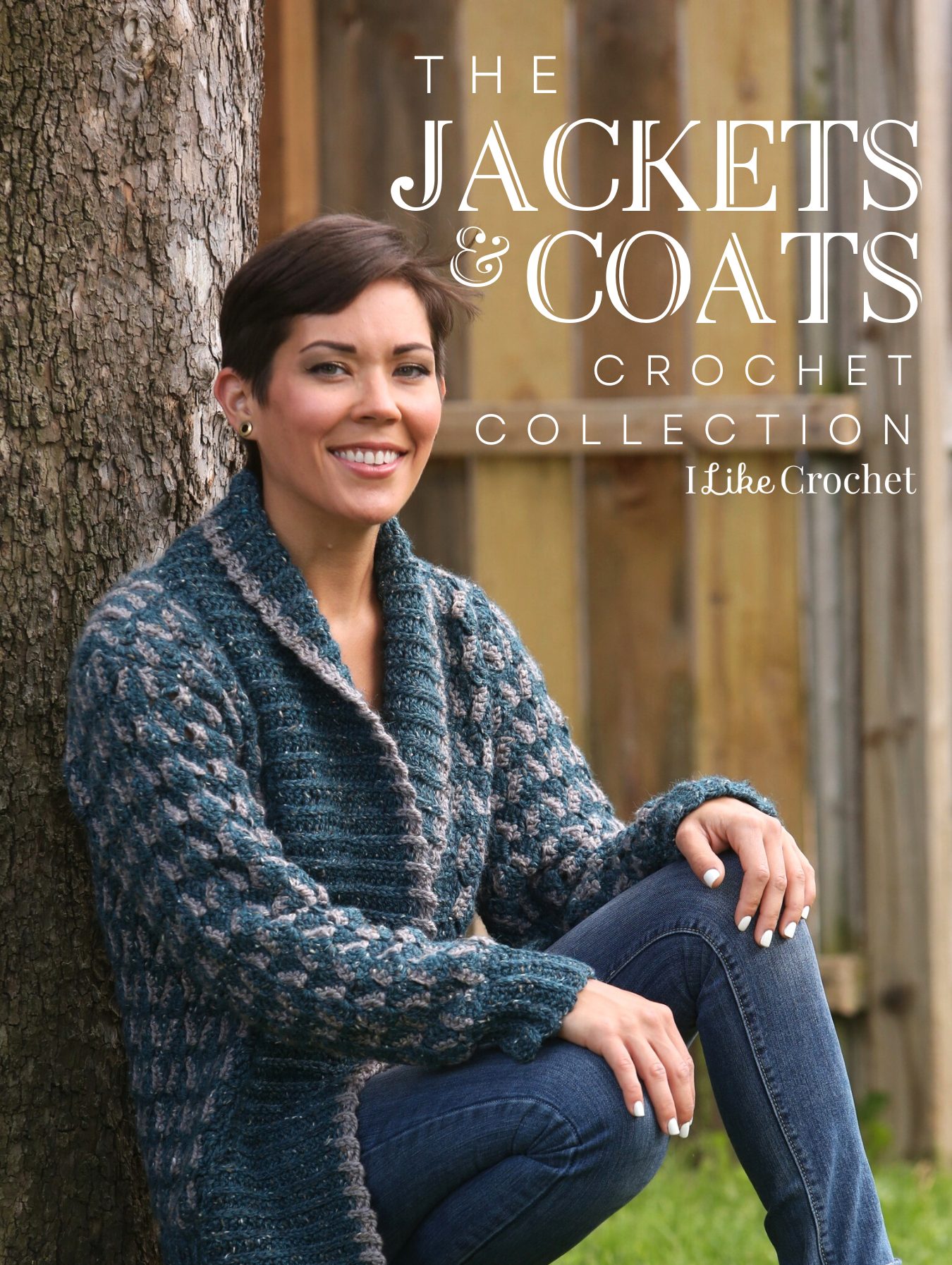 Dear Crocheter,
As the warm days of summer become just a memory and you reach for your favorite sweater, remember that leaves aren't the only thing falling. Cooler weather calls for warmer layers. Take a step beyond basic cardigans and sweaters and add some warm and stylish coats and jackets to your fall wardrobe lineup. Our Jackets & Coats Crochet Collection is packed with autumn crochet creations!
Our Misty Pocket Coat will be your timeless go-to fall jacket. The style is simple and classic, with clean lines, bold buttons, with functional and fashionable patch pockets. Faux piping provides just the right amount of decorative trim to make this coat an understated stunner.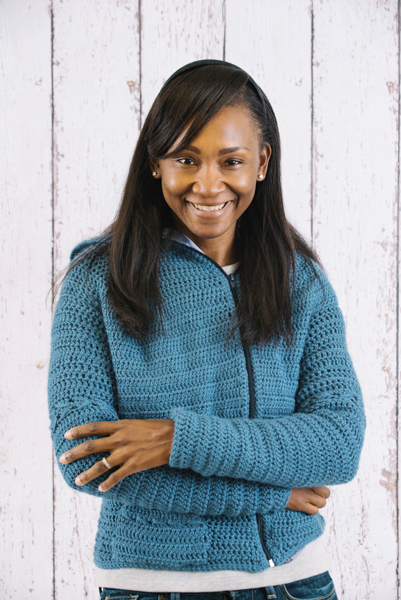 For a tailor-made jacket that will keep you cozy and stylish on a cold day, make our Sleek & Chic Jacket. You'll work this jacket in the round from the top down, with plenty of opportunity to customize the fit the way you like it. The double crochet cross cable stitch adds lovely subtle texture.
Colder weather is the perfect time to show off a new sweater that has as much wow as it does warmth. Make the spacious and gracious Downton Jacket with its shells and wheels, and pair it up with your favorite slacks or skirt. This 1920s style jacket features wide sleeves, deep armholes and a full body, making it ideal for many body types.
While you're in coat mode, keep the young ones in mind, too. Our Windy City Kids Coat is an easy-breezy weekend project. The classic style combine single and double crochet to create a warm and comfy coat. The shell stitch edging gives the coat a little style boost, and an adorable granny square closure finishes the whole thing off. And the hood makes it the perfect choice for windy days.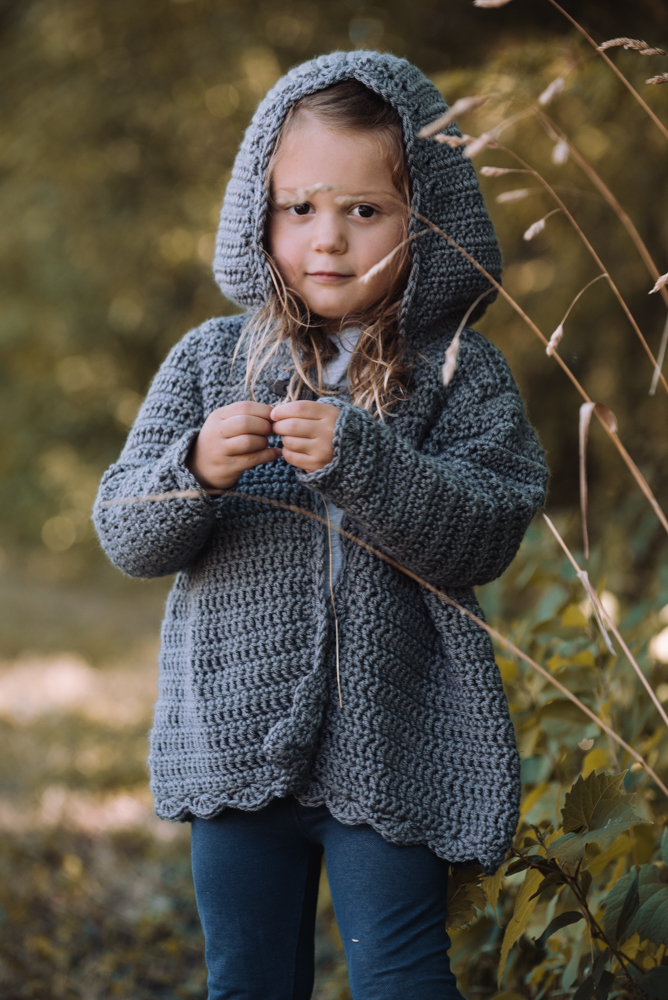 The geese may be flying south, but you'll be ready for the next cold snap wherever you are with our cozy Flying Geese Jacket. This classy two-color pattern of v-stitches in a lofty tweed yarn helps you craft a jacket with elegant drape. Wear it with the shawl collar open, or close it with your favorite clasp.
When you need something stylish but not too heavy to ward off the evening chill, turn to a blast from the past with a twist. Our Throwback Thursday Jacket features granny squares in a more modern mode. A light colored background instead of black gives the granny squares a whole new look. Nostalgia never felt so good! Bring on the fresh fall breezes!
Each one of these patterns in I Like Crochet includes:
Complete stitch instructions
List of materials, notions, and hook size
Pattern and special stitch notes
Finishing instruction
Full-color, detailed photographs of each pattern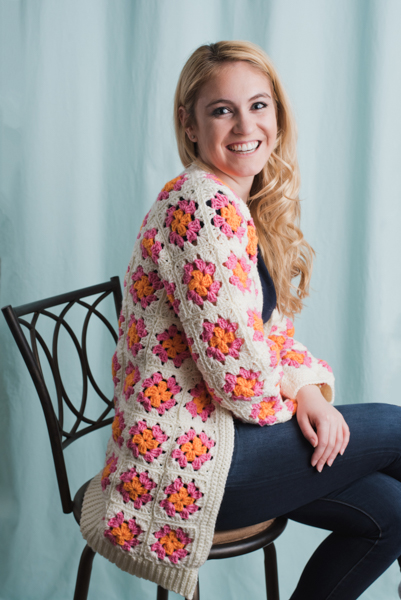 These patterns in the Jackets & Coats Crochet Collection offer plenty of interesting projects that will let you make stunning pieces whatever your skill level.
Whether you're a beginning crocheter or you have vintage crochet hooks from the last century, you'll find hundreds of patterns in the I Like Crochet library, from gorgeous blankets to cute winter hats to delicate summer accessories. And that's just a small part of the 700+ patterns you can browse through right now with your I Like Crochet Gold Club Charter Membership. You'll get patterns and articles, step-by-step instructions, and full-color photographs of each project, plus video tutorials — all in our library.
Your I Like Crochet Gold Club Charter Membership gives you access to all of our crochet patterns and content, 24-hours-a-day on whatever device you prefer — desktop, laptop, tablet or phone! And the content is fully searchable, so you can find exactly what you want — when you want it — at your fingertips in an instant.
Here are just a few of the amazing patterns, special collections, tutorials, and special issues waiting for you in our library right now — some of the hundreds available — which is part of your I Like Crochet Gold Club Charter Membership.
Crochet Through the Seasons
The Modern Crochet Home Decor Collection: 15 Trendy Designs
Cute Crochet Amigurumi Collection
Crochet Secrets Revealed: 12 Video Tutorials
The Dog Collection: 5 Insanely-Cute Dog Patterns
The Best Baby Crochet Patterns Collection
And the library of photos and video tutorials is gorgeous, inspiring, and practical—showing you exactly how your finished patterns should look and exactly how to execute even the difficult ones!