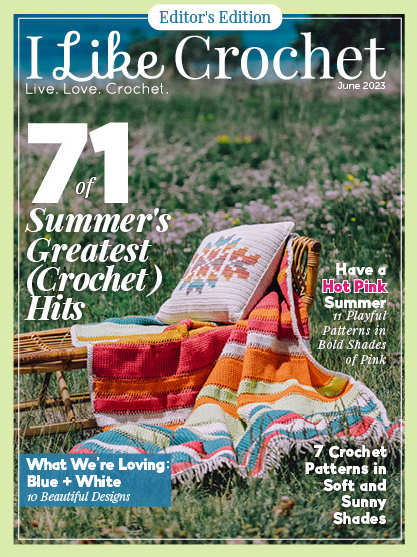 Set your own summer style with these great patterns!
Dear Crocheter,
Let's take summer by storm with bright colors, bold stripes, and tantalizing textures! Our June 2023 issue is jam-packed with possibilities. Check out over 71 incredible patterns, from indoor décor to beautiful garments for work, play, and just plain fun in the sun!
Carried away in crochet carryalls
The decorative detail, wooden beads, and casual tassels give our Boho Medallion Bag a laid-back look. You don't need a lot of color when you have great texture. This eclectic cross-body bag can be finished in a weekend, ready for your next adventure.
Other projects that will carry you away:
Multipurpose Striped Tote
Doting on Stripes Tote
Summer Blush Chevron Bucket Bag
Freya Fringed Tote
Stonewash Bag
Sunset Stripes Tote
Go-To Gingham Bag
Adventure-Ready Tote
Flower Bud Handbag
Statement sleeves
Coletta Cardigan: Take your cardigan game up a level with the Coletta Cardigan, featuring a row of beautiful motifs worked front and back. Double crochet shapes the body, finishing off the three-quarter sleeves with a row of motifs at the cuffs. You'll love the look and feel of this cardigan!
Or maybe you'd like to try:
Carmella Cardigan
Elisabeth Tea Cardi
Blueberry Fields Kimono
Shoreline Cold-Shoulder Tee
Social Butterfly Sweater
Claire Scallop Top
Vivi Ruffle Sleeve Top
Emmy Tied Sleeve Tee Version
Sea Isle Tunic
Lighter than Air Top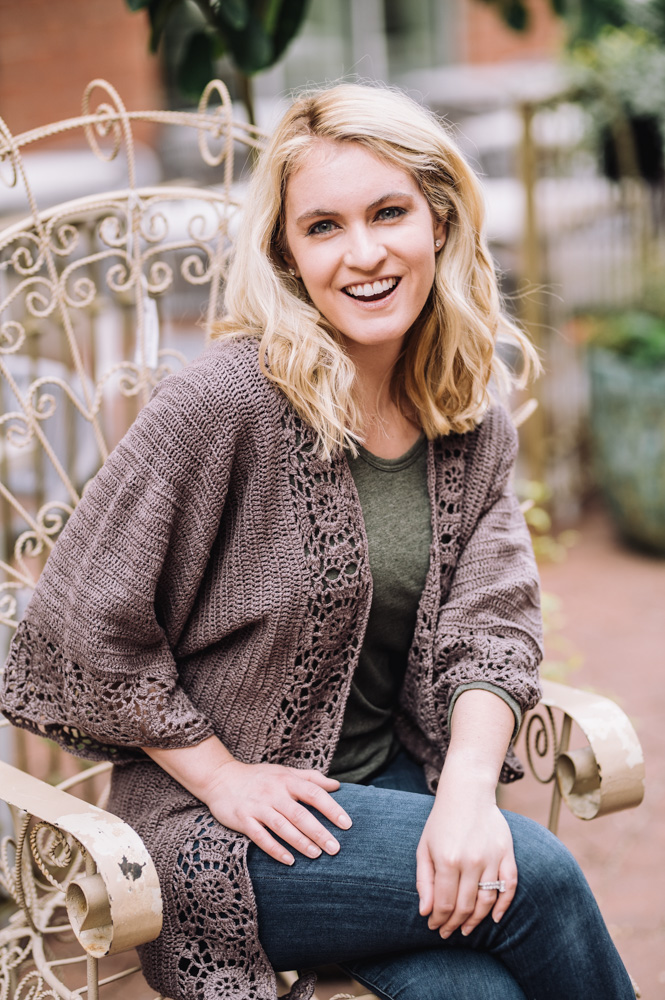 We're loving blue + white
For a lazy day around the pool or at the beach, the Sarasota Beach Dress is just the thing. It's light and airy, and each color panel features a different stitch. This is a great Intermediate pattern for crocheters who want to add a little something elegant to their summer-wear wardrobe.
"Something Blue" Wrap
Blue Sea Star Bag
Coastline Cool Afghan
China Blue Honeycomb Scarf
Summer Romance Headband
French Riviera Shift Dress
Summer Blues Skirt
Wide Horizon Boatneck Tee
Marin Ruana
Hot pink summer
How about a new clutch for that upcoming special occasion? Our Amelia Clutch makes a bold statement no matter what color you choose! We made ours in vibrant pink. What makes this chunky, textured clutch stand out is ribbon textile yarn. Finish it off with the bold lining that suits you.
Other hot projects include:
Tropical Daze Throw
Pink Sapphire Shawl
MesMERizing Blanket
Criss Cross Crochet Stitch Tote
Mini Mixer Garland
Peek-a-Bloom Floral Coasters
Presto Placemats
Rincón Stripes Afghan
Sarape Scarf
Cabbage Patch Scarf
Soak up the sunlight & the limelight
Need a fresh burst of color inside to celebrate summer? Spice up your favorite chair with our dazzling Retro Flower Cushion. This wildly colorful pattern uses just two motifs in a blaze of color combinations. As a bonus, the pattern uses the five basic crochet stitches — a perfect project for anyone from beginner to expert!
There are plenty of projects here to celebrate the sunny summer season!
Lime Breeze Scarf
Lime-Trimmed Cardigan
Summer Lovin' Sunglasses Case
Harmony Hairpin Lace Afghan
Ombré Queen Anne's Lace Tote Bag
Arlena Floral Infinity Cowl
Kitchen Casuals Hanging Towels
Tunisian Flirt Skirt
Key Lime Beanie
Bright and Early Hexagon Pillow
Peppy Blossom Bunting
Jaelynn Ripple Scarf
Happy Hues Scarf
Flower in Bloom Scarf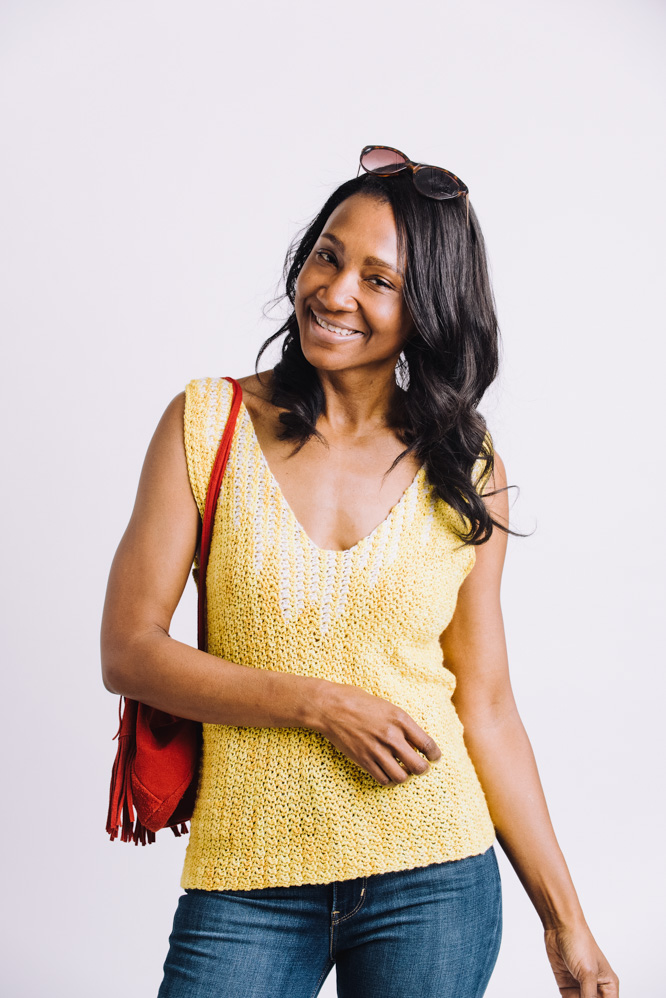 Mellow yellow
Get that sun-kissed look and feel with our lovely Soleil Stripes Tank. Partial stripes look random, but they're perfectly planned and placed for a whimsical summertime feel. Pair this tank with your favorite skirt or jeans.
Get more mellow yellow inspiration….
Sweet Sunshine Afghan
Lemon Bursts Throw
Lemon Meringue Pullover
Here Comes the Sun Vest
Golden Citrus Wrap
The Pineapple Tunisian Pillow
Lone Mesa Pillow
Now trending: breezy neutrals
Sonic Swirl Shawl: Our Sonic Swirl Shawl echoes the way air can swirl and carry sound with the twisting, undulating waves that radiate out from the center. Our version is made in a subtly variegated grey yarn, making this airy shawl is reminiscent of a dusty windstorm. You pick the colorway that inspires you.
Other projects to inspire you:
Oak Sweater
On the Fringe Tank
Sandstone Shawl
Iris Beach Cocoon Wrap
Griselda Wrap
The Flowers that Be Vest
Dreamy, drapey cardigans, flirty skirts and dresses, terrific totes and more! Which project will you create first?