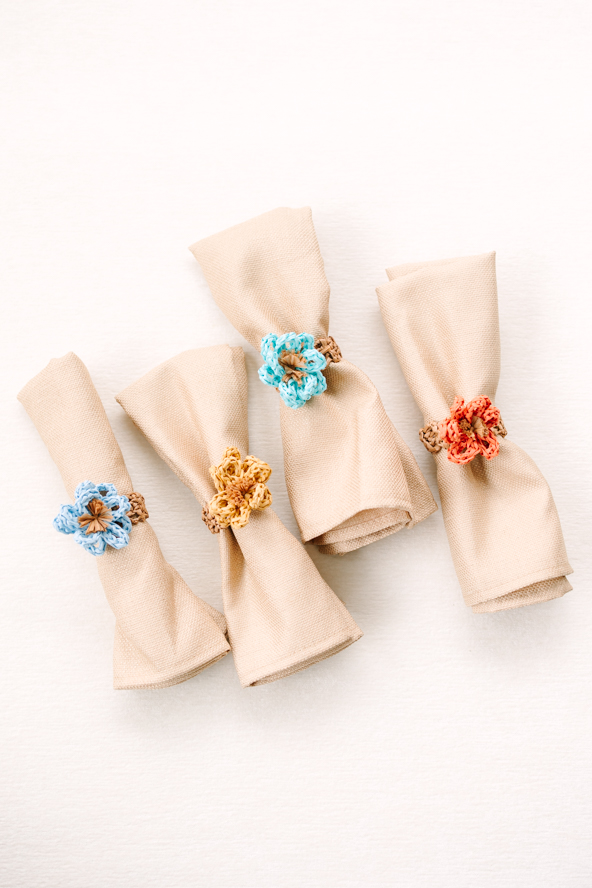 Refresh your spring tablescape with your very own crocheted raffia napkin rings in the vibrant colors of spring. Crocheted in just two hours, the center of these flowers are little tassels for extra flair.
Time: 2 Hour Pattern
Skill Level: Easy
Size: Fits 2-inch diameter (6 1/4-inch circumference) napkin
Gauge: Not important
Materials
Papermart ¼-inch wide matte raffia (100% rayon; 100 yards per spool): 1 spool each 4434800 Kraft (MC); 4434875 turquoise (CC1); 4434838 coral (CC2), 4434859 gold (CC3), 4434879 pastel blue (CC4), 4434871 aqua (CC5)
Hook/Needles: US size F/5 (3.75 mm) crochet hook
Notions: Tapestry needle
Pattern Notes
Weave in ends as work progresses.
Pattern
Flower
(Make 2 of each CC1, CC2, CC3, CC4 and CC5)
Rnd 1 (RS): With desired color, make a magic ring, [ch 9, sk first ch, sl st in 2nd ch and in each ch across, rem lp from hook, insert hook from front to back in sk first ch, ret lp to hook, pull lp up and through lp on hook (petal made), sl st in ring] 4 times. Fasten off. (4 petal flower made)
Napkin Ring (Make 5)
Row 1 (WS): With MC, ch 4, sc in back bar of chs, sc in 2nd ch from hook and in each ch across, turn. (3 sc)
Row 2: Working in back lps of sts, ch 1, sc in each st across, turn.
Rows 3-18: Rep row 2. Do not fasten off at end of row 18.
Seam
With last row RS facing, fold ends of napkin ring WS tog, working in sts of row 18 and corresponding chs on opposite side of foundation chain, work 3 sl sts to opposite edge. Fasten off.
Tassel Center
Wrap one strand MC 5 times around 2 fingers. Remove from fingers and tie center of wraps with a 10-inch length of MC. Use scissors to cut through ends of loops and trim to 3/8 inches long. Do not trim tassel tie tails.
Assembly
Thread tassel tie tails through tapestry needle, insert needle from front to back through centers of both same-color flowers and from RS to WS through seam of Napkin Ring, knot tightly on WS to secure.