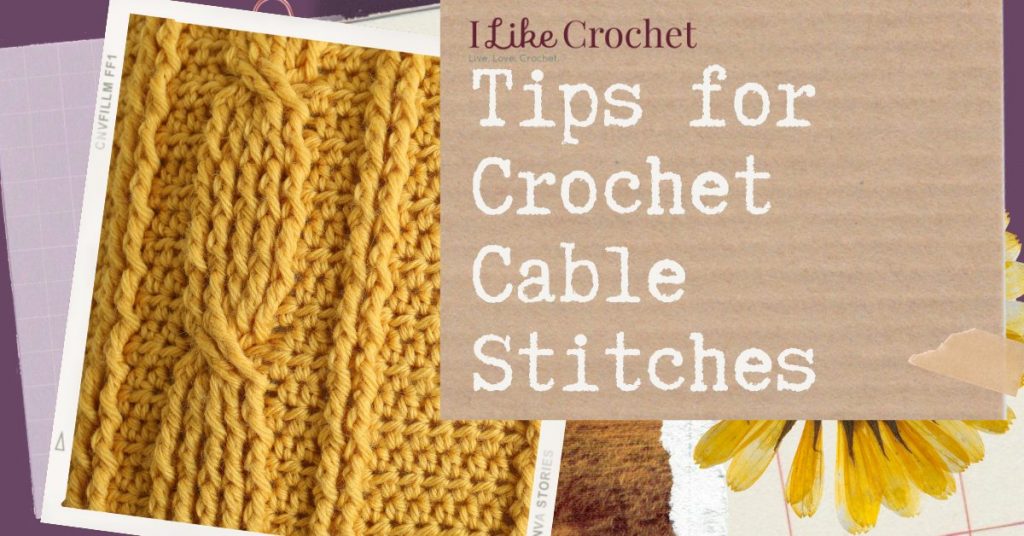 Hi Amber,
Cables are a beautiful way to add texture and interest to your crochet projects, but if you have never worked a cable before it can be a bit intimidating. Like you, I love the look of crochet cables and in the beginning, I was nervous to try the technique because of how the stitch looked with the raised twists and textures. But once I found an easy pattern, studied and understood the construction of weaving over and under the stitches, it was easy to follow more complicated cable patterns and make my own.
Learning to cable crochet is deceptively easy because cables are created by working strands of post stitches in front (this is the Front Post Stitch) and behind (this the Back Post Stitch) each other in the correct order to create the cable stitches. If you've never worked a post stitch, they are worked just like basic crochet stitches with the only exception being that the hook is inserted around the front or back of the stitch's post. Working around the post of the stitches creates a prominent stitch that is pushed forward or backward to create a twisted three-dimensional affect. It is this twisted stitch that creates the cable. Learning where to place your hook to make the stitch can be take a bit of practice. The finished effects are well worth the effort.
Here are a few tips to guide you through crochet cables and help you get over your fear:
Try cabling on a small practice piece that you don't have to worry about if you mess up and can rip back the piece as much as you need to complete the cable stitch. Start small with projects that don't require sizing so that you can really understand how the stitches weave in front and behind the stitches to create the textured detail of the cable. A couple good options to try out cabling on are dishcloths, headbands, and pillow covers.
Use a slightly looser gauge so you can move your hook to work in the post of the stitch in front or behind the stitch as indicated. To avoid holes and gaps when working the long stitches, pull the yarn on your hook tight before working the next stitch.
Choosing the right yarn can make or break your attempt at crochet cable. To make your cabling easier, choose smooth worsted weight yarns in a solid color. For a beginner, a light weight or bulky yarn can be fiddly and difficult to work with. A fuzzy and textured yarn can be splitty and difficult to see where to your stitches are and where to place your hook. Avoid dark colors and variegated yarns so you can clearly see your stitches. While variegated yarns make beautiful cables, save them for when you are a bit more experienced with cables.
Be sure to count your stitches carefully. Because you have to skip stitches then work backwards in those skipped stitches, it's easy to miss a stitch and lose count. Count your stitches at the end of each row to ensure you are maintaining the correct stitch count.
With cabling, practice makes perfect, taking it one stitch and one row at a time. So, now it's your turn. Give cabling a try and let us know your progress. Once you've tried it you'll be hooked.
Need help finding your first cable project, try the Goldenrod Cabled Pillow, a simple crochet cable project with video tutorial.