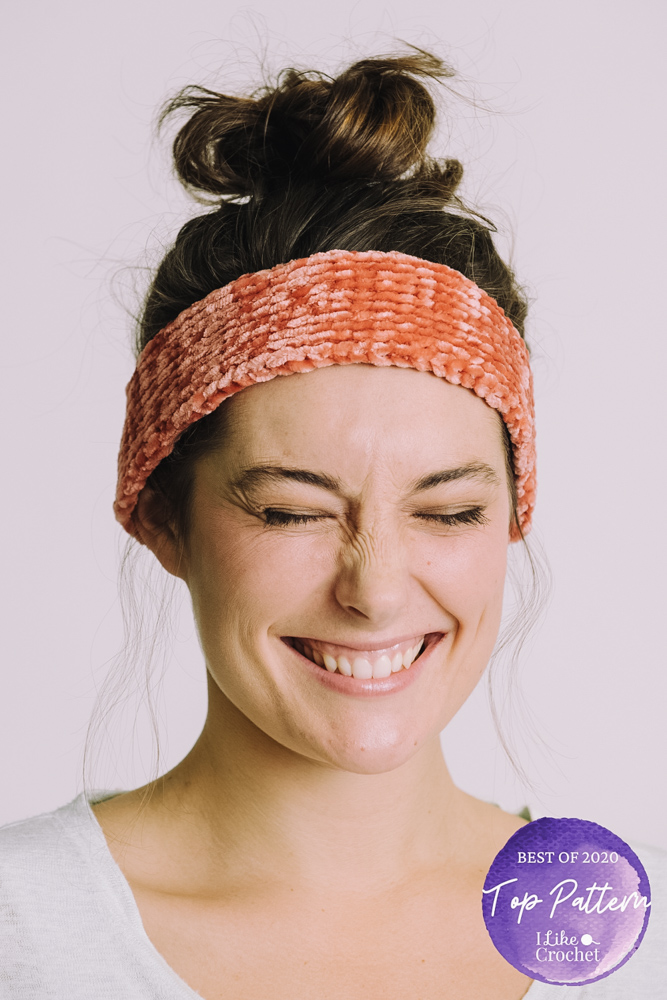 This luxurious headband is created by crocheting around a hair elastic for a comfortable easy fit. The simple Tunisian crochet stitch is easy and does not require a special hook. The seamless, one-piece design can be made with any chenille or velvet yarn. Great for gifting, this quick project is reversible and has a unique plush texture on each side.
Skill Level: Easy
Size: 2.25 x approx. 21.5" circumference
Gauge: 18 sts and 12 rows = 4" [10 cm]
Materials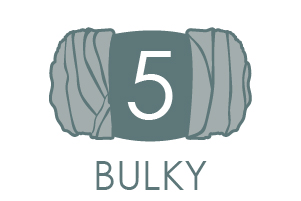 Yarn: Bernat Velvet (100% Polyester; 315 yards [288 meters]/300 grams): 2017 Terra cotta rose or 161032 Velveteal (1 ball)
Hook: US size H/8 (5 mm)
Notions: Tapestry needle, elastic hair tie (approx. 1.5 to 2" diameter)
Pattern Notes
The pattern starts with 30 single crochet around a hair elastic. Ten stitches are picked up to form the band using rows of Tunisan crochet. Ten stitches on the opposite side of the hairband are crocheted into to close the circle for a stretchy, comfortable fit.
Pattern
Make a slipknot onto hook. Insert hook into the center of the circle of elastic, yo, pull through the slip knot. Sc 30 around the elastic, sl st to beg of rnd.



Row 1: To start the rows of Tunisian simple stitch (tss), insert hook into the top 2 lps of next st, yo, repeating across 10 sts to gather a total of 11 lps on the hook. For the reverse pass, yo, draw the hook through 2 lps 10 times.
Rows 2-52 (or until reaching a length of 18" from the elastic): Tss 10; for the first st of each forward pass, insert hook under the vertical bar to the left of the bar on the right edge of the band, for the last st, insert hook under the vertical bar on the left edge of the band. Reverse pass as in Row 1.
Insert hook here for first tss
Insert hook here for last tss of each row
Row 53: Finish off the row of Tunisian sts: insert hook under the next vertical bar and sl st 10 times.
Bring the end of the band around to the elastic to make a circle with the back side of the band facing outward. Sl st in first st on working edge of band. Insert hook in 6th sc on the elastic on the opposite side of band, sl st. Sl st across to join the rem sts of band to sc on elastic.
Fasten off.



Finishing
Weave the ends into the first row of the band, not into the sc on the elastic.