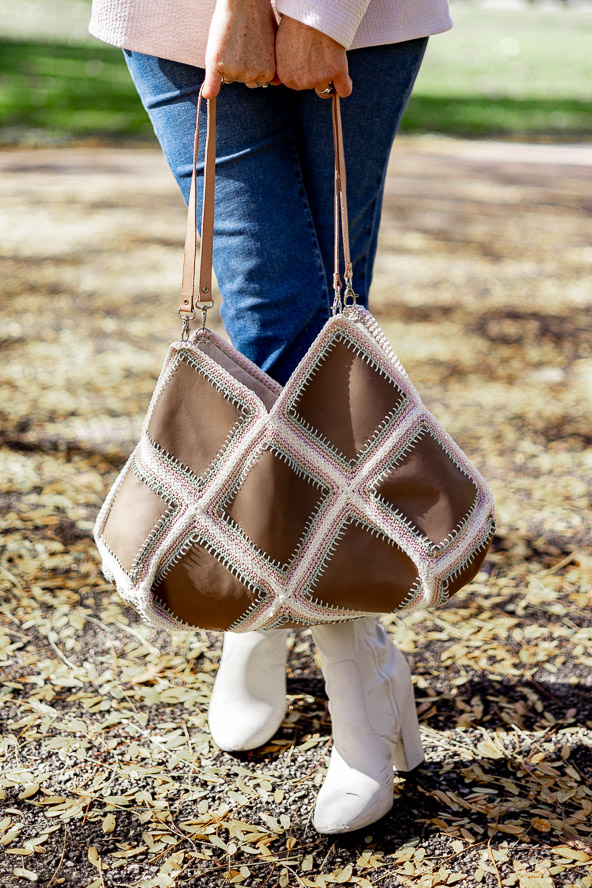 Stretch your crafting and crocheting skills with the Maura Tote. Combining leather squares and crochet stitches, the result is a tote that's polished and uniquely yours.
Time: 15-20 Hours pattern
Skill Level: Easy
Size: Each motif measures 5" (13 cm) square. See figure 1 for final measures.
Gauge: Not needed.
Materials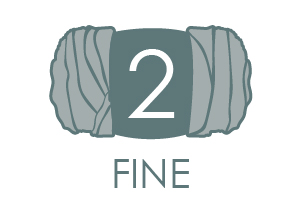 Yarn: Rowan Cotton Glacé (100% Cotton; 125yards [115 meters]/50 grams): RG873 crepe (CC1, 1 ball), RG730 oyster (CC2, 1 ball), RG845 shell (CC3, 1 ball), and RG725 ecru (CC4, 1 ball).
Hook: US size E-4 (3.5 mm)
Notions: Tapestry needle. Leather punch or sharp tapestry needle (higher size than the one to be used for sewing). Soft garment leather or similar (less than 0.8 mm thickness) in one (18 x 30") or multiple pieces (big enough to cut 4" squares). Two leather shoulder bag handbag straps [60 cm] with key chain hooks. 4 D-rings. Piece (24 x 40") of fabric for lining (optional).
Pattern Notes
I recommend using soft and thin leather to facilitate the set-up, that will require to pre-punch the fabric before the initial stitching process. The softer and thinner, the easier to stitch.
Since stitches must be well balanced across the edges, I suggest using a simple punch or just a sharp yarn needle as a punching tool.
The holes made in the fabric should be of a bigger size than the tapestry needle, to avoid damaging the thread while passing the hole. In any case, passing the yarn through the leather will still cause some friction; thus, I recommend you will need to use a new thread at least once along the piece.
Handbag straps can be either removable (i.e. with key chain hooks attached to D-rings, as shown in the sample)) or fixed (i.e. sewn directly to the fabric).
Pattern
Set up
Cut 17 4" (10 cm)-square leather pieces
Mark four corner holes, ¼ " from the edges. Distribute 13 additional holes across each edge (every ¼"). (56 holes)
With CC1, blanket stitch around the edge of the square: 13 stitches on each side, and 2 stitches in each corner. (60 sts).
Crochet Squares
Rnd 1: With CC1, ch 1 in one corner st, *(sc, ch 2, sc) in corner st, sc in each blanket st until next corner st; rep from * 3 more times, sl st to first ch to join. Fasten off CC1. (64 sc)
Rnd 2: With CC2, sl st to next corner sp, *(sc, ch 2, sc) in corner sp, sc in each of the next sc until next corner sp; rep from * 3 more times, sl st to first ch to join. Fasten off CC2. (72 sc)
Rnd 3: With CC3, repeat Rnd 2. Fasten off CC3. (80 sc)
Rnd 4: With CC4, repeat Rnd 2. Fasten off CC4. (88 sc)
Weave in all ends.
Assembly
Sew squares together with a mattress stitch following instructions (figure 2a).
Cut fabric with the same shape. Hem top edges by folding over 0.25" (0.5 cm) to WS, pin in place, and hand sew along inner crochet rnds.
Fold and sew squares following instructions (figure 2b).
Sew 4-D rings and attach straps.
---
Gold Members, Download Here
Not a gold member yet? Join Now