Winter can be harsh and accessories can be fun.  This simple to scale cowl will help keep your dog warm when the wind starts to howl.  Crocheted using a hdc through the back of the loop the piece has a soft hand easy to slip over your dog's head.
To maximize the fit, measure the circumference of the neck and widest part of the head to make sure at gauge you can slip the cowl over his/her head without a fuss
Skill Level: Easy
Size: Finished size: 9″ / [23 cm] diameter x 6″ / [15 cm] height
Gauge: 20 sts and 16 rows = 4″ [10 cm] square in hdc tbl, not blocked
Materials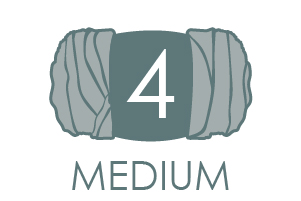 Yarn: Universal Deluxe Worsted Tweed Superwash (90% Superwash Wool, 7% Acrylic, 3% Viscose; 218 yards [199 meters]/100 grams): 920 Camel (1 hank)
Hook: US size H/8 (5.0 mm)
Notions: Tapestry needle, 2 locking markers
Pattern Notes
Do not use a single crochet foundation chain, it will be too bulky; use a simple chain for the foundation and work first row as presented.
Designed to fit a 25-40 pound dog. A cowl height of 6″ was chosen. For longer necked breeds, increase the number of stitches chained to begin. For smaller breeds, chain fewer stitches.
For a wider necked breed such as an English Bull Dog, increase the length of the work before joining.
If the diameter of the cowl is modified, adjust the location of the leash hole to keep it in the middle of the work. For example, should the desired diameter be 30″, place the leash hole into the work when the work measures 15″ rather than the 9″ as stated.
Worked flat and joined in Finishing.
Ch2 does not count as a stitch at the beginning of each row when counting stitches however it is included in the height of the cowl, as cast on at gauge, the ch 2 will add about .2″ to the height to achieve the 6″ height as stated.
Pattern
Ch 31.
Row 1: Hdc in 3rd ch from hook, hdc in each ch to end of row, turn. (29 sts)
Row 2: Ch 2, hdc bl in each hdc to end of row, turn.
Rep Row 2 until work meas 9″ or desired diameter, continue as foll:
Leash Hole
Row 1: Ch 2, hdc bl in each next 5 hdc, ch 4, sk 4 sts, hdc bl in each hdc to end of row, turn.
Row 2: Ch 2, hdc bl in each hdc to ch-4 sp, hdc into each ch, hdc bl in each hdc to end of row.
Row 3: Ch 2, hdc bl in each hdc to end of row, turn.
Rep Row 3 until work meas twice the length of the section before the leash hole.
To join, with tail of starting ch opposite to that of the working yarn, fold the piece in half, *hdc through fl of hdc of previous row, catching back bump of beg ch to join, yo, pull lp through, sl st; rep from * to end of row.
Fasten off.
Finishing
Make square knot to join the tails.
Work tails back into the work along two different rows to reduce the potential for your dog to chew at the tails. Hiding them in the selvedge edge is not recommended.
Wash per ball band instructions.
Allow to air dry.