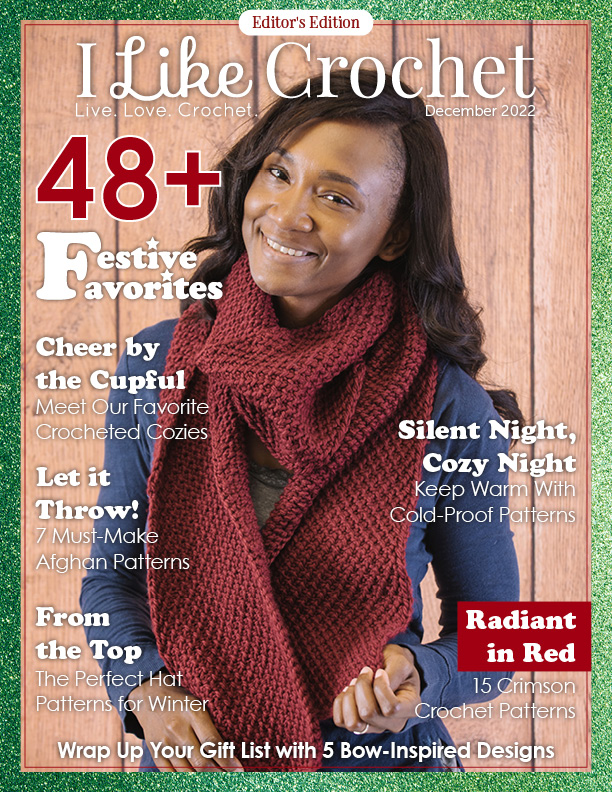 'Tis the season of hot chocolate, cozy scarves, and warm wool yarns.
Dear Crocheter,
I absolutely adore December. Is there a better way to spend a quiet winter afternoon than with your favorite pattern, creating a gift for someone? Or updating your own winter wardrobe? Oh, and the array of yarns! Fine merino wool, luxurious cashmere, soft acrylics, silk, and worsted alpaca wool! And colors, too, like deep burgundies, gray heathers, rich scarlets, sea blues, forest greens, and gentle lavenders. It's all here in the December issue of I Like Crochet!
This issue begins with some "bow-tiful" patterns, including a pillowcase and the most adorable headband for the young crochet lover in your life. Then it's time for coffee or tea, and what better way to keep your beverage warm than with a cute cozy? Whether it's your favorite mug or a French press, you'll find the perfect pattern here.
Of course, we couldn't have a winter issue without sharing some of our favorite blanket, pillow, throw, and afghan patterns, like the Throwback Throw with its zig-zagging triangles, or The New Arrow Throw, with its bold arrow motif. Stay warm and snug all season long with a selection of oh-so-cozy blankets for movie night on the couch.
Then get festive in the color of the season with the Radiant Ruby Scarf, Cherry Tart Cowl, or the pomegranate red Regal Wrist Warmers. And complete the look with a hand-crafted hat. Go classic with the In the Round Tunisian Full Stitch Hat or embrace a modern and chic look with the Margo Easy Hat.
Here are some of the projects you can look forward to in the December issue of I Like Crochet:
With eye-catching colors and captivating textures, the Cayenne Throw, from designer Kathleen Berlew, is a must for the season. Soft gold and luxurious burgundy yarns come together in an exquisite pattern that features openwork panels, a treble crochet border, and a central field of diamonds. You're going to want this on your gift-giving list, but we won't tell anyone if you decide to keep it.
Another easy pattern comes to us from designer Cheryl Chow. The wool yarn of the Yorkshire Throw is worked back and forth with crossed double crochet for a blanket that's guaranteed to be warm and comfy. It's not all utilitarian, though. The gorgeous, lacy border adds just enough elegance to make this piece decorative, as well.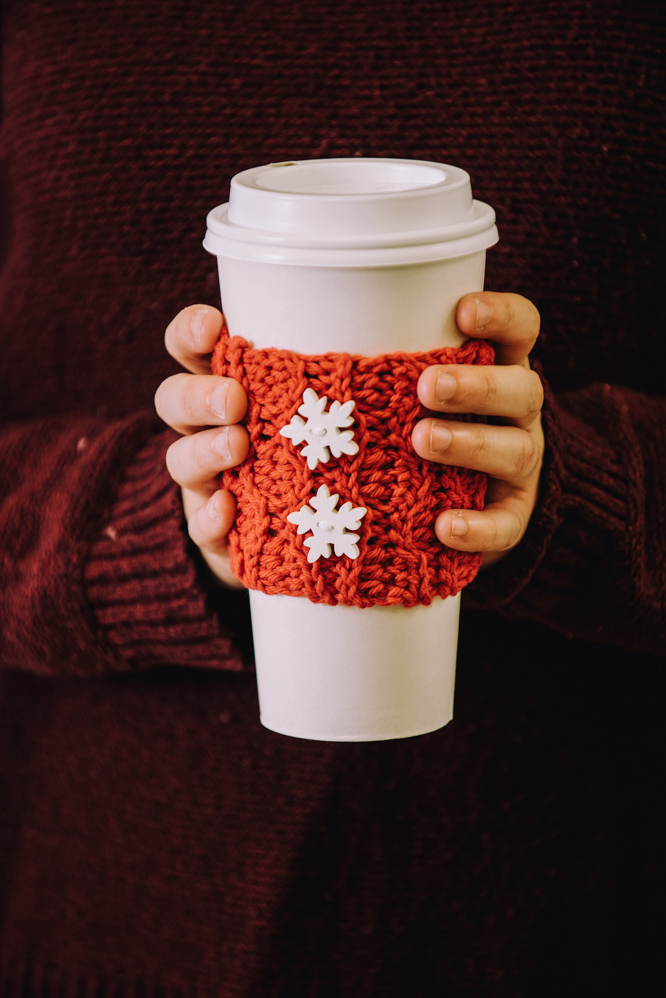 Yes, you need to stay warm this winter, but so does your favorite hot beverage. Coffee, tea, or hot chocolate can all stay hot (and easier to handle!) with a stylish, and easy-to-crochet cozy. The But First, Coffee Cozy, from Janaya Chouinard, is just the thing for those of us who need that sip of caffeine to face the day. And since it's such a quick project, it's perfect for gift-giving.
Another great gift is the Big Bow Toddler Purse, from Mary Beth Temple. Perfect for the young crochet aficionado in your life, this roomy, rectangular bag is made in one piece and adorned with an oversized bow for added charm.
These designs, as well as all of the 48+ designs in the December issue of I Like Crochet, come with:
Complete stitch instructions
List of materials, notions, and hook size
Pattern and special stitch notes
Finishing instruction
Full color, detailed photographs of each pattern
So you'll have no trouble creating the pieces you want to enjoy for yourself or share as gifts.
While you're looking through the December issue of I Like Crochet, don't miss our curated collection of New Crochet Books for Winter 2022, featuring five of our favorite new crochet books. And be sure to check out Cheer by the Cupful: Christmas Crochet Mugs We Love, where you'll find nine of the most cheerful crochet-themed holiday mugs.
Then check out some of the other projects in this issue, like the Waverly Throw with rich blocks of moving colors, or the Crimson Beaded Neck Wrap, bejeweled with glass beads for a touch of elegance.
Quick gifts, colorful throws, texture-rich scarves, decorative pillows, fashionable and warm winter hats, and cozy blankets are all here in the December issue of I Like Crochet. And if you're looking for even more winter wares and wears, be sure to look through these collections:
The Pumpkin Spice Crochet Collection
The Jackets & Coats Crochet Collection
20 Cute Crochet Ornaments
The Sweater Weather Crochet Collection
The Après Ski Crochet Collection
The Festive Christmas Crochet Collection
And even with all this, there's still so much more. The complete I Like Crochet library includes more than 700 patterns, including the cutest amigurumi animals, modern home decor, one-skein patterns, advanced patterns with lattice-like stitches and complex cables, and plenty for beginners, like easy blankets, fun hats, and simple shawls.
Take a look through the hundreds of patterns right now with your I Like Crochet Gold Club Charter Membership. You'll get designs and articles, step-by-step instructions, video tutorials and full-color photographs of each project, all in our library.
And remember, every pattern in the December issue of I Like Crochet, and in fact every pattern we share, includes all the information you need for a fun and successful crochet experience:
Complete stitch instructions
List of materials, notions, and hook sizes
Pattern and special stitch notes
Finishing instruction
Full color, detailed photographs of each pattern
And the library of photos and video tutorials is gorgeous, inspiring, and practical—showing you exactly how your finished patterns should look and exactly how to execute even the difficult ones!